Ticket to ride
Anthropologist Kath Weston chronicles "poverty in motion" on America's buses.
By Susan Frith
Photography by April Barrett / Courtesy Kath Weston
---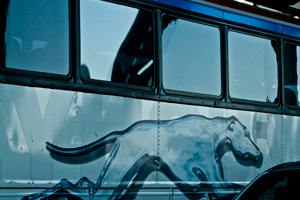 Greyhound buses were Weston's vehicle of choice for her cross-country research on America's poor.
The young woman with the colicky baby could barely afford her bus fare. But the $69 it took to get from New York to Denver was worth the chance to find a good job, she told her seatmate, Kath Weston, AB'78, AM'81, on that ride six years ago.
Weston, an anthropologist and the author of Traveling Light: On the Road with America's Poor (Beacon Press, 2008), recalls that she didn't have the heart to confront her acquaintance with the narrow range of jobs that might be open to an applicant with only a high-school degree. "When you meet someone who has that kind of hope, you never want [her] to have to give it up," she says.
Weston, now a professor of anthropology and women and gender studies at the University of Virginia, traveled the country by Greyhound between 1999 and 2006, hoping to "shake up" ideas about what it means to live poor in America.
She encountered people across wide spectrums of race, age, and life experience—a sketch artist and a scam artist, an out-of-work veteran and a low-paid teacher, curious children and loud showmen, including a middle-aged man who recited from memory almost every line from Forrest Gump.
Riding the bus is a good way to observe "poverty in motion," Weston writes in Traveling Light. She elaborates in an interview: "If you look at a lot of the writing about what it means to live in the United States without ready access to money, those metaphors [are about] people being stuck in poverty, mired in poverty. It sounds like some kind of quicksand or some malady that afflicts you.
"When you talk about it as a steady state, you don't understand what's producing it," Weston says. "So how can you understand how to address it?"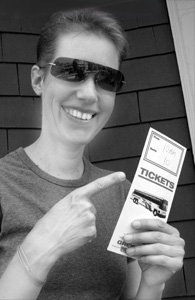 A bus ride, says Weston, opens up new possibilities.
These metaphors also discount the creative ways that people manage to get by, even thrive, despite their financial circumstances.
Take the divorced man who took his daughter sightseeing around the country by bus, determined to show her a summer vacation on the cheap. Or the passenger who boarded in Boston to deliver a homemade, three-layer cake, intact, to Oklahoma, 44 hours away. She wanted her niece to have a "real birthday" for a change.
At the Idaho Falls bus station, a trio of teenagers traded coins with the other passengers, hoping to find Delaware state quarters worth twice their face value due to a striking error. (The name of Continental Congress delegate Caesar Rodney was misspelled on the back of the first batch, they told Weston, making them more valuable than the corrected versions.)
She bristles when asked what difference a quarter can make. "I'm telling you there are people riding buses in this country for whom a quarter matters. They might be in a situation where they have to spend two hours trying to get on a city bus to get to a shelter. So every time they've got a quarter, they're thinking, 'I'm a sixth of the way there.'"
The act of riding itself, meanwhile, is to open up new possibilities, to travel somewhere else and potentially to discover something along the way. Weston, who grew up in the working-class Chicago suburb of Berkeley, had this experience firsthand at 16, on a bus trip to New Mexico. Her life-changing trek to an archaeology field school was funded by a government scholarship.
"It would have been a completely different trip if they had sent me a plane ticket to New Mexico," Weston says. The trip was so meaningful because of "the people and the ways that people on a bus trip can coalesce into a kind of community." When the bus broke an axle in Iowa City, she found herself walking around for six hours, in the middle of the night, with a passenger who was trying to give up heroin—and learning about a life experience quite different from her own.
Weston's father was a postal carrier. When her family ran out of money at month's end, they ate gravy bread, made with spongy loaves from the day-old bakery outlet store. "Our parents were so good at convincing us that it was a treat," she says, that one of her sisters requested it for her birthday one year.
Financial aid allowed her to enroll at Chicago, where she studied anthropology as an undergraduate and then went on to earn her master's degree (she completed a PhD at Stanford). Now she researches, among other topics, "technological revivalism" from Ghana to India to Japan—projects that integrate modern materials or technologies with centuries-old ways of collecting water, growing food, and designing buildings.
For Traveling Light she kept her research within the States, traveling by Greyhound from Albuquerque to Missoula, from Boston to Milwaukee, and onward. "I can't tell you how many buses would pull out of the station, and you'd think nothing could possibly happen that anybody would be interested in reading about," Weston says. "By the time you'd get to the place you were going, there's been an immigration raid; this person has just broken up with someone; or this person is trying to figure out what to do about their children, and everyone is helping them."
Weston takes care not to romanticize bus travel, describing long waits that prompt the occasional fistfight, dirty stations, and two brutal bouts of food poisoning. (She acknowledges it was the privilege of a credit card that allowed her to check into a motel mid-trip to recuperate.)
She vividly remembers the warmth and generosity she witnessed on the bus. Once, for example, she saw a couple share their last burritos with another passenger who had not eaten for two days.
Weston hopes that her book will help set the United States, where one in five children lives below the poverty line, on a new route. She hopes to generate more debate on policies that she believes widen economic disparity. Raising sales taxes, for example, affects low-income households more than others.
Some communities have laws that make it illegal for individuals to serve food to homeless people, she says. "I'm hoping that Traveling Light gets people to think a little bit beyond policy issues, to really think about the human-to-human relationships that policies are supposed to be in the service of," Weston says. "What kinds of relationships do we want to have with one another?"
---
---
---
RELATED READING
---
EDITOR'S PICKS