Life after poverty
Psychotherapist Jinnie English helps formerly poor executives come to terms with their past.
By Carrie Golus, AB'91, AM'93
Photography by Dan Dry
---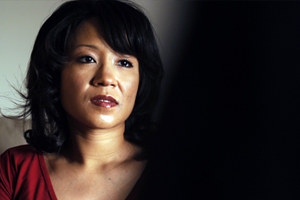 "I hold everyone responsible," says English, for racial issues in the workplace.
Jinnie English, AM'99, thought she'd finish her School of Social Service Administration degree and take "a managerial position in clinical social work at some kind of agency," she says. But when she graduated, she was her family's sole breadwinner, with her third child on the way. So to earn more than a typical social worker's salary, she opened her own counseling and therapy practice.
To her surprise, she says, "I stumbled across this niche population of executives."
Her high-powered clients—most of them African American, Latino, or Asian—were successful in their careers and, by outward measures, in their lives. But their backgrounds often "included poverty, abuse, homelessness, not having a parent," says English. "They had a lot of psychodynamic issues, masked under a really nice suit, great haircut, nice home in the suburbs. … They were left with the internal struggle of being poor." English had found her specialty. Eventually she renamed her business Chicago's High Achievers.
Her practice offers two types of services for individual clients: "professional development" and "personal development." Typically, clients come in through the career-counseling side; often they don't realize that they have personal issues, English says. As those deeper issues come to light, they switch to psychotherapy (English is a licensed clinical social worker).
For her clients who work in corporate America, adjusting to wealth and professional success can be a significant problem. "It's culture shock," she says. They may have been the first in their families to go to college or to hold a white-collar job. "Many of my clients grew up in families that were extremely dysfunctional," says English. "They have no idea how to deal with power or control, so they revert back to what they learned in their families"—for example, lashing out at subordinates, or shutting down and then suddenly exploding. Inappropriate behavior, she argues, partly explains why the turnover rate in corporations is "disproportionately high for people of color."
It's an interpretation that makes her unpopular with many consultants who specialize in helping corporations increase diversity, she says. When it comes to racial issues, English says, "everyone is always looking to hold someone else responsible. But I hold everyone responsible." In an unusual business model, Chicago's High Achievers also offers "corporate development services," not only to help companies adapt to their employees but also to help employees adapt to the company.
English claims an 80 percent individual success rate—when her clients understand why they behave a certain way, she says, they can take more personal responsibility for their actions. She knows where they're coming from: "That's my own story too," she says. Born in Korea and raised in the South Side Englewood neighborhood, she is the child of a Korean mother and African American father; the family was Jewish. Although her parents both worked, they were poor, at times on welfare. "I still feel that shame," she says, "a horrible feeling."
These days English's economic status is secure. She charges her clients $200 an hour (though she has a few sliding-scale clients) and doesn't accept insurance. With her clients' income ranging from $70,000 to $4 million, "the population I serve can afford it," she says. When one potential client complained about the cost, English told her, "You may not feel that you're worth it, but I'm worth it." The person signed up.
Traditional social work focuses on the less privileged, English says, and when talking with other SSA alumni at networking events, she often encounters the attitude that helping the affluent "doesn't count." English calls what she does "nontraditional social work," adding that she handles a second-generation population: "A lot of the executives or professionals that come in to see me are actually the successful products of traditional social-work programs."
Elected president of the SSA's Alumni Association this past fall, English hopes to foster a discussion about what traditional and nontraditional social work means and where the discipline is headed. "Social work is not what it used to be," she says. In the past social workers would "help a family through the system, only to have their children stay in the system. The goal we had was to get them self-sufficient." She and her clients have reached that goal, she says. But "have we forgotten about our previous clients and how we need to serve them today? Because they still need us."
---
---
---
RELATED LINK
---
EDITOR'S PICKS