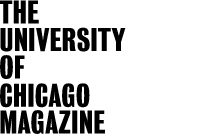 Science & Medicine
Science? Fiction?
For 41 years Stanton Friedman, SB'55, SM'56, has traveled the world with a simple message: UFOs are real.
Crystal method
Nadrian Seeman, SB'66, uses DNA not to study biology but as a building block for nano-tiny structures.
Shards unseen
Archaeologist Hannah Chazin searches for late Bronze Age artifacts in Armenia.
Triple transplant
In a rare procedure, UChicago doctors give a patient a new heart, liver, and kidney.
Coffee science
Cell biologist Stephanie Levi's Night Labs series makes science accessible.
Healing vessel
Amy Lehman envisions treating patients from isolated African villages aboard a hospital boat.

submit your class news
What's new? We are eager to receive your news. Items may be edited for space. No engagements, please.

University Headlines
@UChicagoMag Twitter Feed