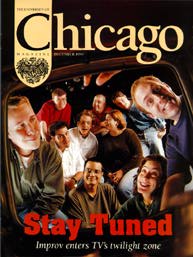 Welcome to the inaugural online edition of the University of Chicago Magazine. As with our hard-copy format, we welcome readers' comments and reactions. Our Internet address is uchicago-magazine@uchicago.edu.
---
The University of Chicago Magazine
December 1994
---
Cover (above): In Sitcom, Dan Goldstein (right) and John Bourdeaux (left) lead a student comedy troupe (clockwise from top left: Jim Ortlieb, Josh Sinton, Nick Green, John McCorry, Emily Pollock, Abby Sher, André Pluess, Ben Sussman); photograph by Matthew Gilson.


---
When a grad student developed a computer program to analyze the plot structure of TV sitcoms, a new form of improv theater was waiting in the wings. By JULIE RIGBY

As FDA commissioner, David Kessler, JD'78, polices the nation's pantries and medicine chests. By ANDREW CAMPBELL

A few steps off Michigan Avenue, the Downtown Center puts the University in the heart of the city. By MARY RUTH YOE

During the four decades he taught at Chicago, philosopher Richard McKeon inspired both resentment and respect. By TIM ANDREW OBERMILLER




DEPARTMENTS

What's worth coming out in the cold for.



Pushing the envelope: John Frederick on how humans and Earth's atmosphere interact.



Leon Kass on how to eat like an animal-or dine like a human being.



Read news for graduating class in

Katharine Mann Byrne, AB'36, AM'43, writes about financial aid in the wake of the Depression.
University of Chicago Magazine Staff as of December 1994
---
Return to the Alumni Magazine Home Page
Return to University of Chicago Home page