The University of Chicago Magazine February 1996
---
Return to February 1996 Table of Contents
---
Are We Having Fun Yet?"
---
Continued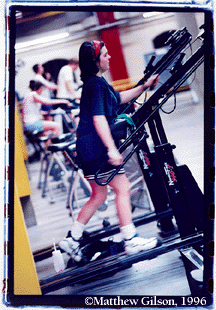 A student body that isunafraid of sweat.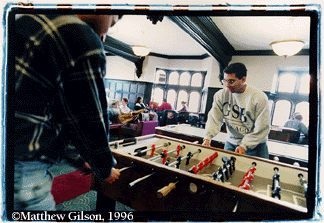 Renovations have turned the Reynolds Club into a cozy refuge.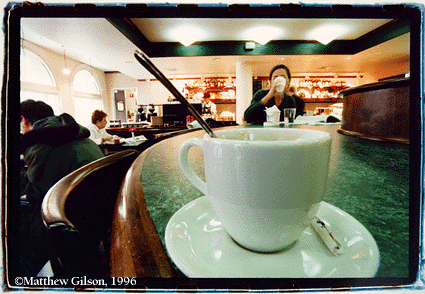 Force-feeding fun? Or are U of C students drinking it up?
When I first walked into the refurbished Reynolds Club in mid-November, I was greeted with a screech. "We can hang out!" declared a young woman with a Chicago accent who was looking the place over as if it had fallen from heaven.
A place to hang out means a place where students can do as much or as little as they like. Students can sit if they want to sit, snack if they want to snack, shoot pool if they want to shoot pool, and study if they want to study--all under one roof. And no one will kick them out before they're ready to go. The doors close at 2 a.m.
Some of those activities were always available at the Reynolds Club. Now all of them are. Besides, the furniture is new and the fireplaces work. Student organizations have bright new office space, and the bathrooms are actually bearable. Even the ceiling in the Mandel Hall walkway has been washed to within an inch of its life. The $3.- million renovation has once again made the club "the living center of the campus," according to Bill Michel, AB'92, the manager.
A bit skeptical, I checked out the club on a Friday night. More than 150 students were on hand. Some played air hockey in the spanking-new, second-floor game room. Some played chess at one of the four specially designed tables. One group sat in the corner of the renovated first-floor reading room and shared a veggie pizza. Across the main hallway, in the rebuilt home of University Theater, rehearsals for Man of La Mancha were just winding down, to peals of laughter. Although exams were only three weeks away, not a single scowl or furrowed brow was seen.
But fun is also where you'd least expect to find it.
I pop into Henry Crown Field House, a block north along University. Every Stairmaster is in use. A young woman runs laps with a Walkman lashed to her ears and a "Do It in the Dirt" sweatshirt tied around her shoulders. A pounding game of 5-on-5 pickup basketball is under way--and another team is waiting to play "winners," even though it's nearly 10 p.m.
I wander into the University Market on 57th Street. They sell sushi!
I drift into the lobby of Pierce Tower, where I once lived (and where I might have smiled twice in an entire year). A student is downloading messages from a public E-mail terminal, and laughing as if there's no tomorrow. I glance at the dinner menu for the evening, which is still posted by the cafeteria door. The No-Fun University of Chicago served Pierce residents mustard- barbecue snapper, tortellini alfredo primavera, spinach fettuccine, and ratatouille soup. Pure agony.
In my day, Jimmy's Woodlawn Tap was the Mecca. But it had always been a bit dank for my taste, not to mention a bit dusty.
It's not dusty any more. It's filthy. Indeed, a Chicago Tribune article has been defiantly tacked to the wall. It describes the 55th Street bar as "appallingly scruffy."
But Jimmy's rocks! In all three rooms, music pounds. The Bulls are playing the Nets on the big-screen, over-the-bar TV, but not a soul is watching, even though Professor M. Jordan has the ball, because there's so much else to do. Conversation is dense and compelling--a snippet of Kant here, a discourse on rotten politicians there.
A group of students comes through the door in a pack. I ask if they've been studying, or at least brooding, Chicago-like, over the fate of western civilization. No, says a first-year from Oak Park. They've just gotten back from the Loop, where they had a dandy time visiting the Monet exhibit at the Art Institute.
As I leave, I notice one student refilling the beer glass of another. "When I was at N.C. State...," he begins.
What's this? A transfer from a big, party-oriented, southern state school? The next thing you know, people will be going to U of C football games.
They already are.
The Maroons finished the 1995 season with a record of 8-2. No Chicago team has won as many games in one year since the sainted days of Amos Alonzo Stagg. The Daily Southtown, a community paper on the South Side, carried a 40-inch piece about the team that didn't include a single put-down about academics. Instead, it talked about wide receivers and passing records. Crowds of 1,500 are commonplace, the piece reported.
Of course, that's because pizza is now given away at the games, which the Southtown piece didn't mention. Still, friends report that you can walk through Hyde Park on an autumn Saturday afternoon and hear the dull roar of cheers from half a mile downrange. Free pizza may fill your gut, but nothing will make you cheer unless you're inspired.
The Maroon is shamelessly on board. In a recent sports column, it urged students to show up in droves for the pivotal game against Carnegie Mellon. Sports Illustrated might even be there, the columnist guessed, breathlessly (and as it turned out, inaccurately).
In another edition, the Maroon reported that "Football Mania Has Hit Chicago." It didn't bother to attribute that remarkable assertion, evidently because no one could disagree.
Perhaps hardest to swallow of all, the Maroon sees football success as a metaphor for wider University of Chicago success. "We all look better when our team does well," said an editorial.
Is anyone upset by such signs of normalcy? Many students profess to be.
"If I had wanted to go to Northwestern, I would have," said a student I met at a Hutchinson Commons reception. Another student told me that Chicago is a "zero-sum sort of place. If fun goes up, academic quality must necessarily go down."
Some alumni have reacted similarly. One New York City alumnus happened to catch an Associated Press dispatch that appeared in papers all over the country this fall. It reported the opening of an oh-so-trendy Starbucks coffee shop on campus--right beside the new and equally haute Barnes & Noble bookstore.
If that wasn't bad enough, said the AP, an official University pamphlet suggests that students relax by watching "your favorite TV program with friends." And administrators added outdoor games to Orientation Week.
The New York City alumnus was not happy. "It is a wonder that the shades of William Rainey Harper and Robert Hutchins do not strike the administration dead," he wrote in a letter to the Alumni Association. He threatened to cancel his yearly donations to the annual fund if seriousness is not reintroduced.
Of course, it has never left, and it never will. Aboard those Stairmasters at Crown, every student was reading while stepping--and one student was reading Plato. Just minutes after I counted 150 students at Reynolds Club, I counted 321 at the Regenstein Library. All 321 noses were buried in books.
As I walked along 53rd Street and down Kimbark in search of a classic, raucous, Hyde Park party, I found and heard none. But I did hear a graduate student through an open first-floor window. He was lecturing to a group of apparent undergraduates on the rigors of binomials.
"Are we having fun?" he asked as I walked past.
Everyone said yes, they were.
Take that, Inside Edge.
Return to the opening of, "Are we having fun yet?"
---
Go to:Return to February 1996 Table of Contents