The University of Chicago Magazine February 1996
---
Return to February 1996 Table of Contents
---
To bring a stern king and
his wayward son closer together
required some serious editing
--and a lot of nerve.
By John Easton
Photography by Matthew Gilson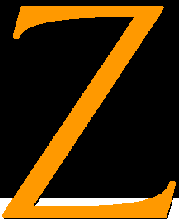 ounds! Rewrite Shakespeare? Edit the Bard? Tamper radically with Henry IV, Parts I and II--a pair of the best and most popular plays by history's best and most popular playwright? If the better part of valor is discretion, who could be so valiant, so brazen, so indiscreet as to dare to "improve" upon perfection, to monkey with the maestro?
"No play of Shakespeare's is better than Henry IV and nothing is more crowded with life," observed noted critic Mark Van Doren. "Henry IV...offers to our view the broadest, the most varied, and in some ways the richest champagne in Shakespeare's extensive empire," said literature scholar J. Dover Wilson. "The Henry IV plays are as good as anything Shakespeare ever wrote," admits David Bevington, U of C humanities professor, president of the Shakespeare Association of America, and editor of the Oxford Press editions of both Henrys. "It was Charlie's idea."
Charles Newell had been itching to do a Shakespeare play since he became artistic director of the University's Court Theatre in 1993. He had directed Shakespeare all over the United States, most recently as resident director at the Guthrie Theater in Minneapolis, where in 1990 they had presented a marathon cycle of some of the history plays--Richard II, Henry IV, and Henry V--on consecutive nights. Each production ran about four hours, and included "all of the pageantry and all of the battles and all of the table thumping and honor and politics that is contained in those plays." But during rehearsals the cast seemed far less enchanted by the pageantry and politics than by the intimate scenes between the young Prince of Wales and his competing father figures, King Henry IV and Falstaff.
"We were all struck by how extraordinarily well written those scenes were," recalls Newell, "how deeply, complexly psychological they were, and despite being 400 years old, how contemporary." But the enormous theater simply wasn't suited to a version stripped down to the personal scenes.
"Cut to the Quick"--the story told in photos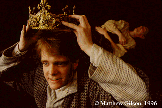 Above: Actor Raymond Fox's Prince Hal dares try on the monarch's crown as his ailing father (John Reeger) sleeps.
John Easton, AM'77-director of media affairs at the U of C Medical Center-has written several articles for the Magazine, most recently "The Unbearable Lightness of Being Bibfeldt" (February/95).
---
Go to: Return to February 1996 Table of Contents