The University of Chicago Magazine February 1996
---
Return to February 1996 Table of Contents
---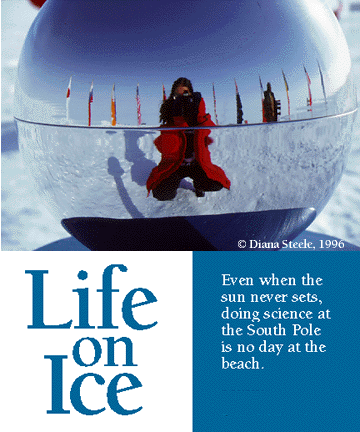 Story and photography by Diana Steele

t may not be a vacation, but a trip to Antarctica is almost guaranteed to be an adventure. That was the promise tempting Diana Steele when she applied for a National Science Foundation grant to visit the South Pole, where she could observe the myriad science projects being conducted there, several by University of Chicago researchers.
A science writer in the University's News Office, Steele was among eight journalists selected to travel to the Pole late last year. During her two-week stay, Steele focused her attention on Chicago-led projects--especially those run by the Center for Astrophysical Research in Antarctica (CARA), an NSF-funded, U of C-based consortium of institutions engaged in Antarctic research. Astronomers like the Pole because its high altitude, extreme cold, and dryness make it one of the best sites on Earth for certain types of imaging.
Steele's polar journal (available on the World Wide Web at http://unews.uchicago. edu/South_Pole/journal.html and excerpted below) also provides tantalizing glimpses of how scientists cope with, and even learn to enjoy, Antarctica's inhospitable conditions. Although research is conducted year-round, most takes place during the Pole's brief "summer" (from mid-November to mid-February), when the average temperature is -20&degree; F. Between February and October, temperatures plummet to -100&degree; F.
Steele's journey begins in Christchurch, New Zealand, and continues at McMurdo Station, Antarctica's largest community, with a population of 1,500 in the warmer months. From there, she flies to Amundsen-Scott South Pole Research Center, at the very bottom of the Earth.
November 29, 1995, Christchurch: From the air, New Zealand is almost impossibly green, like the fake green of a model-railroad landscape, complete with wrinkled hills and pipe-cleaner-fuzz trees. After 24 hours of traveling, I've arrived in Christchurch proper. New Zealand has served as a point of departure for Antarctic travelers since the early days of exploration. My hotel downtown is full of Antarctic travelers--a few inbound from McMurdo Station, many more outbound to the ice.
CONTINUE READING "LIFE ON ICE"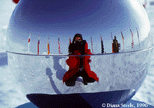 Steele catches her reflection in a mirrored ball atop the South Pole marker.
---
Go to:Return to February 1996 Table of Contents