The University of Chicago Magazine April 1996
---
Return to April 1996 Table of Contents
---

ART AND ARCHITECTURE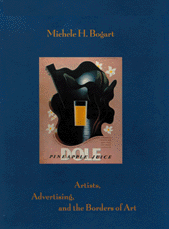 Michele H. Bogart, AM'75, PhD'79, Artists, Advertising, and the Borders of Art (University of Chicago Press). In this interdisciplinary study of the imagery and practices of commercial artists, Bogart analyzes the permeable borders between art and commerce, challenging the idea that the commercial corrupts artistic integrity.
Peter H. Selz, AM'49, PhD'54, Max Beckmann (Abbeville Press). This monograph examines one of Germany's foremost modern painters.
BIOGRAPHY AND LETTERS
Stephen R. Graham, PhD'89, Cosmos in the Chaos: Philip Schaff's Interpretation of Nineteenth-Century American Religion (Wm. B. Eerdmans Publishing). This study of the Swiss-born and German-educated Schaff--founder of the American Society of Church History and the leading church historian of his day--examines how he came to see order and purpose in American religious life.
Janet Varner Gunn, DB'62, AM'64, Second Life: A West Bank Memoir (University of Minnesota Press). This personal and political autobiography chronicles Gunn's 1988-90 work as a human-rights volunteer on the West Bank and her involvement in the life of a teenage Intifada activist.
Ralph E. Lapp, SB'40, PhD'46, My Life with Radiation: Hiroshima Plus 50 Years (Medical Physics Publishing). Lapp describes his participation in radiation research--beginning as a physics graduate student and, later, as the assistant lab director of the University's Metallurgical Project--extending from early A-bomb tests to today's controversies surrounding radiation risks.
Frank A. Sanello, AB'74, Spielberg: The Man, the Movies, the Mythology (Taylor Publishing). In this unauthorized biography exploring Spielberg's personal life and film career, Sanello contends that childhood traumas of anti-Semitism led the director to deny his Jewish roots when choosing his movies' subject matter up until his creation of the masterful adult work Schindler's List.
CRITICISM
Krin E. Gabbard, AB'70, Jammin' at the Margins: Jazz and the American Cinema (University of Chicago Press). Gibson analyzes the marriage of jazz and film, discussing movies such as The Jazz Singer and Bird, the acting careers of jazz artists, and the traditions of both art forms.
Mary Ellis Gibson, AM'75, PhD'79, Epic Reinvented: Ezra Pound and the Victorians (Cornell University Press). In analyzing Pound's writings and life, Gibson proposes that the poet's attempt to write a post-Romantic epic confronted questions of genre and social order and led to the unpredicatability of his politics.
John M. Jeep, PhD'90, Alliterating Word-Pairs in Old High German (Universitätsverlag Dr. N. Brockmeyer). Jeep's work collects and analyzes the earliest recorded examples of 266 alliterative phrases in German (circa 800-1050), similar to "the birds and the bees" in English.
EDUCATION
Edward A. Riedinger, AM'69, PhD'78, Turned-on Advising: A Guide to Computer and Video Resources for Educational Advising (NAFSA: Association of International Educators). This annotated bibliography focuses on software, Internet, and videotape resources for guiding international students and scholars through selecting, applying to, and adapting to American colleges and universities, and obtaining financial aid.
FICTION AND POETRY
Robert D. Drexler, PhD'73, My Father Becomes the Wind (Coe Review Press). These 21 poems deal with the loss of fathers and father figures, including Drexler's father and grandfather, a dead body found at "the Point," and Richard Nixon.
Terry Heller, AM'70, PhD'73, editor, Sarah Orne Jewett's The Country of the Pointed Firs & Other Fiction (Oxford University Press). This volume joins Jewett's novella and its four short sequels with nine more of her best stories from 1888 to 1901. The selection illustrates Jewett's variety of subject and tone and exemplifies her humor and interest in the positions of women in 19th-century America.
John E. Saveson, AM'48, [Lafayette Haymaker, pseud.], Nola 46 (Mainesburg Press). This collection of 12 short stories, set in New Orleans at the end of WWII, centers around their narrator, a young Navy lieutenant finding his way back to the pleasures of civilian life after the unreality of war in the Pacific.
HISTORY/CURRENT EVENTS
Joel D. Howell, MD'79, Technology in the Hospital: Transforming Patient Care in the Early Twentieth Century (Johns Hopkins University Press). Drawing on case records, popular literature, visual arts, and medical texts, Howell examines the rise of medical technology from 1900 to 1925 and relates his findings to contemporary issues.
William M. Kuhn, AB'79, Democratic Royalism: The Transformation of the British Monarchy, 1861-1914 (Macmillan and St. Martin's Press). Kuhn examines the rationale behind the expansion of the British monarchy's ceremonial role during the 50 years preceding WWI, paying particular attention to the roles of key politicians.
Martha Lampland, PhD'87, The Object of Labor: Commodification in Socialist Hungary (University of Chicago Press). Examining the history of the agrarian labor workforce in Hungary from WWI to the early 1930s, Lampland argues that capitalism had forged roots in Eastern Europe by the 1930s. In turn, socialist policies aided, rather than hindered, the rise of a free-market economy.
Augustus Richard Norton, PhD'84, editor, Civil Society in the Middle East, Vol. II (E. J. Brill). Examining civil society, society-state relations, and prospects for political reform in the Middle East, Norton's book focuses on Turkey, the Sudan, Algeria, Gaza, Israel, Iraq, Yemen, and the Arab Gulf states.
Mary M. Stolberg, AB'77, Fighting Organized Crime: Politics, Justice, and the Legacy of Thomas E. Dewey (Northeastern University Press). Stolberg outlines the interplay between crime and politics in New York City during the 1930s, illustrating how political figures of the time--Dewey among them--manipulated their fight against gangster-driven crime for personal gain.
Marko Zlatich, AB'52, General Washington's Army 1: 1775-1778 and General Washington's Army 2: 1779-1783 (Osprey Men-at-Arms). These reference guides to Revolutionary War uniforms worn by Continental and State forces under George Washington are illustrated with color plates of reconstructed uniforms and by photographs and drawings of surviving objects and portraiture.
MATHEMATICS
Jane Piore Gilman, SB'65, Two-Generator Discrete Subgroups of PSL (2, R) (American Mathematical Society). Gilman presents the first complete geometrical solution to the discreteness problem, emphasizing the interplay between algebra and geometry.
MEDICINE AND HEALTH
M. E. Brecher, MD'82; L. C. Lasky; R. A. Sacher; and L. A. Issitt, editors, Hematopoietic Progenitor Cells: Processing, Standards and Practice; Brecher and L. C. Jefferies, editors, Orthopedic Transfusion Therapy; Jefferies and Brecher, editors, Massive Transfusion; and Sacher and Brecher, editors, Obstetric Transfusion Practice (American Association of Blood Banks). The first book provides an overview of hematopoietic progenitor cell-processing standards and practice, the second offers a multidisciplinary perspective on bone and blood support of orthopaedic patients, the third surveys current concepts in massive transfusion, and the fourth reviews disorders that may require blood-component therapy and strategies in transfusion medicine.
Walter E. Stumpf, PhD'67, and Howard Solomon, editors, Autoradiography and Correlative Imaging (Academic Press). This text provides historical discussions and useful protocols while reviewing the utility of modern autoradiographic techniques in localizing drugs in tissues and cells to better understand their mechanisms of action.
POLITICAL SCIENCE AND LAW
Scott K. Lehmann, PhD'70, Privatizing Public Lands (Oxford University Press). Lehmann argues that privatizing public lands or managing them as if they were private is not likely to make those lands more "productive" and that, if it did, productivity would not be desirable.
Kenneth W. Thompson, AM'48, PhD'51, editor, Morality and Power: The U.S. Colonial Experience in Puerto Rico from 1898 to 1948 (University Press of America). This book analyzes the processes of decolonization and national self-determination in Puerto Rico and addresses the limited success of the Puerto Rican independence movement at a time when decolonization was sweeping the world.
PSYCHIATRY/PSYCHOLOGY
Lawrence L. LeShan, PhD'54, Beyond Technique: Psychotherapy for the 21st Century (Jason Aronson). Grounded in hands-on experience and empirical literature, LeShan's book discusses modern psychotherapy and the difference between alleviating pain and healing the human spirit.
RELIGION AND PHILOSOPHY
Bruce M. Sullivan, PhD'84, and N. P. Unni, editors, The Sun God's Daughter and King Samvarana: Tapati-Samvaranam and the Kutiyattam Drama Tradition (Nag Pubs.). The Sanskrit text and translation of this six-act classical Indian drama are accompanied by introductory essays explaining the religious significance of the drama and its 900-year tradition of performance in Hindu temples.
Michael Swirsky, AB'63, At the Threshold: Jewish Meditations on Death (Jason Aronson). Giving voice to the emotions and existential concerns of those approaching or contemplating death, this anthology draws on Jewish philosophies from the Psalms to poets to Hasidic lore.
SCIENCE AND TECHNOLOGY
Lawrence S. Lerner, AB'53, SM'55, PhD'62, Physics for Scientists and Engineers and Modern Physics for Scientists and Engineers (Jones and Bartlett Publishers). These introductory calculus-level texts for physical-sciences and engineering students emphasize the physicist's thought process, the role of mathematical language in physics, and the interplay of principles and problem solving.
David Taylor, AB'80, and Leo J. Hickey, editors, Flowering Plant Origin, Evolution & Phylogeny (Chapman & Hall). This book synthesizes current theories on the evolution of flowering plants, including Taylor's hypothesis of an herbaceous origin.
SOCIAL SCIENCES
Richard Feinberg, AM'71, PhD'74, editor, Seafaring in the Contemporary Pacific Islands: Studies in Continuity and Change (Northern Illinois University Press). A dozen original essays examine contemporary seafaring practices and the daily relationship of ordinary Pacific islanders to the sea.
Robert J. Foster, AB'79, PhD'88, Social Reproduction and History in Melanesia: Mortuary Ritual, Gift Exchange and Custom in the Tanga Islands (Cambridge University Press), and editor, Nation Making: Emergent Identities in Postcolonial Melanesia (University of Michigan Press). In the first book, Foster analyzes the large-scale feasts and ceremonial exchanges of Tanga mortuary rites as a means to both commemorate the dead and regenerate the social relations of the living. In the second, contributors explore political conditions and cultural assumptions that inform Melanesians' vision of a national community.
Joseph B. Gittler, PhD'41, editor, Racial and Ethnic Conflict: Perspectives from the Social Disciplines (JAI Press). This volume addresses issues of racial and ethnic conflict from more than a dozen perspectives, including cultural anthropology, history, and criminal justice.
Jeanne Malvi Safer, AB'69, Beyond Motherhood: Choosing a Life without Children (Pocket Books). This autobiographical study also features interviews with 50 American women, ages 22-75, who've decided not to have children.
TRAVEL AND LEISURE
Dona Z. Meilach, PhB'46, The Best Bagels Are Made at Home, Marinades Make Ordinary Foods Extraordinary, and The Best 50 Liqueur Recipes (Bristol Publishing). In these three cookbooks, Meilach tells readers how to make pumpkin-orange bagels, use marinades in fruit desserts, and flavor food with liqueurs.
For inclusion in "Books by Alumni," please send the book's name, author, publisher, field, and a short synopsis to the Books Editor, University of Chicago Magazine, 5757 Woodlawn Ave., Chicago, IL 60637, or by E-mail: uchicago-magazine@ uchicago.edu.
Return to April 1996 Table of Contents