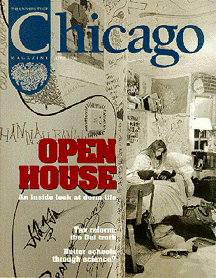 Welcome to the on-line edition of the April/96 issue.
As with our hard-copy format, we welcome readers' comments and reactions. Our Internet address is uchicago-magazine@uchicago.edu.
---
THE UNIVERSITY OF CHICAGO MAGAZINE
April 1996
---
Table of Contents
VOLUME 88, NUMBER 4 APRIL 1996

Cover: "I'll just paint over the walls when I leave," says first-year Pierce Hall resident Hannah Chandler. Drawings, murals, posters, and holiday decorations are a few of the ways students make U of C housing feel like home. Photo by Lloyd DeGrane.
---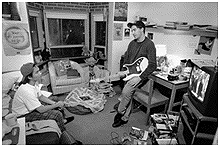 Rooms with a view
They may not be the Ritz-Carlton, but dormitories offer something more-a place to call home.
LLOYD DEGRANE

Is this tax a candidate?
With or without Steve Forbes, the push may be on for tax reform. Chicago's experts say a flat tax is still worth a look.
ANDREW CAMPBELL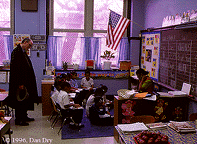 Education is a science
"A science of hope," says Joe Layng, PhD'94. Bringing behaviorism into the classroom, Layng helps underprepared students learn how to achieve.
KIMBERLY SWEET

DEPARTMENTS

RETURN TO MAGAZINE'S MAIN DIRECTORY