The University of Chicago Magazine April 1996
---
Return to April 1996 Table of Contents
---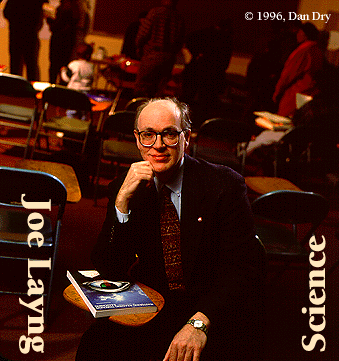 "A science of hope," he says. Bringing behaviorism into the classroom, Layng's educational approach is designed to help underprepared students learn how to achieve.

By Kimberly Sweet
Photography by Dan Dry

Sucking down caffeine one night in February 1969 at the 24-hour Hollywood Restaurant, just outside Rockford, Illinois, Joe Layng experienced an epiphany. As a first-year community college student, Layng was taking both evolution and psychology courses. The latter, he thought, was interesting, but "best left to those in the softer sciences." Then he was assigned an article by John B. Watson, PhD'03, which he brought to the restaurant to read. A pioneer in behavioral psychology, Watson suggested that human behavior could be studied through the methods of a natural science. The thought had never occurred to Layng, who was captivated by the possibilities.

A budding curiosity soon led him to B. F. Skinner's Technology of Teaching. Another lightning bolt. "This was a remarkable book," says Layng, who earned his Ph.D. in behavioral sciences from the U of C in 1994, "because it suggested that if you arranged the conditions well enough, and looked at the relation of the behavior of the student to the material, that all students could be taught and that you could systematically put in place the repertoires needed to make people smart, creative thinkers."

This bold credo--that learning depends not on the learner but on the environment and the instructor--has informed

Continue reading "Joe Layng Believes Education is a Science."
---
Go to: Return to April 1996 Table of Contents