The University of Chicago Magazine April 1996
---
Return to April 1996 Table of Contents
---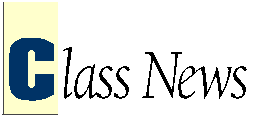 ---
What's the news? We are always eager to receive your news at the Magazine, care of the Class News Editor, University of Chicago Magazine, 5757 Woodlawn Ave., Chicago, IL 60637, or by E-mail: uchicago-magazine@uchicago.edu.
To write us with your news directly, click here for our e-mail form: uchicago-magazine@uchicago.edu.
No engagements, please. Items may be edited for space. For that reason, starting with the February/96 issue we no longer list all of the U of C alumni present at a wedding, but only those alumni who are relatives or were members of the wedding party. As news is published in the order in which it arrives, it may not appear immediately.
Please specify the year under which you would like your news to appear. Otherwise, we will list: (1) all former undergraduates (including those who later received graduate degrees) by the year of their undergraduate degree, and (2) all former students who received only graduate degrees by the year of their final degree.
---
Within Class News:
---
Miriam Schafmayer Baker, AB'40, and her husband enjoyed her 55th class reunion last June. "It was great to see those who attended and the many changes on campus," she writes. "We missed good friends who didn't make it back." The Bakers have lived in Columbia, MO, for 32 years and enjoy retirement and travel. Hannah Fisk Flack, AB'40, see 1937, Hannah Fisk Flack. Martin Levit, SB'40, AM'47, PhD'49, a professor emeritus of philosophy and education at the University of Missouri, Kansas City, is "busy 'saving the world,' working with a number of social-action groups." He's also preparing to write an article on philosophy of law with his daughter, who teaches law. He would love to hear from friends at 913/531-5728.
41
Alan T. Prince, PhD'41, see 1955, Frank M. Byers, Jr.
42
Rosamond Rathbone Demman, MBA'42, is a retired public-school administrator. Clarabel ("Claire") Grossmann Goes, X'42, still enjoys working in the promotional-products business and traveling. She took a Baltic Sea cruise with U of C friends in 1994 and recently visited John B. Angelo, AB'48, JD'49, and Shirley Smith Angelo, AB'43, at "their beautiful Michigan home." Alice Turner Schafer, SM'40, PhD'42, was science-and-mathematics section leader for the citizen-ambassador program of People to People's United States and China Joint Conference on Women's Issues, held in Beijing last fall. Murray L. Wax, SB'42, PhD'59, edits The Independent Scholar, the quarterly journal of the National Coalition of Independent Scholars. He delivered the initial address, titled "On Dancing at Two Weddings: Biomedical & Hermeneutic Approaches to Psychoanalysis," of the 1995-96 lecture series of the St. Louis Psychoanalytic Society.
43
Shirley Smith Angelo, AB'43, see 1942, Clarabel Grossmann. Marie E. Borroff, PhB'43, AM'46, became Sterling professor emeritus of English at Yale in 1994. Mary Davis Carroll, SB'43, SM'44, MD'48, retired from family practice at the end of 1995. Esther Miller Morris, X'43, see 1945, Glores Hicklman Cutler.
44
Elvira Vegh Gil de Lamadrid, SB'44, see 1948, J. Gil de Lamadrid. Three years ago, Henry L. Wildberger, PhB'44, SB'49, MD'51, retired from practicing medicine and became associate professor emeritus at Northwestern Medical School. He plays in a community symphony orchestra, studies archaeology at the U of C, and takes classes in religion and German. He enjoys his family and two grandchildren. Lenora Blackburn Young, BLS'44, and her husband moved from Harvey, IL, to Frankfort, KY, in May 1994 and recently celebrated their 50th wedding anniversary.
45
Alice Cook Brock, PhB'45, AM'49, and husband Ernest, a retired physicist, are enjoying Elderhostel programs, including one in Scandinavia this past August. "Our two sons, one daughter, and five grandchildren are the joy of our life," she writes. Glores Hicklman Cutler, X'45, reports that Esther Miller Morris, X'43, was named docent of the year at the Santa Barbara Museum of Art. Morris is also on the museum's welcoming committee. Marjorie Jaffe Deitelbaum, PhB'45, AM'48, retired in June after 26 years at Evanston Township High School, working with students with emotional and behavioral disorders. She's now "working on the pleasure principle." Walter J. Levy, AM'45, received two lifetime-achievement awards in 1995-one in March from the Dallas unit of the National Association of Social Workers and one in November from the Texas chapter. In 1986, Levy received the Dallas unit's social worker of the year award. His wife, Hilma Cohn Levy, AM'47, and his daughter, Deborah L. Levy, AB'72, PhD'76, are also U of C grads. Josephine A. Perry, AB'45, AM'49, enjoyed her 50th reunion.
46
Charles F. Berryman, AB'46, of Rochester, MN, was elected to a five-year term on the board of the Foundation for Rehabilitation Certification, Education, and Research. This past summer, he completed a two-year term as treasurer of the Certification of Insurance Rehabiliation Specialists Commission. Barend A. De Vries, X'46, formerly a chief economist at the World Bank, is completing his book Champions of the Poor: The Economics and Ethics of Fighting Poverty. Ruth Stohl Hedlund-Berggren, MBA'94, recipient of an M.B.A. executive program certificate in 1946, sells homes as a Realtor with Coldwell-Banker in Glenview, IL. She returned to northeast Illinois in 1990 after "lengthy corporate gypsying" and finds real estate both rewarding in itself and an ideal way to renew friendships. Esther Langlois, X'46, a psychologist specializing in marriage and family counseling, is a member of the AAUW and the Ohio Psychological Association. She also writes, alternate weeks, for the Westlaker Times. Norwood B. Vail, BLS'46, see 1989, George E. Clark. Leslie Waller, X'46, reports that his novel Manhattan Transfer has been published in London, while his book Tango Havana came out in paperback in 1995.
47
John F. Harder, AM'47, is alive and well in New Haven, CT. Robert T. Hennemeyer, PhB'47, AM'50, was a Foreign Service officer from 1952 to 1986, retiring as an ambassador. For the next five years he was director of the Office of International Justice and Peace for the U.S. Catholic Bishops' Conference; now he is a consultant to the State Department and the Bishops' Conference. Son Chris is director of Catholic Relief Services in Rwanda; son Paul is an economist and consultant; and daughter Robin, a book editor, co-edited a 1994 work titled Peacekeeping. Joseph K. Kostolefsky, AB'47, and his wife "will keep traveling as long as our feet hold out." They visited Portugal, Madeira, and Costa Rica in 1995 and plan on Alaska and maybe China this year. "This of course is just preparation for the Big One in '97-my 50th Chicago reunion," he writes. Sidney Kramer, AM'47, retired from his marriage- and family-counseling practice in 1992. Since then, he's focused on performing violin solos for church services and elementary classrooms. Hilma Cohn Levy, AM'47, see 1945, Walter J. Levy. Leatrice Branch Madison, AM'47, introduced her friend John Hope Franklin, U of C history professor emeritus, at the 25th anniversary celebration of the Afro-American Archives of the Western Reserve Historical Society in Cleveland. Madison has been a society trustee for ten years. Alvin A. Munn, SM'47, and wife Ginny have lived in Fort Myers, FL, for 12 years and enjoy it more every year. The Munns are very active in their local church, Covenant Presbyterian, and Alvin is also on the board of the national church's lay committee. He also helps judge at science fairs. Annie Russell Ricks, PhB'47, has retired from a fair-housing agency in Cincinnati and lives with her husband, David F. Ricks, AB'48, PhD'56, a University of Cincinnati professor emeritus of psychology, in West Virginia. Their children live in Massachusetts, New Jersey, Philadelphia, and Washington, DC. Annie writes, "Dave teaches skiing and riding horses to grandkids, gardens, and contemplates many letters-to-the-editor-which he will write as soon as we replace our old computer, which I crashed. I'm into politicking for selected Democratic candidates, advocating better-planned housing as a start toward stronger responsibility to the community." Thomas J. Whitby, PhB'47, AM'52, writes that a second edition of the book he cowrote, Studies in Human Sexuality, was published.
48
John B. Angelo, AB'48, JD'49, see 1942, Clarabel Grossmann. J. Gil de Lamadrid, SB'48, SM'49, and Elvira Vegh Gil de Lamadrid, SB'44, "revisited International House and renewed old memories" last summer. "It was good to see improvements there, including the dining-room fan," they write. Despite the heat, they enjoyed their stay. David F. Ricks, AB'48, PhD'56, see 1947, Annie Russell Ricks. Sophronia Nickolaou Tomaras, AB'48, is still religious-education director for the Greek Orthodox diocese of San Francisco, and is also on the national curriculum commitee. Her 1995 publications include a teenage unit on peer pressure and the 17th annual edition of the church-school teachers' planbook/lectionary. Tomaras is translating two award-winning books on the lives of saints and the life of Christ from Greek into English.
49
Richard A. Freeman, AB'49, senior vice president of Oppenheimer and Co., won the 1995 Bermuda Bowl, the world contract-bridge team championship. Susan Pearlman Kagan, X'49, a music professor at Hunter College, is president of the newly formed New York chapter of the American Beethoven Society, which seeks to further interest in and appreciation of Beethoven's music, life, and ideals. Mary V. Minnie, AM'49, retired in 1994 and volunteers in community organizations and social work. Also in 1994, she moved to Hemet, CA, from Pasadena. "Happy every day with joy to all," she writes. Charles W. Nelson, PhD'49, a former associate professor of sociology at Indiana State University and a consultant to the Industrial Relations Center, incorporated his research in his book A GIST Systemic Approach to Organizational Development, which has a companion video showing how leadership styles relate to health. John M. Stevens, PhB'49, BSS'52, AM'55, writes, "My conviction for grand larceny, fraud, and misappropriation of funds has been overturned on appeal."
---
Go to:Return to April 1996 Table of Contents