Center Stage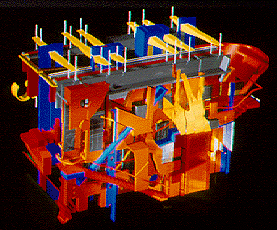 Architecture with Flare: Architect Ben Nicholson created this computer-generated image of his theoretical project The Loaf House, one of the three such projects in his exhibition at The Renaissance Society. Nicholson's vision of architecture is also revealed in models, collages, and carefully chosen pieces of technological detritus, including packing inserts, bread-identification tags, and fragments of a recently dismantled U.S. B-52 bomber.
---
Exhibitions
Education for Life: 100 Years of the Laboratory Schools, through October 14. Including letters, documents, publications, photos, and other memorabilia, this centennial exhibit begins with the pedagogical philosophy of founder John Dewey and his original group of teachers, then examines the techniques of their successors and recent advances. It also looks at the student experience in classrooms, labs, theaters, machine shops, art studios, and field trips. Special Collections; call 702-8705.
Looking to Learn, Too: Visual Pedagogy at the University of Chicago, through October 14. Going back to the University's early days, this exhibition explores how objects, artifacts, and images have been collected, deployed, and displayed in teaching, research, and self-representation. Featured collections are the Speculum Romanae Magnificentiae and the Ludwig Rosenberger Library of Judaica. Special Collections; call 702-8705.
Peter Saul: Art World Portraits, August 20-September 15. Created in the early 1970s, these 14 drawings by Peter Saul, an innovator of American pop art, critique the "superheroes" of the art world and portray various artists, critics, and dealers, including Andy Warhol, Frank Stella, Leo Castelli, and Saul himself. Smart Museum; call 702-0200.
Egyptian Art from the Oriental Institute Museum, September 10, 1996, through 1998. The Smart Museum displays works from the Oriental Institute's permanent collection while the OI undergoes renovations. Smart Museum; call 702-0200.
Faces of Ancient Egypt, September 10-March 9. Seldom-seen artifacts from the collection of the Oriental Institute Museum explore the ways that ancient artists portrayed Egyptians as foreigners. Smart Museum; call 702-0200.
Ben Nicholson, September 29-November 10. Models, hand and computer drawings, paintings, and collages illustrate three theoretical projects in the first solo American exhibition of work by architect and theoretician Ben Nicholson. Renaissance Society; call 702-8670. (See "Center Stage.")
The Fragrance of Ink: Korean Literati Paintings of the Choson Dynasty (1392-1910) from the Korea University Museum, October 10-December 8. This world premiere exhibition of 62 rare ink paintings--including scrolls, album leaves, and screens--is organized by the Korean Studies Institute and the Korea University Museum and is circulated by the Smart Museum of Art. Smart Museum; call 702-0200.
Lectures
Works of the Mind Lecture Series, October 26 at 2 p.m. This special lecture kicks off the Basic Program's 50th-anniversary year. Wayne Booth, the George M. Pullman distinguished service professor emeritus of English, speaks on "What Should Be Said about the Aims of Basic Education?" Judd Hall; call 702-1722.
Music
Orion String Quartet and Guarneri String Quartet, October 11 at 8 p.m. The Chicago debut of the Orion String Quartet, in concert with the Guarneri String Quartet, opens the annual Chamber Music Series. The program features Mozart, Brahms, and Mendelssohn. Mandel Hall; call 702-8068.
The Tallis Scholars, October 27 at 3 p.m. Opening the International Early Music Series, the Tallis Scholars perform Loquebantur variis linguis and Sancte Deus by Tallis and Ave Maria and O bone Jesu by Parsons, as well as works by Sheppard, Taverner, Mundy, and Parsley. Rockefeller Chapel; call 702-8068.
Lisitsa and Kuzenetsoff, November 1 at 8 p.m. The award-winning Russian piano duo performs a concert of Ravel, Milhaud, Arensky, and Shosta-kovich. Mandel Hall; call 702-8068.
Theater
Old Times, September 20-October 20. In Harold Pinter's drama, Kate and Deeley's marriage is disrupted when an old friend visits their farmhouse on the English coast. Deeley begins to compete with the "friend" in a vicious power struggle for his wife's affections. As the rivalry intensifies, imaginings and remembrances of things past build as the two men match parries and pauses with devastating results. Court Theatre; call 753-4472.
Travels with My Aunt, November 8-December 8. In Giles Havergal's adaptation of Graham Greene's novel, the whirlwind plot takes off when Henry Pulling, a reserved bank clerk whose chief pleasure is the cultivation of dahlias, is reunited with his eccentric aunt and gets swept up in her nefarious international adventures. The characters are portrayed by a cast of four, with each one taking a turn at playing Henry. Court Theatre; call 753-4472.
On the Quads
A Docent Digs in Egypt, September 18 at 7 p.m. As part of Illinois Archaeology Awareness Week, Janet Helman, Oriental Institute docent and researcher, describes a remarkable season of discovery at the Giza Plateau. Working with an archaeological team, she took part in the excavations that uncovered two Old Kingdom bakeries that supplied bread to the workers who built the great pyramids. Oriental Institute; call 702-9507.
In the City
First Friday Lectures, first Friday of each month at 12:15 p.m. September 6: Adam Rose, Basic Program staff member, lectures on James Fenimore Cooper's The Last of the Mohicans. October 4: George Anastaplo, AB'48, JD'51, PhD'64, Basic Program staff member, lectures on "Moses in Egypt." November 1: Zöe Eisenman, AM'89, Basic Program staff member, speaks on "Alcibiades as Rendered in Plato, Thucydides, and Plutarch." Chicago Cultural Center; call 702-1722.
In the Region
Basic Program Fall Weekend, November 1-3. Sponsored by the Center for Continuing Studies, faculty and alumni examine Plato's Symposium through lectures, performance, and discussion. Among the faculty are Nicholas Rudall, associate professor in classical languages and literatures and founding director of Court Theatre; and Herman Sinaiko, AB'47, PhD'61, professor of humanities. Alpine Valley Resort, East Troy, Wisconsin; call 702-1722.
---
Go to:
Return to August 1996 Table of Contents