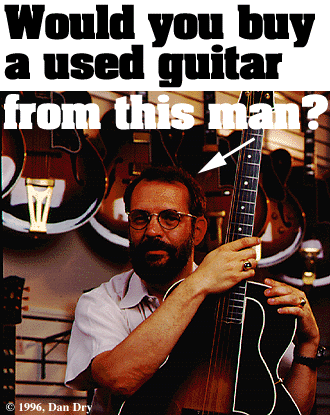 Eric Clapton, Emmylou Harris, and Hank Williams, Jr., have. Buying and selling vintage instruments is more than a business for George Gruhn, AB'67.
By Jeff Makos
Photographs by Dan Dry

ention the name George Gruhn to an average rock, country, or blues fan, and you will hear the same question: "Who's that?"
Mention the name to musicians Eric Clapton, Lyle Lovett, Emmylou Harris, Billy Gibbons of ZZ Top, John Hiatt, and Hank Williams, Jr., and you'll hear: "George Gruhn sells me my favorite guitars."
In the music business, Gruhn is a legend. "He is the world's leading expert on vintage American guitars and related instruments," says Walter Carter, historian and archivist for the Gibson Guitar Company. "No one else even comes close." His books, such as Gruhn's Guide to Vintage Guitars, have set the standard for a rapidly developing international market.
Since 1970, Gruhn--who, dressed in khakis and carrying his ever-present portable phone, looks like a cross between an ecology professor and a very hip stockbroker--has bought and sold countless guitars, banjos, and mandolins. His guitar shop, whose exterior sports a three-story-tall mural of the Gruhn Guitars Inc. logo, is located in the Broadway district of downtown Nashville, next door to the Ryman Auditorium, the original home of the Grand Old Opry.
Currently, annual sales at Gruhn Guitars total more than $6 million. He employs a staff of
Continue reading "Would you buy a used guitar from this man?"


George Gruhn looks at guitars as "specimens," and his Nashville store presents row after row of gleaming beauties, "evolutionary links in the history of the guitar and related instruments."
---
Jeff Makos, AB'81, AM'82, is a staff writer in the University's News Office. He has written music reviews for the Chicago Sun-Times and other papers--and he owns several vintage Gibson guitars, including a blond Les Paul Custom.
---
Go to:
Return to August 1996 Table of Contents