Welcome to the on-line edition of the August/96 issue.
As with our hard-copy format, we welcome readers' comments andreactions. Our Internet address is uchicago-magazine@uchicago.edu.
---
THE UNIVERSITY OF CHICAGO MAGAZINE
AUGUST 1996
---
Table of Contents
VOLUME 88, NUMBER 6 AUGUST 1996

Cover: Alumni Medalist Abner Mikva, JD'51. Photo by Dan Dry.
---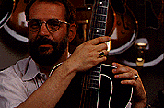 Would you buy a used guitar from this man?
Eric Clapton and Hank Williams, Jr., have. Buying and selling vintage instruments is more than a business for George Gruhn, AB'67.
JEFF MAKOS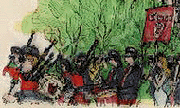 Scenes from a reunion
Alumni returned to campus the first weekend in June to quads as green as they used to be.
DRAWINGS BY MARK McMAHON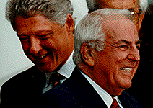 Dissenting opinion
From Watergate to Whitewater, Alumni Medalist Abner Mikva, JD'51, hasn't lost his faith in government's ability to do good.
R. BRUCE DOLD

DEPARTMENTS