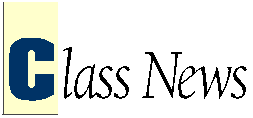 1960s
---
What's the news? We are always eager to receive your news at the Magazine, care of the Class News Editor, University of Chicago Magazine, 5757 Woodlawn Ave., Chicago, IL 60637, or by E-mail: uchicago-magazine@uchicago.edu.
To write us with your news directly, click here for our e-mail form: uchicago-magazine@uchicago.edu.
No engagements, please. Items may be edited for space. For that reason, starting with the February/96 issue we no longer list all of the U of C alumni present at a wedding, but only those alumni who are relatives or were members of the wedding party. As news is published in the order in which it arrives, it may not appear immediately.
Please specify the year under which you would like your news to appear. Otherwise, we will list: (1) all former undergraduates (including those who later received graduate degrees) by the year of their undergraduate degree, and (2) all former students who received only graduate degrees by the year of their final degree.
---
60
Denis Cowan, AM'42, PhD'60, responds to the April/96 "Class News": "If anyone can `save the world,' Martin Levit, SB'40, AM'47, PhD'49, can do it. His impressive record in the '30s and '40s disclosed to his baseball teammates that the potential was there, even on a Big Ten team that didn't upset the league. Marty and co-captain William ("Sparky") Calog, AB'40, gave us goals that have kept us plugging away all these years, whether in athletics or academics, in the latter of which he was also superlative....Marty's message inspires me and perhaps significant others who knew and admired him then that all is not yet lost--even in the final innings." Albert R. ("Bert") Wartchow, MBA'60, has retired to spend more time with family and more time doing volunteer work after 40-plus years in the electronics industry, the last 13 as an independent manufacturers' representative in Milwaukee.
61
Roger W. Axford, AM'49, PhD'61, was among the first group of inductees into the International Adult and Continuing Education Hall of Fame. John E. Craven, SB'61, SM'63, PhD'73, was named the CIA's 1996 scientist of the year, the first time the winner's name has been disclosed publicly. Craven demonstrated new digital logical technology that makes possible digital-processing speeds more than 100 times faster than today's fastest computers. He also continues to develop a self-aligning and self-tracking laser communications system. Craven was featured in the Washington Post. Floyd A. Fried, MD'61, is a faculty member in urology at the University of North Carolina at Chapel Hill. "Lots of U of C alumni here!" he writes. "Looking for old friends from Hyde Park."
62


John M. Fritz, AB'62, AM'68, PhD'74, reports that his former wife, Margaret W. Conkey, AM'69, PhD'78, an anthropology professor at Berkeley, received an honorary degree from Mt. Holyoke College, her alma mater, in May. In June 1995, John T. Hart, X'62, retired from 30 years of practicing cardiac surgery at the University of Toronto. Hart has resumed studying math and physics, which he began at Chicago, and enjoys his new lifestyle with his wife, Mimi.
63
Gerry J. Elman, SB'63, continues practicing intellectual-property and information law in Media, PA, with the new firm name of Elman & Associates. Elman is founder and editor in chief of Biotechnology Law Report, in its 15th year of publication. On December 30, he attended the wedding of his daughter, Floren, 22, and Wendell Leif Olston, in a Baha'i ceremony on the island of Oahu. Floren studies Mandarin Chinese at the University of Hawaii. In April, Elman spoke at a conference on intellectual property and the Internet. Since summer 1995, he has been a faculty member of the University of Phoenix's on-line campus, teaching a course in intellectual-property management via a computer-conferencing system. Kit S. Kollenberg, AB'63, AM'68, writes that her second son, Jeremy, just graduated from high school, and she looks forward to "some quality couple time" with husband Gary. Charles E. Nootens, AB'63, MBA'64, is president of Great Lakes Energy Corps and American Energy Management. Both companies are involved in the national sale and management of natural gas and electricity. Howard M. Teeple, PhD'55, AM'63, edits the REI Digest, the quarterly bulletin of the Religion and Ethics Institute.
64
Thomas M. Brown, AM'64, retired April 30 after 43 years in education and libraries in Malaysia, Illinois, and West Virginia. He received the West Virginia Library Association's 1994 Dora Ruth Parks award for outstanding service to librarianship. Active in organizations dedicated to international peace and good will, he and his wife, Leila Jackson Brown, AM'74, moved to Cottage Grove, WI, in June. DeLyle Eastwood, SM'55, PhD'64, an adjunct professor of physics at the University of Nevada, Las Vegas, received a 1996 award of merit from the American Society for Testing and Materials. Richard L. Jacobson, SB'64, was elected to the American Law Institute and is in the midst of a two-year term as president of the Association of Securities and Exchange Commission Alumni.
65
Iris L. Cleveland, AB'65, MAT'67, teaches an on-line course in poetry for NetNoir. She recently returned to teaching after three years spent recovering from a stroke. She writes, "My son, 15, is among the top three in his class, and colleges are stuffing the mailbox with offers for him." Leslie Friedman Goldstein, AB'65, AM'67, is the Unidel professor of political science and international relations at the University of Delaware. Heather Campbell Henry, AM'65, the principal of Environmental Consulting Services, recently joined the board of trustees at Vermont Law School. Fredric J. Kessler, MBA'65, has joined the faculty of the Lake Forest (IL) Graduate School of Management. Fernando Ugarte, MD'65, has won the Pfizer Laboratories photo contest for two consecutive years: His photos were published in the Pfizer calendar. He also won ribbons for best photography at the 1995 and 1996 Midwest Clinical Conference of the Chicago Medical Society. His pictures will appear in Kansas!, the magazine of the Kansas State Department of Commerce and Tourism. Ugarte, who has traveled extensively to Austria, Germany, and Spain, presented a paper on laparoscopic surgery at a recent meeting of the North American Trauma Association.
66
Susan N. Horowitz, AB'66, was on the faculty of the fall 1995 voyage of Semester at Sea aboard the SS Universe. The semester combined academic classes with visits to ports in Asia and the Middle East. Horowitz normally teaches English and drama at CUNY, Borough of Manhattan Community College; on the ship, she taught world theater, world literature/creative writing, and public speaking. "To inspire (and keep up with)" her classes, Horowitz "created her own voyage in poetry," Foreign Affairs: Intimate Encounters with Ten Cultures.
67


Philip M. Lankford, AB'67, AM'68, PhD'71, "survived the merger of Chemical and Chase banks" and now runs two departments: risk-management scoring systems and the data warehouse. "I also survived the record-breaking snowfalls that hit the New York City area," he writes. "No doubt Chicago gives us all kinds of survival skills!" James H. Matson, MBA'67, spent three weeks in Khabarovsk, Russia, this winter as an adviser to Vostok, a pharmaceuticals company. Matson volunteers with the Citizens Democracy Corps, a nonprofit organization dedicated to helping Russia and Central and Eastern European countries develop market economies and democratic institutions. Michael S. McPherson, AB'67, AM'70, PhD'74, formerly dean of faculty and the W. Van Alan Clark Third Century professor of economics at Williams College, became Macalester College's 15th president in August. McPherson received an honorary doctor of laws at the Williams commencement.
68
Robert M. Baughman, MBA'68, is vice-president of human resources at Tektronix, Inc. Richard L. Neumeier, AB'68, AM'68, practices law with McDonough, Hacking & Neumeier, a Boston firm that concentrates in civil-litigation defense.
69
Deborah McPherson Berman, AB'69, assistant dean of human resources at Southern Illinois University School of Medicine, was elected president of the Illinois chapter of the College and University Personnel Association. Jamie W. German, MAT'69, was selected to represent Rhode Island in the annual Outstanding New England Secondary School Chemistry Teachers program. German has taught at Moses Brown School in Providence since 1977. Susan A. Henderson, JD'69, see 1928, Helen O'Toole Cannon.
---
Within Class News:
---
---
Go to:
Return to August 1996 Table of Contents