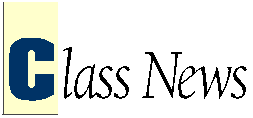 1950s
---
What's the news? We are always eager to receive your news at the Magazine, care of the Class News Editor, University of Chicago Magazine, 5757 Woodlawn Ave., Chicago, IL 60637, or by E-mail: uchicago-magazine@uchicago.edu.
To write us with your news directly, click here for our e-mail form: uchicago-magazine@uchicago.edu.
No engagements, please. Items may be edited for space. For that reason, starting with the February/96 issue we no longer list all of the U of C alumni present at a wedding, but only those alumni who are relatives or were members of the wedding party. As news is published in the order in which it arrives, it may not appear immediately.
Please specify the year under which you would like your news to appear. Otherwise, we will list: (1) all former undergraduates (including those who later received graduate degrees) by the year of their undergraduate degree, and (2) all former students who received only graduate degrees by the year of their final degree.
---
50
Ian G. Barbour, PhD'50, the Winifred and Atherton Bean professor emeritus of science, technology, and society at Carleton College, was honored with the establishment of the Barbour lecture, to be given at the annual meeting of the National Association for Science, Technology and Society. Barbour gave the inaugural address, "Ethics and Technology Today," at the 1996 meeting. Cyril M. ("Cy") Leder, AB'50, AM'53, see 1944, Betty Jane Everett Hewitt. Marion Lerner Levine, X'50, had a show of her oils, watercolors, and prints in March and April at the Prince Street Gallery in New York City. Joseph J. Sisco, AM'47, PhD'50, was named to the national advisory board of the Private Sector Council, a public-service organization dedicated to assisting the federal government with efficiency, productivity, and management.
51
Aletha A. Kowitz, SB'51, see 1957, Barbara McKenna Williams, AB'57.
52


Cyril H. Harvey, AB'52, a geology professor at Guilford College, was recently named the college's Jefferson-Pilot professor of geology. John J. Owens, Jr., X'52, earned his bachelor's and master's degrees in meteorology from Clark University. Anna Rejcha Petrovich, AM'52, enjoys retirement at age 83. Richard B. Shekelle, AB'52, AM'58, PhD'62, an epidemiology professor at the University of Texas-Houston School of Public Health, was named by the Houston campus students as the 1996 John P. McGovern outstanding teacher.
53
Wayne H. Akeson, MD'53, professor and chair of orthopaedics at the University of California, San Diego, since 1970, was awarded an honorary doctorate in medicine by the University of Gothenberg in Sweden. Allan H. Frankle, PhD'53, spent five years after graduation as director of the Des Moines (IA) Child Guidance Center and then practiced clinical psychology in Des Moines. During that time, he served a term as president of the Iowa Psychological Association, was an adjunct professor and fellow at Drake University, and was a visiting clinical associate professor at the University of Iowa. His wife, Esther Alpern Frankle, AM'48, also practiced clinical psychology in Des Moines. In 1984, they retired and moved to La Jolla, CA, where Allan continues to do independent research in psychological measurement. In March, he received the Society for Personality Assessment's 1995 Walter Klopfer award for the outstanding scientific paper published in the Journal of Personality Assessment. The Frankles' daughter, Katie, lives in Oak Park and is a systems analyst for the American Hospital Association; son Jonathan is a computer scientist for Xilinx Corporation in San Jose, CA. Richard L. Lutz, AB'53, is a book publisher in Salem, OR. David M. Solzman, AB'53, PhD'66, received his fifth Silver Circle award for excellence in teaching at the University of Illinois at Chicago. His photographic art was presented by Mayor Daley to the deputy mayor of Osaka at the June 1995 dedication of Osaka Gardens in Jackson Park.
54
Ronald L. Graham, X'54, is chief scientist of the research arm of AT&T. He has been elected to a four-year term as treasurer of the National Academy of Sciences. Justin M. Johnson, AB'54, JD'62, completed a two-year term on the Court of Judicial Discipline in August 1995 and in November was reelected to a ten-year term on the Superior Court of Pennsylvania. A trustee of Carnegie Mellon University and Princeton Theological Seminary, Johnson is completing a six-year term on the U.S. Presbyterian Church constitution-advisory committee. Robert H. White, AB'54, AB'55, AM'57, is a professor and former dean of social sciences at Olive-Harvey College in Chicago. In 1995, he was named a distinguished professor and received the mayor's award for superior public service.
55
Virgil E. Matthews, SM'52, PhD'55, retired as a development scientist with Union Carbide in 1986. In October of that year, he joined West Virginia State College as a chemistry professor and soon became department chair. Matthews retired again in 1994 and is volunteering for the West Virginia Democratic party during the 1996 campaign.
57


Barbara McKenna Williams, AB'57, invited Aletha A. Kowitz, SB'51, retired director of the American Dental Association Library, to speak before the AAUW Arlington Heights, IL, branch on "Pioneer Women: Dentists of the Midwest" in May. Williams is vice-president of programming for the group. Kowitz also addressed women dentists in Australia this summer.
58
Ludmilla Ross Coven, AB'58, received a doctor of education degree in instructional leadership with a minor in special education from National-Louis University in 1994. She now teaches in the school's Language Minority Education program. Her dissertation, on students with learning differences and foreign-language learning, was named the 1995 Kappa Delta Pi Educational Foundation distinguished dissertation. At the end of 1982, Hezekiah M. Openda, SM'58, retired as assistant director of civil aviation and principal of the Kenya School of Aviation, Nairobi, in Kenya's Ministry of Transport and Communication. Since then he has farmed 35 acres, growing sugar cane as a cash crop and maize and vegetables for food. He keeps a few cows for milk. Openda became a deacon in the Anglican church in 1992 and a full priest in 1993. From 1993 to 1995, he also was administrative secretary of the Anglican diocese of Mumias, and he continues to preach. Openda has five daughters and three sons--all married--and nine grandchildren. His wife, Salome, represented their district at the U.N.'s Fourth World Conference on Women in 1995. Their first child, Margaret, 41, has three children, earned her M.B.A., and is a management specialist for I.L.O., a U.N. body. Their second child, Nancy, 37, has two children and teaches at Egerton University in Kenya. Presently she is studying for a Ph.D. in home economics at the University of Melbourne, Australia. William R. Rogers, DB'58, PhD'65, retired in June as president of Guilford College. He gave the school's commencement address in May.
59
In summer 1995, Roberta Brosilow Cohen, AB'59, became a certified teacher of English as a second language in the Adult Education Center in Urbana, IL, where she had volunteered for two years. She had been a reading tutor volunteer with children since 1975. "This is the most rewarding work and greatest pleasure since being a world traveler," Cohen writes. "And I wear the title `Teacher Roberta' as proudly as a diamond tiara." Robert F. Dowrey, DB'59, retired in June 1995 after more than 40 years in the United Methodist ministry. He and wife Cathy now live in The Dalles, OR. Dowrey "enjoys the new things," including "walking up the hill every day to the highest point in town...exploring the piney woods and surrounding parts of town...having time to do more reading...going to the big powwow at Celilo where the Indians used to net salmon," and picking berries. He continues to preach and conduct weddings and volunteers as a part-time chaplain at Mid Columbia Medical Center. George E. Walrafen, SM'57, PhD'59, chaired a Gordon Research Conference, "Physics and Physical Chemistry of Water and Aqueous Solutions," being held in August in New Hampshire. Walrafen, a chemistry professor at Howard University, studied with the late Chicago professor of chemistry T. F. Young.
---
Within Class News:
---
---
Go to:
Return to August 1996 Table of Contents