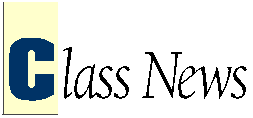 1970s
---
What's the news? We are always eager to receive your news at the Magazine, care of the Class News Editor, University of Chicago Magazine, 5757 Woodlawn Ave., Chicago, IL 60637, or by E-mail: uchicago-magazine@uchicago.edu.
To write us with your news directly, click here for our e-mail form: uchicago-magazine@uchicago.edu.
No engagements, please. Items may be edited for space. For that reason, starting with the February/96 issue we no longer list all of the U of C alumni present at a wedding, but only those alumni who are relatives or were members of the wedding party. As news is published in the order in which it arrives, it may not appear immediately.
Please specify the year under which you would like your news to appear. Otherwise, we will list: (1) all former undergraduates (including those who later received graduate degrees) by the year of their undergraduate degree, and (2) all former students who received only graduate degrees by the year of their final degree.
---
70
Walter Hellerstein, JD'70, is a partner in the Atlanta office of the law firm Sutherland, Asbill & Brennan. He also heads its state and local tax practice. Karen L. Katen, AB'70, MBA'74, president of Pfizer U.S. Pharmaceuticals Group, has been named the 1996 woman of the year by the United Service Organizations. Daniel M. Lauber, AB'70, has been busy writing. The winter 1996 issue of the John Marshall Law Review features his article "A Real LULU: Zoning for Group Homes and Halfway Houses under the Fair Housing Amendments Act of 1988." Kendall/Hunt Publishing has included a chapter by Lauber, "Racially Diverse Communities: A National Necessity," in its new textbook, African Americans in Urban America: Contemporary Experiences. The book also includes a chapter coauthored by U of C history professor emeritus John Hope Franklin. Seth Masia, AB'70, works for SKI Magazine in Boulder, CO. He and wife Stacey have a daughter, Cleo, 6. Masia, whose latest book is Terrain Skiing (Contemporary Books), has a Web site at http://www.skinet.com/.
71
Stephanie Butler, AB'71, has been elected vice-president and manager in the combined New York City branch and national division operations of Lawyers Title Insurance Corporation. Thomas A. Easton, PhD'71, writes that two anthologies edited by him will be published next year. His Web site is at http://www.thomas.edu/ ~easton/profid.htm. Mary Jo Fijolek Joiner, AB'71, writes that her son, Bryan Nathaniel, will attend Chicago in the fall. Karl K. Kerns, MBA'71, is retired and traveling the country in a motorhome. "I am finally able to access my E-mail (karlke@kerns.wi.mit.edu) via my cellular phone," he writes. Louis N. Strike, MBA'71, is managing director in charge of the new Cincinnati office of management-consulting firm Ballenger, Budetti and Associates.
72


Homer U. Ashby, THM'70, DMN'72, was named the W. Clement and Jessie V. Stone professor of pastoral care at McCormick Theological Seminary. Gerard Badler, MBA'72, is vice-president of marketing and strategy for Design Continuum, an international design and development firm. Joshua A. Fogel, AB'72, is a visiting professor at Kyoto University in 1996-97, teaching a research seminar on Chinese-Japanese-Korean cultural relations from 1600 to 1950. John A. Hannigan, X'72, see 1974, John A. Hannigan. P. Boyd Mather, PhD'72, though retired, is part-time pastor of the Linn Grove (IA) United Methodist Church. Lawrence G. Newman, JD'72, plays bass, harmonica, and acoustic guitar, and sings in the country/blues band Rough Justice, composed of a group of Dallas lawyers and a physician's assistant. His original songs include "On the Verge" and "Deja Voodoo Blues." An active member of the Dallas Bar Association with his own practice, Newman also plays in oldies-rock band Deja Voodoo and shows his paintings at local exhibitions. David E. Robin, AB'72, and Kathy, his wife of 20 years, live in Highland Park, IL, in their home of 19 years. He has two children, Jeremy, 16, and Mindy, 13. A software developer at Hewitt Associates, Robin "dealt with a mild midlife crisis by starting on a master's degree in pure math at UIC." He adds, "I still listen to the Beatles all the time. I was right back in the '60s--they were much better than the Rolling Stones! I'd love to hear from old friends." David R. Warner, LLM'72, holds the Ella and Ernest Fisher chair in law at Ohio Northern University. Patricia Cannon Willis, AM'66, PhD'72, see 1928, Helen O'Toole Cannon.
73
Sushil Auluck, SM'70, PhD'73, has been at the University of Roorkee in India since 1973 and recently became a full professor of physics. He spent the summer visiting the physics department of Uppsala University in Sweden, where he conducted research in condensed-matter physics. (This corrects information printed in the October/95 issue.--Ed.) In May 1995, Ellen Kirschner Popper, AB'73, earned her M.A. in architecture and design criticism from Parsons School of Design at the New School for Social Research and is now the architecture critic for the Long Island weekly section of the New York Times. Her children are ages 7 and 10 and her husband, Joe, "finally turned 40."
74
Leila Jackson Brown, AM'74, see 1964, Thomas M. Brown. James M. Farrar, SM'72, PhD'74, a chemistry professor at the University of Rochester, has been named a Marshall Gates distinguished faculty scholar. John A. Hannigan, X'72, has started a newsgroup and mailing--RC World, sponsored by Indiana University Medical Center--for respiratory-care health professionals. Hannigan, who has an M.B.A. and is a registered respiratory therapist, lives in West Lafayette, IN, with his family. His E-mail address is 72624.1202@compuserve.com; he looks forward to hearing from academic and folkdancing friends. J. Scott Hauger, AM'74, an associate professor of science and technology studies at Virginia Tech, has been named assistant director of the Northern Virginia Graduate Center. John J. Keogh, MBA'74, is vice-president of planning and development for TRW Inc., based at the Cleveland headquarters. Rodney J. Payton, PhD'74, a professor of liberal studies at Western Washington University, cotranslated Johan Huizinga's The Autumn of the Middle Ages (University of Chicago Press, 1996) into English. The book first appeared in 1919.
75
In March, Bruce S. Jansson, AM'67, PhD'75, a professor of social work at the University of Southern California, received the USC School of Social Work's distinguished social-work scholar award. Holly M. Leeds, AB'75, graduated from the University of Massachusetts Medical School in 1980, was certified with the American Board of Surgery in 1986, completed a hike of the Appalachian Trail in 1990-91, and married Joshua Lichterman in 1994. She writes: "We live in Rocklin, CA, at this point in time and are very excited that we are about to build a straw-bale house in Grass Valley. We will address the issue of children after the house is built. Meanwhile I have learned to weave and spin during the last six years and try to pursue those activities as well as backpack, ski, and keep practicing (never becoming perfect) medicine." John T. ("Jack") Wenzel, SM'70, PhD'75, a professor of glass technology in the department of ceramic engineering at Rutgers University, has been named a fellow in the Society of Glass Technology.
76
Bernard R. ("Bob") Bonnot, AM'75, PhD'76, a Roman Catholic priest in Youngstown, OH, has been named senior vice-president for religious affairs at the Faith & Values Channel. Poet and author Robert Klein Engler, AM'76, reads his work in coffeehouses and bars around Chicago. His poems and stories have appeared in publications including Borderlands, Hyphen, and American Letters and Commentary. Engler--who has written two books of poetry, Shoreline and Stations of the Heart--received a 1989 Illinois Arts Council Literary Award for his poem "Flower Festival at Genzano," which appeared in Whetstone. Jonathan D. Hill, AB'76, was promoted to full professor of anthropology at Southern Illinois University at Carbondale. Charles E. Krider, MBA'65, PhD'76, a professor at the University of Kansas School of Business, was awarded the 1996 R. B. Cray teaching award by a faculty committee of the school. Randall R. Rowlett, AB'76, MD'80, writes, "Non illegitimos carborundum." G. Alan Tarr, AM'70, PhD'76, a political-science professor at Rutgers University's Camden campus, received an NEH grant for his research on the relationship between state and federal constitutions.
77


Roberta F. ("Robin") Ellis, AB'77, AM'83, is chief of environmental management at the Massachusetts Port Authority and recently traveled to Copenhagen as a member of the world environmental committee of Airports Council International, an airport industry group. She and her husband have two daughters, Emma, 6, and Julia, 4. The family have relocated to Ellis's hometown of Winchester, MA. Amanda Orr Harmeling, AM'77, who teaches at the Pike School in Andover, MA, has been appointed to the Massachusetts Public Education Nominating Council. She will advise the governor on appointments to the state education board and boards of trustees of community and state colleges. Markes E. Johnson, PhD'77, the Charles L. MacMillan professor of geology at Williams College, is using his sabbatical leave this year to write a book on the paleogeography of the Silurian world. Alan S. Kopit, JD'77, a partner with the law firm Hahn Loeser & Parks, became the 86th president of the Cleveland Bar Association in June. Stephanie J. Martin, AB'77, is founder and CEO of the 1st American Investment Banking Corporation in Brandon, FL. She has been married to Tom Lane for 16 years. Greg J. Welsh, AB'77, is director of academic computing at American University.
78
Margaret W. Conkey, AM'69, PhD'78, see 1962, John M. Fritz. In November, Patricia Werstein Keats, AM'78, was made director of the library at the California Historical Society in San Francisco. She lives in the city with her husband, Terry. Gerald F. Kominski, AB'78, enjoys life as a tenured professor at UCLA and has returned to golfing after a ten-year hiatus. Joseph N. Levine, AB'78, was promoted in September 1995 to senior copy editor at PC Magazine, where he has worked for three years. "Every copy editor there is issued The Chicago Manual of Style (though most are still the 13th edition)," he writes. Levine lives in Brooklyn Heights and spends much of his free time singing in musical theater, operetta, and opera in New York City. Paul Melshen, AM'78, received his Ph.D. in history from Trinity Hall, Cambridge University, in March. He is an associate professor of strategic studies and military history at the Armed Forces Staff College in Norfolk, VA. Glenn M. Pape, AB'78, MBA'81, joined Ernst & Young as a partner and national director for large-employee-group services, planning, and client relations. He moved to Hinsdale, IL, in July. Navy Lt. Cmdr. Martin S. Simon, AB'78, is on a six-month overseas deployment aboard the destroyer USS Conolly. He particpated in operations off the coast of Liberia.
79
Erica Brown Ackerman, AB'79, is a technical writer at Enterprise Management Systems, while husband Mark S. Ackerman, AB'79, is an assistant professor in the computing, organizations, policy, and society group at the University of California, Irvine. They have two children, Rebecca, 7, and Zachary, 2. Christopher A. Colmo, AM'73, PhD'79, an associate professor of political science at Rosary College, received a Joseph J. Malone fellowship and participated in a two-week Arab and Islamic studies program in Kuwait and Oman in March. Michael K. Green, AM'75, PhD'79, was promoted from associate to full professor in the philosophy department of SUNY College at Oneonta. Peter J. Wrenn, MBA'79, of Oak Park, IL, was recently named to the board of trustees at Rosary College. He is chair, president, and treasurer of Hudson Screw Machine Co.
---
Within Class News:
---
---
Go to:
Return to August 1996 Table of Contents