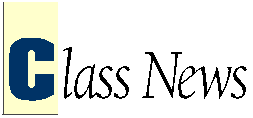 1990s
---
What's the news? We are always eager to receive your news at the Magazine, care of the Class News Editor, University of Chicago Magazine, 5757 Woodlawn Ave., Chicago, IL 60637, or by E-mail: uchicago-magazine@uchicago.edu.
To write us with your news directly, click here for our e-mail form: uchicago-magazine@uchicago.edu.
No engagements, please. Items may be edited for space. For that reason, starting with the February/96 issue we no longer list all of the U of C alumni present at a wedding, but only those alumni who are relatives or were members of the wedding party. As news is published in the order in which it arrives, it may not appear immediately.
Please specify the year under which you would like your news to appear. Otherwise, we will list: (1) all former undergraduates (including those who later received graduate degrees) by the year of their undergraduate degree, and (2) all former students who received only graduate degrees by the year of their final degree.
---
90
Karin Zitzewitz Albright, AM'87, AM'90, see 1986, Eric D. Albright. David S. Adams, AB'90, was promoted to manager at Andersen Consulting. "I am currently living on the Côte d'Azur (Cannes, France); working in London; and learning French, Italian, and guitar," he writes. "While working in Germany last year, I signed a contract with a local company to start modeling and `catwalk' shows." Dawn M. Berney, AB'90, and Edward W. Angelina, AB'90, were married on May 21, 1995, in East Brunswick, NJ. The wedding party included Pamela A. Gannon, AB'90; Michael J. Uradnik, AB'90; Lisa Kyes Boulden, AB'91, AM'92; Sarah B. Polen, AB'91; and Gazala Husain Uradnik, AB'91. Berney received her M.P.A. from Syracuse University and is now a research associate with Philadelphia Health Management Corporation. Angelina is finishing his Ph.D. in political science at Rutgers University. Janet H. Cho, AB'90, of Fort Lauderdale, FL, reports that Nancy H. Lee, AB'90, married Kurt A. Reiser on March 30. Cho was maid of honor and Grace V. Lay, AB'91, was a bridesmaid. The couple lives in Oak Park, IL. Kathleen S. Drayson, AB'90, AM'94, is a budget analyst in the San Jose, CA, city manager's budget office. She ran into Michael B. O'Connor, AB'89, in San Francisco last year. He taught philosophy at DeAnza College this past spring. Steven L. Goldstein, AB'90, is a staff attorney with the New York City police department's civil enforcement unit. He can be reached at slg@village.ios.com. Wesley E. Johnson, AB'90, see 1988, Glenn A. Carnagey. Shawn R. Kenney, AB'90, see 1991, Shawn R. Kenney. Robyn T. Kramer, AB'90, see 1989, Douglas W. Patton.

John J. Mancini, AB'90, see 1992, Lucinda M. Fox. Edward W. Rowand, AB'90, and Virginia Kurzweil Rowand, AB'90, enjoy life in Columbus, OH, with their children, Eleanor, 4, and Gabrielle, 2. Ed is in sales and Ginny stays home with the girls. Faith H. Spencer, JD'90, a lawyer with Sonnenschein Nath & Rosenthal, participated in the firm's Lake County Public Defender's Program, in which she spent three months of full-time service with the public defender's office. Cheryl A. Toman, AM'90, received her Ph.D. in expanded French studies at the University of Illinois, specializing in Cameroonian Francophone feminist literature. John N. Wanamaker, AB'90, married Karin E. Meyer in Anchorage, AK, on September 16, 1995, in a joint Greek Orthodox and Lutheran wedding service. Wanamaker's company, Summit Communications, recently became Alaska's largest cellular reseller. He teaches a class in entrepreneurship as an adjunct professor at Alaska Pacific University's Graduate School of Business. Peter A. Westcott, MBA'90, and his daughter, Elaine, 6, moved to the Washington, DC, area last September and love it, especially the weather. Westcott is a manger in Andersen Consulting's federal government and technology area; his clients include the Department of Defense and the Census Bureau. Louise S. Wilkerson, AB'90, MST'90, reports that since Reunion 1995 she has moved to Logan, UT, where she is working to prevent gangs and violence in the community. She is also a research assistant at Utah State University. Dawn Nagle Zins, AB'90, is working for the sheriff's office, fighting fires, chasing tornadoes, and experiencing "good ol' American married life" in Madison, WI.
91
Rebecca Rogers Ackermann, AB'91, received the 1996 Lawrence J. Angel award for outstanding student paper from the American Academy of Forensic Sciences for her master's work at the University of Arizona. She is now an Olin fellow at Washington University in St. Louis. After several months in Africa, Ackermann is "closing in on her Ph.D. in physical anthropology." She and her husband, Kurt M. Ackermann, AB'91, live in St. Louis. Kurt is the Internet coordinator and an adjunct faculty member in both the College of Fine Arts and the School of Education at Webster University. The Ackermanns report that A. Daisy Rockwell, AB'91, and Aaron L. York, AB'91, are in the midst of 15 months of living in India while Rockwell does research for a Ph.D. from Chicago. Stephen L. Gessner, AM'75, PhD'91, recently became director of the Center for Talented Youth at Johns Hopkins University's Institute for the Academic Advancement of Youth. Lawrence R. Gryziak, AB'91, see 1988, Glenn A. Carnagey. Judith Walker Hooyenga, JD'91, is an associate in the Grand Rapids, MI, office of the law firm Warner Norcross & Judd, practicing real-estate, corporate, and health law. Naoko Ishibe, AB'91, a doctoral candidate at Harvard's School of Public Health, qualified for the 1996 Olympic marathon trials, held in February. Friends can reach her at nishibe@hsph.harvard.edu. Shawn R. Kenney, AB'90, graduated from medical school in June 1995 and then did an internal-medicine internship at the University of Texas in Houston. In July, he started his radiology residency at Chicago.

Hans A. Krimm, SM'86, PhD'91, teaches physics and astronomy at Hampden-Sydney College in Virginia. James T. McKenna, AB'91, is in a psychobiology Ph.D. program at Florida Atlantic University. He and Connie, his wife of five years, have a 4-year-old daughter, Kaleigh. Connie plans to enter nursing school in the fall. James still produces music for bands and studio projects and composes music for museum installations and performance art. Ellis M. Mishulovich, AB'91, earned his M.A. in international relations from Yale in May and enters Stanford Law School this fall. John M. Scalzi, AB'91, became a writer and editor for America Online in the spring. He and wife Kristine have moved to Sterling, VA, a suburb of Washington, DC. Scalzi can be reached at Jscalzi@aol.com. Wesley K. Thompson, SB'91, and Meryl S. B. Zwanger, AB'92, were married on August 20, 1995, at the New Jersey State Botanical Gardens. William K. Thompson, AB'91, the groom's brother, was the best man, and Robert G. Behm, SB'90, and Poj Lysouvakon, AB'92, were ushers. Noah S. Warman, AB'91, left Miami and returned to Cleveland, where he practices labor law on behalf of unions in the greater Cleveland area with the law firm Goldstein and Roloff. He'd like to hear from classmates in the area. Daniel A. Weiss, AM'91, received his Ph.D. in educational policy and administration from the University of Minnesota this year. About a year and a half ago, he founded Amizade, Ltd., a nonprofit organization dedicated to promoting volunteerism, providing community service, encouraging collaboration, and improving cultural awareness. Last year Amizade ran a pilot program in Brazil and built an orthopaedic-shoe workshop to help low-income handicapped children; this year the group will build a vocational-training center for Brazilian street children.
92


Editha C. ("Edie") Agustin, AB'92, and David A. Krueger, AB'92, SM'94, were married on December 30. The wedding party included Jonathan G. Coules, AB'92, JD'95; Andy J. Minn, AB'92; Swati Sihag, AB'92; Rachel D. Stanger, AB'92; and Jennifer Tarpey, X'92. Edie is a Loyola University medical student and Dave is a student at Pritzker. Kirsten R. Brumley, AB'92, has been named an associate of the Casualty Actuarial Society.

Lucinda M. Fox, AB'92, and John J. Mancini, AB'90, were married October 7 in Winston-Salem, NC, where Fox grew up. The wedding party included Rodney T. Hearne, AB'90; David Murrell, AB'90; Robert Kusumoto, AB'91; and Elizabeth Beecham, AB'92. The couple lives in Evanston, IL, where they both work for Best Case Solutions, a legal software company Mancini founded in 1991. In December, Jayne E. Greenburg, AB'92, received her M.S.Ed. in reading, writing, and literacy from the University of Pennsylvania. After working in Philadelphia as a theater educator in the public school system, she moved back to Chicago this summer to start a nonprofit educational consulting company. Robert P. Greenspoon, AB'92, joined the patent-litigation firm of Niro, Scavone, Haller & Niro in June. After receiving a J.D. from the University of Michigan in May 1995, he was a law clerk to a U.S. district judge in Chicago. Greenspoon is "happy to report that his registration number with the U.S. Patent and Trademark Office is a palindrome."

Maria Leonor G. Jison, AB'92, MD'96, is at the University of North Carolina at Chapel Hill for a residency in internal medicine. She was married at Bond Chapel the day after graduation, and would love to hear from old Dewey alumni. Bryn K. Larsen, AB'92, and Bertrand C. Fry, AB'89, were married in Houston in March 1995. Both are graduates of the University of Texas School of Law and are practicing law in New York City. Navy Ensign Daniel J. Kliman, AB'92, has graduated from medical school and returned to Chicago for his residency in internal medicine at the University of Illinois at Chicago. Nina M. McCune, AB'92, has returned from Germany after working at the Hamburger Institut Für Sozialforschung, studying the town of Lübeck in terms of right extremism and xenophobia. Joshua D. Levin, AB'95, and Emily V. Powell, AM'95, were in Germany with her. McCune is "contemplating getting a Ph.D."

Adam K. Powers, AB'92, works in the radiation-oncology clinic at the University of Illinois Hospital as a medical radiation dosimetrist. He and wife Claire had their first child in June. Jeffrey C. Roach, AB'92, married Sharon Salter on December 17 in Boston, MA. They both just finished their third year of medical school at Georgetown. Navy Ensign Christopher R. Sherwood, AB'92, recently completed the basic surface-warfare officer's course. Richard P. Smiraglia, PhD'92, an associate professor at the Long Island University Palmer School of Library and Information Science, received a 1996 distinguished alumni award from the Indiana University School of Library and Information Science. Edward J. Spillane, JD'92, married Debbie Bockiaro in October 1994 in New Port Richey, FL. He is an assistant district attorney in Bryan, College Station, TX, and she works at Texas A&M University. Meryl S. B. Zwanger, AB'92, see 1991, Wesley K. Thompson.
93
Neil Callahan, AB'93, works for Andersen Consulting and specializes in the communications industry. In January he transferred from the Chicago to the New York City office. While with the Chicago office, he had been working in Toronto on a client engagement for almost two years. Gerard C. Dentinger, MBA'93, accepted a three-year tour beginning in November as a director of international security with Societ Generale in Paris. His wife, Patty, gave birth to their second son, Jack William, in mid-February at the American Hospital in Nueilly. Their first son, Kevin, is 2 years old. The family lives in Maisons-Laffitte, a western suburb of Paris. Dentinger can be reached at E-mail 103052.1217@compuserve.com. Bettina U. Döser, AM'93, "is working for the European Commission in Brussels in the office of the director general for external relations with Europe and the new independent states, common foreign and security policy and external missions."

Ruth M. Farrell, AB'93, earned her master's degree in bioethics at Case Western Reserve University in May. She is now attending medical school at CWRU. Laura E. ("Beth") Hagen, AB'93, is working on a Ph.D. in cognitive psychology at Chicago and teaching in the Common Core. She would love to hear from old friends at leh2@midway. uchicago.edu. Diane L. Kardos, AM'93, married Daniel Murray Kavanagh on March 23 at St. Mary of the Angels Church in Chicago. The reception was at the Ritz-Carlton. She continues to pursue a Ph.D. in early modern European history at Chicago, while he works for Goldman, Sachs. Matthew S. Leary, AB'93, and Hillary L. Burgess, AB'96, were married on June 30. Jeremy A. Ehrlich, AB'93, was the best man. Leary begins a doctoral program in clinical psychology at the University of North Carolina at Chapel Hill in the fall. "They tell me they have something called `spring' down there," Leary writes. Gregory E. Mantell, AB'93, lives in South Beach, FL, and writes, "Basically Hyde Park is exactly like South Beach--without all the people, the night clubs, the warm weather, and the beach." He took a trip through California in May and begins grad school this fall. Terry E. Sparkes, PhD'93, an assistant professor of religion at Luther College, was granted tenure in February.
94
Rebecca E. Begelman, AB'94, teaches English to junior-high-school students in Japan and has taken up aikido. She also writes, edits, and publishes a newsletter for Jewish English teachers and others stationed in Japan without a Jewish community. Ana M. Cox, AB'94, writes, "Those who thought my scribbling for Hustler's Barely Legal was the low point of an already undistinguished career will probably not be too surprised to find I now toil for a publication called suck (http://www.suck.com). This position comes after a very short stint in book publishing, an experience that leads me to offer this advice: It is an occupation best avoided by anyone with a love for the written word." John J. Heckman, MBA'94, is a realtor, insurance broker, and head of John Heckman Enterprises, a counseling and consulting firm.

V. Kiki Kakavas, AM'94, is an assistant director at the American College of Health Care Executives. Joseph R. Kuzel, MBA'94, and his wife, Laurie, are Foreign Service officers with the State Department and were posted to the American embassy in Madrid this summer. Alica E. ("Ali") Lejlic, AB'94, is third secretary to the Republic of Bosnia and Herzegovina's permanent mission to the United Nations in New York City. From November to February he was in Sarajevo as third secretary and adviser in the Bosnian Foreign Ministry in the Office of the Foreign Minister. Lejlic was at the Dayton, OH, peace talks; the London implementation conference; the Brussels donor's conference on reconstruction; and the Budapest OSCE Ministerial Council meeting. Gwendolyn C. Payton, AB'94, will graduate from the University of Michigan's law school in December.
95
Joshua D. Levin, AB'95, see 1992, Nina M. McCune. Emily V. Powell, AM'95, see 1992, Nina M. McCune. Kristofer K. Swanson, MBA'95, is CFO and vice-president of NatWest Futures.
96
Hillary L. Burgess, AB'96, see 1993, Matthew Leary.
---
Within Class News:
---
---
Go to:
Return to August 1996 Table of Contents