In typical Chicago style, the University

began its centennial celebration by

issuing itself a challenge.
Five years and 92,000 donors later,

the Campaign for the Next Century
had succeeded beyond all expectations.

Here's what the numbers mean.

n October 5, 1991, two days after the centennial year opened with a convocation at Rockefeller Chapel, the announcement came: The University would attempt to raise half a billion dollars over five years--the largest fund-raising drive in its history. One University official admitted that even to set such a target required "a leap of faith." Yet by January 1995, the Campaign for the Next Century had reached 89 percent of its goal, with 18 months to go. Still, some important objectives hadn't been met, so in spring 1995, Chicago's trustees voted to set their sights on an even more ambitious goal: $650 million, still by the original June 30, 1996, deadline. When the Campaign ended, the tally stood at $676,150,015. The U of C's largest fund drive had become the most successful fund-raiser for any institution in the city of Chicago, ever.
Backing the Campaign for the Next Century was a cast of thousands. Led by 1,500 volunteers from around the world--divided into teams by region, school or division, and College era--a total of 92,000 donors, including 55,015 alumni, contributed to the five-year effort. Along the way, there were some cast changes: President Hugo F. Sonnenschein succeeded Hanna Holborn Gray, who initiated the Campaign; Howard Krane, JD'57, followed Barry F. Sullivan, MBA'57, as chair of the University's Board of Trustees; and Trustee B. Kenneth West, MBA'60, who headed the Campaign's first steering committee, was succeeded by Trustee Harvey B. Plotnick, AB'63, as Campaign chair. But the momentum kept growing.
When the counting stopped, the numbers were impressive. The Campaign had garnered an average of $2,600,576.98 each week. Meanwhile, the University's endowment had grown from $1.08 billion on June 30, 1991, to $1.676 billion as of June 30, 1996. And the $676 million raised was almost double the $351 million raised during the five years before the Campaign. Gifts in fiscal year 1994 surpassed $100 million for the first time in the University's history. In 1995 they reached $108 million, and in fiscal 1996, gifts set yet another record, reaching $132 million.
But, as Campaign chair Plotnick told the corps of successful volunteers, many of whom gathered on the quads on October 25, 1996, to celebrate: "The real measure of the achievement is the history it will enable others to make."
Going up:

Campaign giving
1991-1996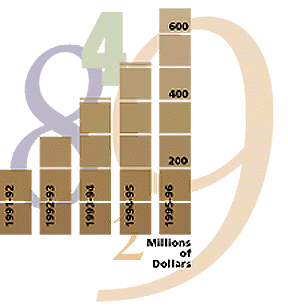 A year ahead of schedule, the Campaign for the Next Century had already surpassed its original, $500-million goal.
Continue with "Strength in Numbers"
---
Go to:
---
Return to October-December 1996 Table of Contents