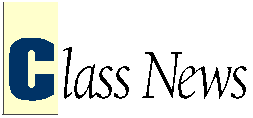 ---
What's the news? We are always eager to receive your news at the Magazine, care of the Class News Editor, University of Chicago Magazine, 5757 Woodlawn Ave., Chicago, IL 60637, or by E-mail: uchicago-magazine@uchicago.edu.

To write us with your news directly, click here for our e-mail form: uchicago-magazine@uchicago.edu.

No engagements, please. Items may be edited for space. As news is published in the order in which it arrives, it may not appear immediately.

Please specify the year under which you would like your news to appear. Otherwise, we will list: (1) all former undergraduates (including those who later received graduate degrees) by the year of their undergraduate degree, and (2) all former students who received only graduate degrees by the year of their final degree.
Class News Highlights
.
"While cleaning closets in preparation for my golden wedding anniversary celebration, I ran across my 'C' sweater and 'C' blanket with gold star."
--James A. Conner, SB'26
"I have a once-in-a-career opportunity to influence the future of my field. I am pursuing it with vigor and joy."
--Leroy B. ("Lee") Schwarz, AB'63, MBA'67, PhD'71
"When I turned 55 and was informed by a local bank that I qualified for free checking, I was so annoyed that I went out and ran 3 miles in 19 minutes 10 seconds. Hrumpf, free checking indeed!"
--James F. Fisher, AM'67, PhD'72
"After years languishing in the existential torpor of Post-doc Hell, I have been appointed assistant professor at Columbia University."
--Vincent P. Ferrera, AB'83, PhD'89
"Between Kevin's new job and my
graduate-school schedule, we haven't had much time for keeping up with friends from U of C. Hi to all!"
--Gretchen Miller Neuman, AB'88, and Kevin M. Neuman, AB'85, MBA'89
"After lots of soul-searching, I have chosen to abandon the life of the mind and pursue a career in the glamorous field of advertising."
--Rebecca C. Wilson, AB'93
---
Within Class News:
---
---
Go to:
Return to October-December 1996 Table of Contents