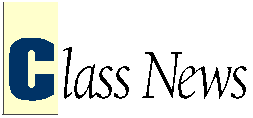 1990s
---
What's the news? We are always eager to receive your news at the Magazine, care of the Class News Editor, University of Chicago Magazine, 5757 Woodlawn Ave., Chicago, IL 60637, or by E-mail: uchicago-magazine@uchicago.edu.

To write us with your news directly, click here for our e-mail form: uchicago-magazine@uchicago.edu.

No engagements, please. Items may be edited for space. As news is published in the order in which it arrives, it may not appear immediately.

Please specify the year under which you would like your news to appear. Otherwise, we will list: (1) all former undergraduates (including those who later received graduate degrees) by the year of their undergraduate degree, and (2) all former students who received only graduate degrees by the year of their final degree.
---
90
Diane A. Kelly AB'90, and James L. Cambias, AB'88, announce the April 3 birth of daughter Emily Sharon. Kelly is finishing her Ph.D. in zoology at Duke, and Cambias continues to design games. Lisa M. Martinez, AB'90, and Gregory A. Foster, AB'90, were married in June 1995 after dating for nine years. Grace Chan McKibben, AB'90, AM'90, and Thomas M. McKibben, AB'87, announce the February 16 birth of their second child, Jacob Ming-yan, who joins Jessica, 3. Grace is a resident head, College advisor, and assistant director of Orientation at the U of C. Robyn Kramer Patton, AB'90, see 1989, Douglas W. Patton.

Paul E. Pedersen, AB'90, is in the Ph.D. program in philosophy at Cornell University. He recently returned from a year at the University of Freiburg, Germany, where he worked on his dissertation on Martin Heidegger and improved his German. Pedersen is spending this academic year on fellowship at Yale. Thomas H.L. Selby, AB'90, and his wife, Deirdre, announce the March 17 birth of daughter Jordan Marie ("Ladybug"). Selby has just successfully managed a campaign for the Austin City Council and is preparing to enter law school at the University of Texas. Dennis E. Tamburello, PhD'90, has been promoted to full professor at Siena College. Michael A. Uzendoski, AB'90, recently married Edith Calapucha. Enrolled in the University of Virginia's Ph.D. program in sociocultural anthropology, he will spend this year in Ecuador, completing a second year of fieldwork among the Napo Runa, a Quichua-speaking rainforest group. Keith G. Vallely, AB'90, is vice-president of national sales at DISC Distributing, a wholesale distributor of computer supplies and accessories.
91
David R. Beaglehole, MBA'87, PhD'91, see 1983, Judy Weissman. Victoria ("Tory") Blakemore, AB'91, married Christopher Visser July 6 in Washington, DC. The wedding party included Courtney A. Haught, AB'91, and Byron M. Lawson, AB'91. Tory is in her fifth year teaching in the Houston public schools and can be reached at cvisser@bayou.uh.edu. Her husband attends law school at the University of Houston. Richard T. Box, MBA'91, was recently made an associate partner of Andersen Consulting. Mark J. Collins, AB'91, and Catherine M. Thomas, AB'91, were married on June 15. The bridal party included Timothy D. Ellis, AB'90; Kenneth L. Jackson, AB'91; and Lee A. Simmons, AB'91. In July, Timothy E.J. Dallas, AB'91, received his Ph.D. in solid-state physics from Texas Tech University. He is looking for a research-and-development job in industry.

John M. ("J.D.") Dierking, AB'91, graduated from the Harvard Business School and was "bouncing" around Europe before starting a job with Montgomery Securities in San Francisco. He welcomes all to wine tasting in Napa and motorcycling on Pacific Coast Highway 1. Naoko Ishibe, AB'91, and Edward Sheehan were married July 7 on the waterfront overlooking Puget Sound in Steilacoom, WA. Lesley W. Steinbach, AB'90, was the maid of honor. Bradford S. Lander, AB'91, and Margaret R. Barnette, AB'92, were married May 26 in Hyde Park. The couple lives in Brooklyn, where Barnette--a 1995 NYU law school graduate--began a Skadden fellowship in October at the not-for-profit Lawyers Alliance for NY. Lander is the executive director of the Fifth Avenue Committee, a community organization that develops affordable housing and community enterprises, and organizes for tenants' and welfare rights. He is vice-president of the NYC Association for Neighborhood and Housing Development and co-chairs Jews for Racial and Economic Justice. Their e-mail address is 76345.243@CompuServe.Com.

Virginia M. Navarrete, AB'91, and Brian P. Brooks, JD'94, were married in August 1995 at Bond Chapel, with a reception at the Quadrangle Club. The wedding party included James H. Bolin, AB'88; Jonathan D. Small, HC'89, AB'92, AM'95; Karen A. Tokos, AB'92; Jay D. Wexler, AM'93; Ward Farnsworth, Jr., JD'94; Janet M. Corry, AM'95; Isabel M. Navarrete, MD'96; Charles Polsky, MD'96; and College student Clara Navarrete. Virginia is a graduate of the Northwestern University School of Law, and both she and Brian practice law in Washington, DC. Brendan A. Niemira, AB'91, successfully defended his dissertation in July and earned his Ph.D. from the department of botany and plant pathology at Michigan State University. He's looking for a job. His wife, Meegan Stock Niemira, AB'91, got her master's degree in information and library studies from the University of Michigan in 1994 and is a business librarian at Michigan State University. They recently moved to a house and acquired a dog.

Julio Saguir, PhD'91, is a full professor at the Universidad Torcuato Di Tella in Buenos Aires. Joyce Mulholland St. Clair, MBA'91, recently was named a senior vice-president at the Northern Trust Company of Chicago. Bari Berman Schneider, AB'91, recently married Todd Schneider in Lake Forest, IL. Phillipa J. H. Booth, AB'92, was a member of the wedding party. Schneider, a pharmacoeconomist in Highland Park who attends the GSB part time, recently began playing viola again with the University Symphony Orchestra for its summer opera. Her husband is an attorney in Naperville. Richard A. Schweiger, AB'91, AM'91, who started at Wharton Business School this fall, spent the past three years working for non-profit organizations on public-interest issues in Washington, DC, and plans to go into nonprofit management. Allysa Kamish Stewart, AB'91, lives in New Zealand and works at the Equal Employment Opportunities Trust. She is "greatly enjoying New Zealand and not missing Chicago winters."
92


Margaret R. Barnette, AB'92, see 1991, Bradford S. Lander. Kenneth A. Bloom, AB'92, reports that Eric W. Schwarze, AB'92, married Amy Schlegel on August 18 in Akron, OH. Eric's brother, Adam M. Schwarze, AB'94, was a member of the wedding party. Eric is now a Ph.D. student in the Divinity School. Credence E. Fogo, AB'92, and Michael J. Schensul, AB'94, were married August 4 in Vancouver, British Columbia. David K. Knutson, AB'93, was "man of honor"; John E. L. Booher, AB'96, was a groomsman; and Benjamin M. Sussman, SB'94, signed the ketubah. The couple have taken the name Fogo-Schensul; both are second-year students at the University of Oregon School of Law.

Ruth E. Holdeman, AM'92, and Richard S. Jajko, AM'93, were married on July 27. In June, Cynthia L. Johnson, AB'92, received her master's in tribal management and leadership development from Oglala Lakota College on the Pine Ridge Indian Reservation in South Dakota. Ann L. Koch, AM'92, is director of development for the Milton S. Eisenhower Library at Johns Hopkins University. She had been a development officer at the U of C Library. Adam M. Lisberg, AB'92, reports, "I've finally given up on Chicago's violence and corruption to move to beautiful Vermont, where I'm covering the statehouse for the Burlington Free Press. I don't miss the scandals and murders...yet. I'd love to hear from friends who have found meaning in life out of Hyde Park as well."

Joseph G. Manning, AM'85, PhD'92, has moved from the classics department at Princeton to join Stanford's classics faculty and hopes all of his Chicago friends look him up in California. S. Kurt Menner, MBA'92, was recently admitted as a partner of Andersen Consulting, where he's worked since 1984. Benjamin Morgan, AB'92, and his team, Morgan, Stevens & Wilson, finished tenth out of 21 teams at the Olympic sailing trials. Alejandro M. Strauch, MBA'92, and Maria Bartol Strauch, AB'92, have lived in Mexico since January 1994 and are "having lots of fun and hard work." Carol H. Wu, AB'92, received her master's of library science from the University of British Columbia in May, then enrolled in the associate program at the U.S. National Library of Medicine in the National Institutes of Health.
93
Randall K. Albers, AM'73, PhD'93, has been appointed chair of the fiction-writing department at Columbia College Chicago. Steven Bin, AB'93, writes that John B. Person, AB'93, married Jennifer Lynn Imsande June 15 in Brainerd, MN. Bin was best man, while Vidula Kale, AB'94, was a bridesmaid, and Christopher R. Lavoie, AB'94, was a groomsman. The couple live in Iowa, where John practices law and Jennifer is in a Ph.D. program in history at the University of Iowa. Lee A. Freeman, AB'93, see 1995, Kirsten Moline. Christopher S. Harris, AB'93, and Mary Quade, AB'93, were married on June 3, 1995. They each received an M.F.A. from the University of Iowa Writers' Workshop in 1995 and now live in Portland, OR. Harris just began teaching English at the Oregon Episcopal School.

Frank G. Hering, AB'93, and his wife, Beth, live and work in Gainesville, FL, where he is a Ph.D. student in English at the University of Florida, teaching a freshman composition class. He received his master's in summer after passing an exam on antebellum U.S. literature. His E-mail address is fgh@nervm.nerdc.ufl.edu. Tara J. Inlow, AB'93, married Christopher English of Virginia on August 7. Jisun Kim, AB'93; Mary Kim, AB'93; Suzanne S. Lee, AB'93; and Annemarie Robertson, AB'93, were in the wedding party. Inlow recently received her law degree from the University of Illinois. She and her husband live in Edwardsville, IL. Richard S. Jajko, AM'93, see 1992, Ruth E. Holdeman. Joshua M. Lupkin, AB'93, finished his third year as a graduate student in American urban history at Columbia University. Martin P. Miszczak, AB'93, works as a Web master for the Department of Commerce. He has also developed a Polish version of the Yahoo! Internet directory.

Charles H. Morriss, AB'93, and Heather Denison, AB'95, were married in Seattle on June 1. The maid of honor was Sarah E. O'Connor, SB'95, and the guest-book attendant was Christine A. Longcore, AB'94. Other alumni in the wedding party were T. Wynne Morriss, AB'84, AM'85; Kristen Y. Allman, JD'92; and Timothy T. Denison, AB'92. Heather is a project coordinator in the electronic-journal department of Mosby-Yearbook publishing company in St. Louis, while Charles studies law at Washington University in St. Louis. Rahim S. Rajan, AB'93, is at Wolfson College, University of Cambridge, studying for his master's in Near Eastern history. He reports, "I miss the quads....Are there enough alumni living in the United Kingdom to warrant an annual or monthly get-together?" Stephen J. Rolfs, MBA'93, was promoted to assistant vice-president for Brown-Forman Corporation.

Andrew C. Simons, AM'93, see 1982, Katherine G. Wilkins. Brannon M. Wheeler, PhD'93, is an assistant professor of Near Eastern languages and civilization at the University of Washington. Rebecca C. Wilson, AB'93, has received a master's in theological studies from Harvard Divinity School. She writes, "After lots of soul-searching (for which I was well-prepared), I have chosen to abandon the life of the mind and pursue a career in the glamorous field of advertising." She now works as an assistant account planner at Ingalls, Quinn, and Johnson Advertising in Boston and lives in Cambridge with Anne M. Rivers, AB'94, plus "all the Maroons who take advantage of our couch and hospitality and my 4-year-old tabby, Diana (also known as 'the fat cat'), who spent her formative years in the Shoreland." Wilson's E-mail address is rebecca_wilson@iqj.com, and she invites "all pleasant inquires."
94
Jeffrey D. Anderson, AM'81, PhD'94, has been named an assistant professor of anthropology at Colby College. He had been an assistant professor of ethnic studies at Mankato State University. Kenneth R. Atkinson, MDV'94, recently received his master's in religion from Temple University and is preparing for doctoral exams in Hebrew Bible and post-biblical literature. Sheridan Bell, AB'94, see 1995, Sourna A. Daneshvar. Steven C. Berry, AB'94, has been working on the staff of U.S. Representative Jim Nussle since February, handling health and environment issues. Secretary of the U of C Washington, DC, alumni club, he often sees Parminder S. Atwal, AB'95, who just finished his master's degree in public health at Johns Hopkins University.

Brian P. Brooks, JD'94, see 1991, Virginia M. Navarrete. In June, Patricia A. Gibbons, AB'94, received her master's degree in museum studies from the University of Washington. She spent the summer working at the World Kite Museum. Jonathan S. Groat, AB'94, married Melissa Taylor July 25. He's in his second year at the University of Illinois College of Law and was clerking for a firm in Champaign. His wife also clerks for a firm in Champaign. Jeanette L. Harrison, AB'94, lives in coastal northern California, where she manages a radio station, spins records during her morning DJ slot, and is starting a community television station. In her free time, she performs with a local improv comedy group, tastes wine with local chef Matthew E. Dickstein, AB'94, or searches unsuccessfully (so far) for whales.

Since January, Matthew V. Nixon, AB'94, has been an assistant innkeeper of the Portland Guest House, a bed-and-breakfast in Oregon.Daniel E. Posner, MBA'94, married Leyla Fortgang on May 27. Posner started a new job in the distressed-debt/high-yield department of Swiss Bank in New York City. He had been with Deloitte & Touche Consulting Group. Anne M. Rivers, AB'94, see 1993, Rebecca C. Wilson. Michael J. Schensul, AB'94, see 1992, Credence E. Fogo. Adam M. Schwarze, AB'94, see 1992, Kenneth A. Bloom.
95
Parminder S. Atwal, AB'95, see 1994, Steven C. Berry. Second Lt. Sourna A. Daneshvar, AB'95, finished the year at the Hebrew University of Jerusalem as a Raoul Wallenberg Scholar. In August, he and Sheridan Bell, AB'94, were part of a three-man expedition to retrace the steps of the French writer Pierre Oti through the Sinai Desert. Daneshvar is now stationed in Quantico, VA. Heather Denison, AB'95, see 1993, Charles H. Morriss. Benjamin T. DeSollar, MBA'95, is in Hong Kong with Booz Allen & Hamilton, doing market-entry strategy and working with financial institutions throughout Asia. Classmates in the area should contact him. Diana C. Gill, AB'95, is an editorial assistant with W. H. Freeman and Company.

John E. Kim, AB'95, recently graduated from the Basic School at Marine Corps Combat Development Command in Quantico, VA. Kirsten Moline, AB'95, and Lee A. Freeman, AB'93, were married July 20 at the Toledo Museum of Art. Michael E. Freeman, AB'95, was best man. After the honeymoon in Europe, the couple will continue to pursue their master's degrees at Indiana University in Bloomington. Sarah E. Owsowitz, AB'95, has started her second year in the law and urban-planning joint-degree program at the University of Minnesota­ Twin Cities, and she has joined the staff of the Institute on Race and Poverty as a research assistant.
96
N. Benjamin Davidson, AM'96, see 1958, Sally Kollenberg Davidson. Zening Ge, PhD'96, was working in Hong Kong for an international consulting firm but is now with General Electric's corporate business development in Fairfield, CT. Son Robert was born in May. Sean M. Hoyer, AM'96, works as a youth and family counselor on the juvenile-justice team at Omni Youth Services in the northwest suburbs of Chicago. He combines traditional individual, family, and group treatment modalities with therapeutic adventure and other experimental modalities.
---
Within Class News:
---
---
Go to:
Return to October-December 1996 Table of Contents