Continued
Musical Makeover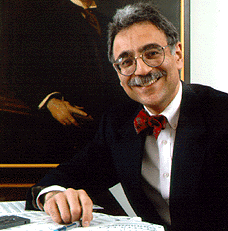 Michael Dorf, AB'73, hopes to do what even an observatory could not do for Charles Tyson Yerkes: restore the tycoon's reputation.
Dorf, a partner in the general-practice law firm Adducci, Dorf, Lehner, Mitchell & Blankenship, P.C., in Chicago, is writing a musical based on Yerkes' life. Tentatively titled Titans, the musical--with a score by Ohio-born composer Claudia Howard Queen--portrays Yerkes as a champion of the working class, struggling against antagonists such as Philip Armour and Marshall Field in a valiant effort to unify Chicago's mass-transit system.
Dorf first encountered the streetcar magnate's history during a trip to Yerkes Observatory while enrolled in the University's "rocks and stars" class for non-science concentrators. The observatory immediately captured his imagination: "I loved that place!"
When he later read Theodore Dreiser's trilogy of novels based on Yerkes' life, Dorf was hooked. "I was just fascinated by it," he says. "I was so intrigued by Cowperwood," the character that Dreiser modeled on Yerkes.
While at Chicago, Dorf developed an interest in writing and producing musicals. As the Abbott of Blackfriars, he staged several in Mandel Hall, including one adapted from Horatio Alger's Struggling Upward.
About seven years ago, Dorf decided to combine these two interests and write a musical on Yerkes' career in Chicago. His research led him to the University of Pennsylvania, where many of Dreiser's papers are deposited. As he read through the materials, Dorf found that much of what Dreiser had written in the Frank Cowperwood novels was firmly based in fact.
Dorf concedes that Yerkes routinely used bribery to obtain the franchises he desired. "As a lobbyist, I deplore his tactics," Dorf stresses. Yet he believes that Yerkes was more victim than victimizer, continually at the mercy of blackmailing politicians like "Hinky Dink" Kenna and "Bathhouse" John Coughlin, aldermen who subscribed to the following principle, as they sing in Dorf's libretto:
Find the right incentive.


No one will tell you "No."


To clinch a deal


Just grease the wheel


With good old quid pro quo.
Moreover, Dorf credits Yerkes with the creation of the middle class in Chicago. The elevated system that Yerkes built permitted the average worker to live in neighborhoods far outside of the Loop, he contends. Yerkes "was able to look at the city, see how it should develop, and implement it."
Yerkes is not the only visionary in Dorf's musical. William Rainey Harper also makes several appearances, always with his hand held out for funds, and always at the most inopportune moments. Dorf calls him a "beloved, but comic" figure, one who sings not for his supper but instead:
For the telescope


The finest telescope


The largest telescope in the world


To see the stars.
Dorf hopes to stage his musical by the fall of 1997--in time not only for the 100th anniversary of the Yerkes Observatory dedication, but also for the centennial of the Loop Elevated. He reports good progress in raising the $500,000 necessary to mount the production--an enterprise that probably gives him even more sympathy for both Harper and Yerkes.--J.F.
Return to opening of "ASTRONOMICAL FIGURES"
---
Go to:
---
Return to February 1997 Table of Contents