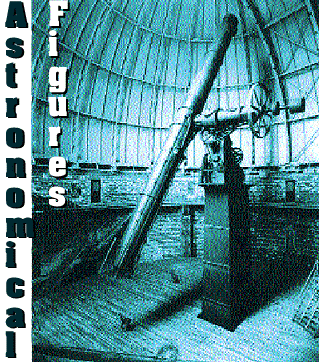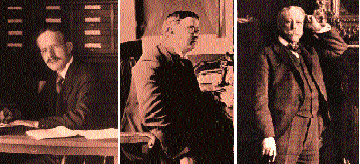 Charles Yerkes had a reputation as a ruthless financier. But it was two U of C scholars seeking funds to build the world's largest telescope who taught the tycoon a lesson in how to close a really big deal.
By John Franch

rom the balcony encircling the great dome of the new observatory in southern Wisconsin that bore his name, Charles Tyson Yerkes could spot the summer homes of the Chicago society figures who had spurned him. The streetcar tycoon could only wait, hoping that his funding of the observatory would perfume the odor of scandal, which by 1897--the year of the observatory's completion--had damaged his reputation.

William Rainey Harper and astronomer George Ellery Hale had encouraged these hopes in order to realize their own. For Harper, president of the four-year-old University of Chicago, building the observatory would further the research institution's claim to being among the world's finest. Hale saw the colossal telescope as a key to solving cosmic mysteries. But it was Charles Yerkes himself who had the most to gain or lose from his sizable investment.

Born in 1837 in Philadelphia, Yerkes started his career as a clerk at a Philadelphia commission house. He became a broker in 1858; a few years later, the young financier purchased his own banking house. Success brought with it privileges--and political connections. Before long, city and state funds began pouring into Yerkes' bank. Then, in October 1871, disaster struck. The Great Chicago Fire triggered a nationwide financial panic that plunged Yerkes' firm into bankruptcy and revealed his misappropriation of funds from the city of Philadelphia, some $400,000 of which were lost in his bank's collapse.

While in prison for his crime, Yerkes confidently told a reporter, "I have made up my mind to keep my mental strength unimpaired, and think my chances for regaining my former position, financially, are as good as they ever were." Pardoned after serving seven months of a 33-month-sentence, Yerkes would spend the rest of his life trying to regain his "former position," especially in the social arena.

Arriving in Chicago in the autumn of 1881--after a decade attempting to build back his fortune in Philadelphia and a stint posing as a colonel in the Dakota Territory--Yerkes did not attract much public notice until 1886, when

Continue reading "ASTRONOMICAL FIGURES"

John Franch, a freelance writer and amateur astronomer in Bellwood, Illinois, is writing a biography of Charles Tyson Yerkes.

Caption for photos above:
Three men and a "maybe": Under the main dome of Yerkes Observatory is the Great Refractor, the colossal telescope made possible because astronomer George E. Hale (top left) and U of C President William Rainey Harper (center) wouldn't take "No" for an answer from Chicago tycoon Charles Tyson Yerkes (standing by his baronial fireplace). Photographs of Hale and telescope are courtesy of Yerkes Observatory.



---
Go to:
---
Return to February 1997 Table of Contents