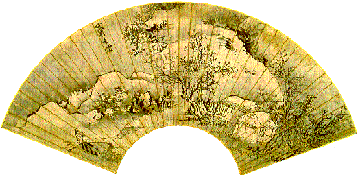 The paintings of the Korean literati combined literature and art to achieve a delicate harmony.
In brushstrokes mimicking raindrops and folded ribbons and ax cuts, the paintings portray Asian landscapes, flora and fauna, scenes of scholarly reclusion. The artists used the tools of a writer--brush and ink, paper and silk--then added pale tinted washes or, occasionally, rich opaque colors. Poems or descriptive texts are often inscribed alongside a shoot of bamboo, perhaps, or in the sky above the mountains. Gentle bits of humor, such as a dignified sage washing his feet, assert themselves regularly in the album leaves, fans, scrolls, and screens.

These Korean literati paintings were created mainly by amateur scholar-painters who aspired to the "Three Perfections": calligraphy, poetry, and painting. Seldom seen in the United States, 62 of the paintings are halfway through a national tour in an exhibit titled "The Fragrance of Ink: Korean Literati Paintings of the Choson Dynasty (1392­1910) from the Korea University Museum." Organized by the Korea University Museum and its Korean Studies Institute, the exhibit was first displayed at Columbia University and then, this fall, at the U of C's David and Alfred Smart Museum of Art, which coordinat-ed the stateside tour. Now on display at the University of Oregon, the exhibit will open at UCLA in April and at Berkeley in July.

First developed in China during the Northern Sung period (960­1127 A.D.) by members of the educated elite seeking relaxation from Confucian studies and government service, literati painting later became popular in Korea, where the definition was broadened to include works by court painters and other professional artists of the chung'in or "middle people" class.

Literati painting took root in Korea's Koryo period (918­1392 A.D.), which saw a close cultural exchange with China. It was during the early days of the Choson Dynasty, Korea's last royal dynasty, that literati painting began to flourish. The "Four Gentlemen" subjects--bamboo, chrysanthemum, orchid, and plum--that were such favorites with Chinese painters became equally fashionable in Korea.

In the late 1400s, painters from the Choson Royal Academy of Painting introduced classical Chinese literati landscape art to Korea. That style would not reach its full florescence in Korea until the 18th century, for Choson scholars had also discovered the Chinese Che school of painting. Its rustic sentiments, broad texture strokes, and dramatic contrasts--deemed too unconventional by most of their Chinese counterparts--held sway among Korean painters until the early 18th century.

Then, as access to original Chinese paintings increased and printed books such as the Mustard Seed Garden Manual of Painting were introduced, Korean scholar-painters turned to the Southern school, which favored idealized Chinese landscapes rendered in more subtle lines and colors. Selecting the general subject or composition from one of these Chinese works, a Korean literatus would add or alter elements to personalize it.

At the same time, an upswing in Korean nationalism led to a painting movement similar in technique, but nearly antithetical in outlook. This "true-view" landscape painting featured actual sites in Korea, depicted as they were rather than as one hoped they might be. And the life of the common people began to be represented with the development of minhwa--genre or folk painting.

While the trend toward Koreanization came to an end in the early 19th century, literati painting in Korea continues, though its essence has been diluted. The older paintings provide a chance--as Yoon Se-young, director of the Korea University Museum, writes in the exhibit catalog--to see "the feelings and aspirations of late Choson scholars, their subjective view of life and nature, and their utopian dreams for a new and better world."

--Kim Sweet

Continue reading "BRUSHES WITH PERFECTION"



---
Go to:
---
Return to February 1997 Table of Contents