New mall slated for 47th Street
Local community and business leaders broke ground in July on one of the most visible examples of South Side re-development: the 78,000-square-foot Lake Park Pointe mall, a $9.1-million project located at the corner of 47th Street and Lake Park Avenue.
The new shopping center will be anchored by the Hyde Park Co-op and a Walgreens, and will also include a Citibank branch, Dock's restaurant, a dry cleaner's, a copy shop, and an insurance company.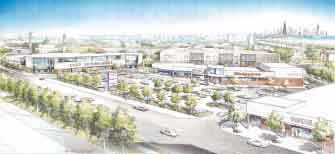 A local nonprofit organization, the Fund for Community Redevelopment and Revitalization, is developing the mall through an affiliate, Lake Park L.L.C. The city of Chicago and a HUD empowerment zone are contributing about $2 million to the project, while Local Initiatives Support Corp. (LISC)-a national nonprofit-and an LISC affiliate, the Retail Initiative, granted the developers about $1.5 million in loans.
The idea of a mall on 47th Street has floated for at least a decade, but Paul Grogan, LISC's national president, told the Chicago Tribune that retail development tends to follow housing development-of which North Kenwood has seen quite a bit lately.
Also: