Snow, snow, snow, snow, snow. That's snow.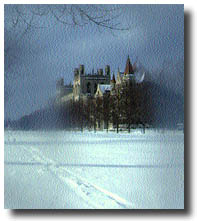 Having perused the fine-print epistles penned by class secretaries far longer than the University of Chicago Magazine has had College class correspondents (they were introduced with the August/97 issue), your editor is well aware of a major pitfall of the genre—the tendency of class secretaries to write about the weather they're experiencing as they sit down to record the class news. As a result, three out of four class columns in the spring issue of Ye Olde Alumni Bulletin are likely to begin this way: "As I gaze at the snow-capped trees outside my frost-edged window, it's hard to believe that, by the time you read these lines about our classmates, those same trees will be filled with April's nesting robins."
To avoid such a terrible sameness—and to make more room for news about alumni and their accomplishments—the U of C Magazine has asked its class correspondents to skip the weather reports entirely. That said, I'm now going to write about the weather on campus as I sit down to write.
So? Snow.
Snow, snow, snow, snow, snow. That's snow. In all, 21.6 inches of it fell on the first weekend of the new year or, to put it another way, the weekend before the beginning of winter quarter. And in true Chicago tradition, classes resumed on schedule Monday morning. By that time, according to Richard Bumstead of Facilities Services, the University's snow removal team had been on the scene for more than 48 hours. "With the winds gusting as they did," Bumstead admits, "it was often a losing battle." And the weekend's blizzard was just the beginning.
Sure, it was slushy, and sure progressively grayer snow piled up at every Hyde Park corner, and sure many locals gave up shoveling out their cars (or even looking for them under those crusty white blankets). And yes, my daughter had a point when she complained, "What's the good of snow without snow days?"
Still, it had been a long time—the Blizzard of 1979, to be exact—since I'd seen snow piled as high as a polar bear's eye, and a longer time since I'd crawled into a giant backyard snow cave—and this one was the best ever, with indoor lighting provided by a miniature kerosene lantern.
So? In the end, I can't say no to snow. Cheers! Here's to you and to all of the 5,355 readers who have contributed $130,455.63 to help underwrite the costs of producing the University of Chicago Magazine. And no, that's not a flute of champagne we're raising in your honor, but rather an official home-to-office travel tumbler, complete with a University scene. Thank you for your espresso-ed support.
Private Lives meet public issues in a new book by Magazine contributing editor Jamie Kalven. Kalven, a 1965 graduate of the Lab Schools, is the author of Working with Available Light, to be published by W. W. Norton & Company this month. Kalven's first book, A Worthy Tradition: Freedom of Speech in America (1987), was a review of the Supreme Court's rulings on the First Amendment. It was an intensely personal project, as he edited the huge manuscript that his father, Harry Kalven, Jr., AB'35, JD'38, the Harry A. Bigelow professor in the Law School, had left unfinished at his death.
Working with Available Light is an even more personal effort. In it, Jamie reflects on how, and how deeply, his family's life was changed after his wife, photographer Patricia Evans, was beaten and sexually assaulted in September 1988, as she ran along the lake near 47th Street, training for the Chicago Marathon. It's not easy to read, and it couldn't have been easy to write. It's also hard to forget.—M.R.Y.