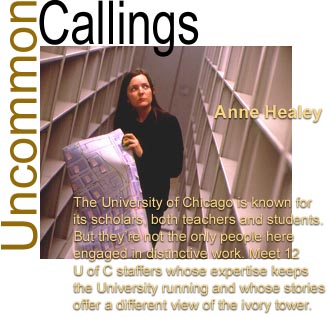 By Kimberly Sweet
Photography by Dan Dry
In Anne Healey's days as stacks manager at Chicago's Newberry Library, finding a single book out of place was a big deal, as the independent research library has closed stacks and a non-circulating collection. Then she joined the Regenstein Library in September 1998 as head of bookstacks. Now the Notre Dame graduate is finding a place for 3.5 million books as the Reg undergoes a major renovation and reconfiguration.
A blueprint that usually hangs on a wall of her office, tucked away in the third-floor stacks, displays the layout of the library's B level. Two below the main floor, it's home to most of the Reg's new compact shelves, which will eventually hold about 1.4 million volumes. The books began their migration in May. Healey meets regularly with the reconfiguration project manager and the access services librarian to discuss the logistics of the move, while she and the stacks project coordinator determine which books should go on what shelves and where to leave room for growth in the collections. "If you think of this as a big jigsaw puzzle, I'm figuring out where and how to put the pieces together," she says. "But it's as if you're in the puzzle—it's not like moving into an empty building."
Until the puzzle is solved, Healey's staff rearranges the old books daily to make room for the continual stream of new books. Eight employees—four assistant supervisors, two search staff, a part-time pamphlets assistant, and the part-time stacks project coordinator—help her oversee 40 to 45 student shelvers, who are responsible for reshelving every book in the library, except for the ones in the reading rooms and Special Collections. Other than at quarterly due dates, when the books "come in great, crashing swells," the shelvers aim to put a volume back within a day.
Despite rumors of love in the stacks, Healey swears she hasn't seen so much as a slumbering student. She's seen the left-behind candy wrappers and Starbucks cups, though, and learned that sometimes dogs really do eat homework. "I've seen three books chewed apart by dogs," she says. "I see the evidence of these things, but the circulation desk has to deal with the people. People really have to answer to the preservation department."

"We do a lot of things people on the outside can't or won't do. We're used to trying things."
If your monochromator needs some tinkering, if you just can't figure out the right material for your vacuum chamber, if you need a little something to contain the radiation emitted by your experiment—Jeff Sundwall's your man. An instrument maker and designer in the University's Central Shop from 1984 until 1992, he became the shop's manager in 1997. He spent the five years between as a design engineer in the U of C's Engineering Center, a group of about 50 people that now encompasses the shop.
Sundwall says "the story" is that the University's had some sort of machine shop since the early 1900s. In recent years, the ten-member group has worked with astronomy professor John Carlstrom on a telescope to study cosmic microwave background radiation and with Thanasis Economou of the Fermi Institute on parts for an alpha proton X-ray spectrometer that tested the chemical composition of rocks on Mars. Though considered part of the Physical Sciences Division, the Central Shop also does work for the BSD and the Hospitals, and occasionally for other universities and research institutions. Most of the Central Shop employees have regular clients, professors or grad students who bring them ideas for an instrument that needs to be made or refined. For complicated projects, an engineer draws plans for the shop to follow.
Sundwall's own current project is designing an air-tight containment box for the radioactive materials required for a cancer-treatment experiment by professors Richard Reba and Jacob Rotmensch. Sundwall learned to do this kind of work through a combination of on-the-job training, a five-year apprenticeship as a tool-and-die maker, and design classes.
"You couldn't get somebody with a degree to come in and do some of this work. They don't have a clue sometimes of what needs to be done," says Sundwall. "We couldn't be professors, but we know a lot about vacuums, materials, metallurgy, mechanics."
Not that he holds a grudge against those with degrees—talking with professors is one of the best parts of the job, Sundwall says. "They all have interesting stories. Their excitement for the projects is really contagious." His least favorite duty? Paperwork.

"In fall, people still think they have a lot of money and time, so they come early and stay late."
Perhaps the greatest surprise of Victor Vogt's career as manager of the Pub has been the success of the Monday night 10-cent chicken wing special. "Last week we cooked 2,430 wings," he marvels. "You have to wash that floor after the wings, not before."
Located in the basement of Ida Noyes, the Pub is, says Vogt, "the best private club deal around," with a $5 (student) or $7 annual membership fee for University folks age 21 and above. Pub manager since 1982, Vogt, AM'66, PhD'70, has seen the bar grow to almost twice its original size, the menu include veggie burgers (grilled upstairs in what used to be Ida's Café), and the beer of choice flow more frequently from microbreweries.
The Pub gives customers a choice of 10 kinds of wine, 140 bottled beers, and 20 taps, including two ciders and one root beer. The most popular taps, says Vogt, are JW Dundee's Honey Brown Lager, Michael Shea's, Miller Lite, MGD, and Budweiser. He names Sierra Nevada Pale Ale as his own all-around favorite Pub beverage, but his favorite Pub pastime is talking to customers—when he has time. Six days a week, Vogt's busy overseeing seven or eight employees, ordering supplies, counting money, washing glasses, busing tables, and changing 175-pound kegs.
Though the crowd consists mostly of undergrads and grad students, sports events and Friday evenings draw professionals and professors. The Pub has been the site of birthday parties and memorial services, even a round of the "Hallelujah Chorus." Says Vogt, "We try to be all things to all people."