An illustrated (and illustrative) tour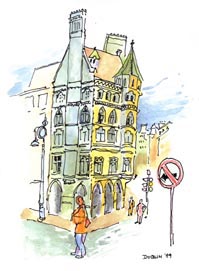 Like some other University of Chicago graduates and friends, I spent a week this August traveling through the Emerald Isle as part of the "Town and Country in Ireland" Alumni Association tour featuring U of C English professor James Chandler, AM'72, PhD'78. And like the rest of my fellow travelers, I found that the trip lived up to the most important promise of the promotional brochures: traveling with a Chicago professor turned a tour into a course of study, opening avenues of thought I wouldn't have taken on my own—or would have stumbled upon only through the luckiest of detours.
So while I brought home the typical tourist's bounty of T-shirts and woolen gloves, scenic postcards and impulse-buy paperbacks, a refrigerator magnet and a CD of traditional Irish music, I also returned with a fresh list of novels to read, topics to research, and friends to write.
Yet despite the best efforts of illustrator Mark McMahon—who joined the group to document the trip for the Magazine (see page 20) and who offered sketching lessons to anyone who wanted them—I didn't learn to draw. Maybe I tried too hard: "Use a pen, not a pencil," Mark told me at one point. "With a pencil, you're way too hesitant. Just go with it." In a while, Mark looked up from his own blossoming drawing of Muckross Abbey and tried again to get me started: "Break down what you see into geometric shapes."
Later, I stood with Mark and two other artistic acolytes, our sketchbooks propped against a chest-high hedge. On the other side, at the top of a hilly meadow, towered a Celtic cross, said to be the final resting place of a local landlord who'd been buried—standing up—inside the cross, so that even in death he would have a view of his beloved lakes of Killarney.
True to form, Mark helped us break the cross into its geometric components. I'd like to share my drawing, but in a mishap that won't surprise the Freudians in the audience, I managed—in a luggage-lightening episode at our Dublin hotel—to throw away that sketch. Whoops!
Like Mark, however, traveler F. Charles Woodruff, PhB'48, of Redwood City, California, is an accomplished artist, drawing by day and adding water colors each night. Above is one of his Dublin street scenes.
And by the end of the journey, I found Ireland had hurtled me into poetry—or rather, verse. With apologies to W. B. Yeats, I offer the following fragment:
Yearning and yearning in the woolen-mill store
The tourists cannot hear the tourist guide.
Things fall behind. The schedule cannot hold.
Sheer anarchy is loosed upon the land.
The Great Books tribe is loosed, and everywhere
The Kerry journey of Chicago grads gets drawn.
The best back home get printed, while the rest
are filled with passable geometry.
Surely some relaxation is at hand.
Surely a pint of Guinness is at hand.
A pint of Guinness! Hardy are those words—stout.
Then a vast intake of that Spiritus mundi
Doubles my sight.
Premium comics. If you listen to public radio, you may avoid fund-drive time. But if you enjoy the Magazine's "Chicagophile" department, you'll want to tune in during This American Life. With host Ira Glass, "Chicagophile" cartoonist Jessica Abel, AB'91, has written Radio: An Illustrated Guide. Available as a premium for donors, the comic book offers both a behind-the-scenes look at the cult-status show and a step-by-step primer on how to make a radio story. For a preview, see www.thislife.org.—M.R.Y.