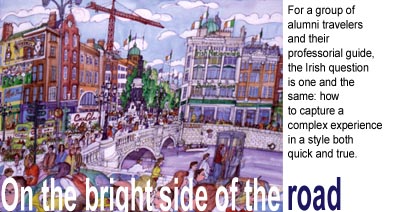 By Mary Ruth Yoe
Paintings by Mark McMahon
Wearing an Irish-knit vest and carrying a cup of breakfast tea, U of C English professor James K. Chandler, AM'72, PhD'78, walks into a Georgian-style drawing room in the Muckross Park Hotel. This Monday morning in mid-August, the drawing room is a classroom, and 30-some students—Chicago alumni (along with spouses and friends)—await.
Freshly arrived in Killarney, County Kerry, the previous afternoon, they've signed up for the weeklong "Town and Country in Ireland" tour offered by the U of C Alumni Association. The travelers, who include graduates of the College and almost all the divisions and professional schools, range in age from fortysomething to eightysomething. They are social workers, CEOs, psychiatrists, chaplains, professors, retirees, returning and first-time visitors to Ireland. Although dressed alike—comfortable shoes, slacks, sweaters, and maroon nametags—the individual travelers are both friendly and wary of the people with whom their week's lot has been cast. It's up to Chandler to help create a class.
He places his teacup beside a portable CD player, dons his reading glasses, and intones the not-so-forgotten words of Thomas Moore, an often-forgotten 19th-century Irish poet: "Believe me if all those endearing young charms…."
The poem's rhythmic "one, two, THREE; one, two, THREE" is echoed outside the hotel by the rattle and hum of passing cars, lorries, and horse-drawn jaunting cars. "Anapests are hard to take in large doses," Chandler begins. "That's one of the reasons why Moore is seldom read today." Still, his Irish Melodies, published in ten volumes between 1808 and 1834, were translated into nearly every European language by the 19th century's close. (The sheet music for "Tis the Last Rose of Summer" sold 1.5 million copies in the U.S. alone.) So when Chandler bends over the CD player, fast-forwards to the desired track, and pushes the play button, the haunting melody is immediately familiar.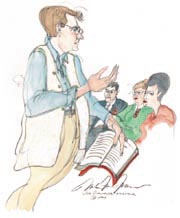 He quickly connects the elegiac lyrics (written for Moore's wife, Bess, who suffered from palsy) to one of four texts sent to the class members before leaving home: Thomas Flanagan's 1979 novel, The Year of the French. The year was 1798, marked by an unsuccessful revolt against British rule. The rebellion, he says, was a "weird yoking of peasant hatreds with the very high-minded ideals of the French revolution."
The story begins as Irish schoolmaster, drunkard, and poet Owen McCarthy is enlisted by militant peasants in County Mayo to write threatening letters to the local English landlords. Though he knows English (and French and Latin), McCarthy writes his poetry in Irish, in forms and on themes as ancient as the Celtic bards. "In a moment when Ireland is striving for modernity," Chandler notes, "all the things its poets are celebrating are in ruins."