Welcome to the JUNE issue of UCHICAGO.EDU, a monthly e-bulletin bringing you online news about the University of Chicago and its larger community of alumni and friends.
News from Chicago
New Institute Focuses on How to Make Urban Schools Better
With the help of $63 million in funds from corporations, foundations, and individuals, the University's new Urban Education Institute will integrate and expand work already being done at Chicago--studying the problems, preparing teachers, and opening new schools--to improve urban education at the Pre K-12 levels:
http://news.uchicago.edu/news.php?asset_id=1388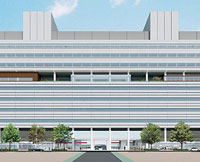 The Future of Medicine
Architect Rafael Vinoly has designed the innovative University of Chicago Medical Center's New Hospital Pavilion to facilitate collaboration between physicians and researchers--for the benefit of patients. The $700 million, ten-story pavilion, to open in 2012, will house clinical programs focusing on cancer, gastrointestinal disease, neuroscience, advanced surgery, and high-technology medical imaging.
http://news.uchicago.edu/news.php?asset_id=1391
Lab Schools Makes No Small Plans
Aided by a $10 million gift from the family of the late Earl Shapiro, U-High'56, the University of Chicago Laboratory Schools will build a new early-childhood center and renovate existing buildings. The work is part of an ambitious master plan in which the the 112-year-old school, founded by John Dewey, will increase both student enrollment and financial aid:
http://news.uchicago.edu/news.php?asset_id=1389
Research at Chicago
ACT Prep Flunks
Most teachers and students at Chicago public high schools believe ACT scores depend primarily on test-taking skills, but a Consortium on Chicago School Research study found core-course grades to be the strongest predictor. In fact, the study concluded that significant class time devoted to test prep--instead of academic work--yielded lower ACT scores:
http://news.uchicago.edu/news.php?asset_id=1385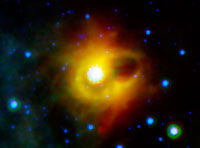 Ring of Fire
Using data from NASA's Spitzer infrared telescope, a team of astronomers including Chicago astrophysicist Vikram Dwarkadas deciphered the origin of a mysterious ring surrounding a dead star 20,000 light years away. The ring was formed, the scientists concluded, during a violent convulsion of the dead star's powerful magnetic field: a flare burst from the star's surface, blasting away a nearby dust cloud, whose encircling remnants were lit up by adjacent stars.
http://news.uchicago.edu/news.php?asset_id=1386
Today @ UChiBLOGo
In the Neighborhood
The Magazine's Web log hops on an Alumni Weekend bus tour of Hyde Park and environs:
http://uchiblogo.uchicago.edu
From the University of Chicago Alumni Association
Paradise Found
Join alumni and friends in exploring Thailand and the Himalayan Kingdom of Bhutan, October 13-25. Watch the Bangkok sunset aboard a rice barge on the Chao Phraya River. Visit the Grand Palace, former residence of Thai kings, and the Temple of the Emerald Buddha, the country's most sacred site. Then, tour the hilltop fortresses and capital city of Thimphu, Bhutan, nestled high in the majestic Himalayas:
http://www.alumni.uchicago.edu/study-trips.html
Help Choose the Next Generation of Chicago Undergrads
The Alumni Schools Committee is a network of College alumni who recruit and interview high-school students for Chicago. Volunteers interview applicants on behalf of the Admissions Office, attend college fairs, and speak with students at informal receptions. Your inside perspective is a great asset in selecting the most interesting and dynamic students and getting them excited about a Chicago education. For more information or to sign up as an Alumni Schools Committee volunteer:
https://collegeadmissions.uchicago.edu/asc
Do You Love Your Job?
Whatever your answer, the Alumni Careers Network is the site to visit. Share your insight and experiences with students and alumni curious about your profession. Register to join the more than 15,000 alumni who have volunteered to be career contacts--it doesn't take much time and you can choose how you're contacted. Or if you are thinking about changing jobs, use the searchable database to find alumni contacts in the professions that interest you:
http://alumnicareers.uchicago.edu
Your Gift Matters, Participate Today!
Each year gifts from alumni and friends to the University provide vital resources for student scholarships, graduate fellowships, and faculty support. Chicago needs your support before June 30, the close of the fiscal year. Remember, every gift, regardless of its size, has the power to make a big difference in the lives of Chicago students and faculty members. Please make a gift online today:
https://alumniservices.uchicago.edu/giving
Your Chicago Connections
Submit Your Alumni News: http://magazine.uchicago.edu/about/contact.html
Submit Your Alumni Book: http://magazine.uchicago.edu/books/submit.shtml
Alumni Home: http://www.uchicago.edu/alumni/
Arts at Chicago: http://arts.uchicago.edu
Campus Calendar: http://events.uchicago.edu/campusevents/index.phtml
University of Chicago Magazine: http://magazine.uchicago.edu
UChiBLOGo Web log: http://uchiblogo.uchicago.edu
Chicago Home: http://www.uchicago.edu
Chicago Initiative: http://chicagoinitiative.uchicago.edu
Chicago Chronicle: http://chronicle.uchicago.edu
University News Service: http://news.uchicago.edu/
Research at Chicago: http://www.uchicago.edu/research/
About the University: http://www.uchicago.edu/about/
Maroon Athletics: http://athletics.uchicago.edu/index.html
The Chicago Maroon: http://www.chicagomaroon.com/
Show Your School Colors with Bookstore Gifts: http://uchicago.bncollege.com
Make a Gift to Chicago: http://chicagoinitiative.uchicago.edu/makeagift/
UCHICAGO.EDU is a joint project of the University of Chicago Magazine and the University of Chicago Alumni Association. Please send your comments and suggestions to uchicago-magazine@uchicago.edu.