Welcome to the AUGUST issue of UCHICAGO.EDU, a monthly e-bulletin bringing you online news about the University of Chicago and its larger community of alumni and friends.
News from Chicago
Chicago Initiative's Final Numbers are In—and Over the Top
Going well beyond its original $2 billion goal, the University's Chicago Initiative campaign ended June 30 with 117,743 alumni, friends, and organizations contributing a total of $2,380,373,507. The nine-year Initiative marks a major milestone in the University's continuing journey to support the work of the world's leading scholars—and includes 105 new endowed professorships, 16 of them given in the campaign's final month:
http://news.uchicago.edu/news.php?asset_id=1418
The Magazine's July-August issue offers a full look at the Initiative's impact, with the online version updated to reflect the final tally:
http://magazine.uchicago.edu/0878/features/momentum.shtml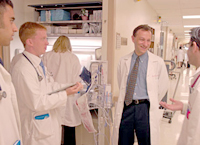 Medical Partnership Is in the Works
Beginning in July 2009, students, residents, and fellows at the University's Pritzker School of Medicine will be placed at one of three north-suburban hospitals, operated by Evanston Northwestern Healthcare, for a portion of their educational experience. While the majority of medical-student training will continue to be centered at the University of Chicago Medical Center, the new affiliation creates opportunities for collaborative research, particularly in the areas of clinical outcomes, clinical trials, oncology, and imaging.
http://news.uchicago.edu/news.php?asset_id=1412
Big Help for Massive Data Sets
With the help of a $1.5 million grant from the National Science Foundation, researchers at the Computation Institute—a joint effort of the University and Argonne National Laboratory—will launch the Petascale Active Data Store (PADS), a computer system that allows researchers around the globe to better store, access, and analyze massive data sets.
http://news.uchicago.edu/news.php?asset_id=1419
Research at Chicago
Hard-Wired to Feel Others' Pain
For children, empathy comes naturally, reports Chicago neuroscientist Jean Decety. Using fMRI to measure the brain activity of a small group of seven- to 12-year-olds, Decety found that when the youngsters were shown images of other people in pain—a stubbed toe, a hand smashed in a car door—their pain circuits lit up as if they themselves were experiencing the trauma. When the pain children saw was intentionally inflicted, their brains' moral-reasoning centers also responded. Decety hopes to use his findings to better understand school-age bullying:
http://news.uchicago.edu/news.php?asset_id=1403
How Often Will This Online Article Get Cited?
Chicago sociologist James Evans warns in the July 18 Science that while the Internet has broadened scholarly research, it may also be narrowing it. Analyzing 34 million articles added to the Web between 1998 and 2005, Evans discovered that as more journal issues came online, scholars cited fewer, more recent, and less diverse articles in their own work. The phenomenon, Evans says, may reflect the fact that online searches typically organize results with the most-viewed articles at the top. The more a given article gets opened, the more likely that future researchers will open it too—leading, perhaps, to scholarly consensus at the expense of fresh ideas.
http://news.uchicago.edu/news.php?asset_id=1417
Today @ UChiBLOGo
You Had to Be There
The Magazine's Web log laughs it up at Off-Off Campus.
http://uchiblogo.uchicago.edu
A Question for Alumni of the College
Location, Location, Location
What place do you most strongly associate with your time at the College—indoors, outdoors, on campus or off? A classroom, cafe, garden, gate? Tell us what happened there or what makes it a hot spot for you. Send your answer by August 24 to uchicago-magazine@uchicago.edu, with "Location, location, location" in the subject line. Selected answers will appear in the November–December issue of the Magazine's College supplement, the Core.
From the University of Chicago Alumni Association
Phoenixphest Rising
Since 1999 recent graduates in the U.S. and abroad have marked the start of the academic year on the quads by gathering for refreshments, conversation, and lots of relaxed networking in their own cities. On September 25–26 alumni in 18 cities will celebrate Phoenixphest 2008. To learn more and register:
http://www.alumni.uchicago.edu/phoenixphest

Around the World in 2009
Join alumni and friends on an educational adventure led by a University scholar. Destinations around the globe provide opportunities not only to learn from Chicago faculty, but also to meet alumni living abroad, to hear from regional experts, and to interact with local people. View the 2009 travel program online:
http://www.alumni.uchicago.edu/study-trips.html
Your Chicago Connections
Send Your Alumni News: http://magazine.uchicago.edu/about/contact.html
Send Your Alumni Book: http://magazine.uchicago.edu/books/submit.html
Alumni Home: http://www.alumni.uchicago.edu
Arts at Chicago: http://arts.uchicago.edu
Campus Calendar: http://events.uchicago.edu/campusevents/index.phtml
University of Chicago Magazine: http://magazine.uchicago.edu
UChiBLOGo Web log: http://uchiblogo.uchicago.edu
Chicago Home: http://www.uchicago.edu
Chicago Initiative: http://chicagoinitiative.uchicago.edu
Chicago Chronicle: http://chronicle.uchicago.edu
University News Service: http://news.uchicago.edu/
Research at Chicago: http://research.uchicago.edu/highlights/
About Chicago: http://www.uchicago.edu/uchi/about
Maroon Athletics: http://athletics.uchicago.edu/index.html
The Chicago Maroon: http://www.chicagomaroon.com/
Show Your School Colors with Bookstore Gifts: http://uchicago.bkstore.com
Make a Gift to Chicago: http://chicagoinitiative.uchicago.edu/makeagift/
---
UCHICAGO.EDU is a joint project of the University of Chicago Magazine and the University of Chicago Alumni Association. Please send your comments and suggestions to uchicago-magazine@uchicago.edu.