Students' summer service rolls on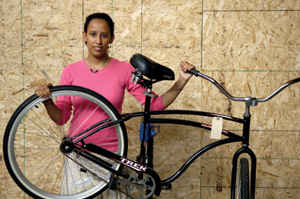 Plywood and bikes: Sofia Narvaez-Gete, '07, at her Summer Links internship.

I'm so excited about the space!" says Sofia Narvaez-Gete, '07, eager to give a tour of the building that houses Blackstone Bicycle Works, which is being renovated after a 2001 fire. She points out the tree-trunk columns supporting the ceiling and the colored dots on the upstairs floor, salvaged from an old bowling alley. In a dim room crowded with old bicycles, the human-development major shows how a pile of colorful glass candle-holders will fill holes in the plywood window covering, creating a polka-dot, stained-glass effect in lieu of window panes.
Narvaez-Gete turns to her workspace, a low-ceilinged room opening onto a patio, where she designs a curriculum for the shop's youth program. Daylight streams through bright green cornstalks and illuminates her laptop inside. "Oh, this is my favorite part," she says, clasping her hands to her chest and looking at the brick oven that former Medici baker Lauren Bushnell, AB'95, helped construct. "We've already tested it with pizza and muffins."
The whimsical building is the site of Narvaez-Gete's Summer Links internship. She is one of 26 undergraduates and four graduate students completing the 11-week program this summer. Run by the University Community Service Center (UCSC), Summer Links matches students with community organizations. The College pays the interns a stipend on behalf of the cash-strapped groups.
The tiny sign outside Narvaez-Gete's building reads, in hand-painted lettering, "6100 S. Blackstone. Experimental Station." To the nonprofit's founder and director Dan Peterman, MFA'86, the station is "an incubator for small enterprise, a venue and workplace for the arts, [and] a laboratory of urban ecology and alternative education." Before the fire, Blackstone Bicycle Works shared the space with such ventures as The Baffler Magazine, founded by Thomas Frank, AM'89, PhD'94, Bushnell's bakery, and Peterman's art studio. Reopening was stalled while the City of Chicago took two years approving building permits and Peterman undertook reconstruction, but those projects and others will be back in force on the property this year.
When the bike shop reopens at the end of August, it will employ local kids who can earn a refurbished bicycle with 25 hours of labor. Working at the shop means learning not only how to fix bikes and handle customers but also business, math, and language skills, part of the curriculum Narvaez-Gete is writing. Toward summer's end she will recruit neighborhood kids ages 8 through 18 and hopes to see the first group enter the youth program.
Each of this year's 30 Summer Links interns interviewed with five organizations from about 50 who applied for student workers. "A core of approximately 20" organizations host year after year, says David Hays, assistant director of UCSC. Narvaez-Gete interviewed with the Illinois Art Council and Chicago Youth Programs this spring, among others, but chose the bike shop "because the building and the people had a good feeling."
Before her internship, the only thing Narvaez-Gete knew about Woodlawn was that it had an uneasy relationship with the University. Now, she says, "I've seen that there are people who are trying to bring the community forward." In the decade Summer Links has existed, Hays says, relations between the University and Woodlawn have improved: "The community is willing to look at the University of Chicago with less suspicion." While on a resident-led tour of Woodlawn with other Summer Links interns, Narvaez-Gete saw the Grand Ballroom, a 1920s-era dance hall at 63rd and Cottage Grove that developers brought back to life in 2005. This endeavor, as well as Peterman's, inspired her.
Inspiration was one of the program's goals when former UCSC director Michelle Obama (now vice president for community and external affairs at the Hospitals) started Summer Links to engage students in Chicago neighborhoods they might otherwise avoid. "We have internships all over the world. We could benefit from some in our community," Hays says. "You don't need to go to India to learn about poverty." Since 1997, 300 interns have spent their summers in Chicago, amassing a combined 3,000 weeks of community service. Interns this summer worked as far north as Rogers Park and as far south as 71st and Kedzie, assisting organizations such as the ACLU, Stroger Hospital, and the Kovler Center, helping Midwest-based survivors of political and government-sanctioned torture.
This summer's crop of undergraduates contained a heavy concentration of prelaw students majoring in international studies; history; and law, letters, and society, and the program also attracted biology, sociology, English, music, and chemistry majors. Summer Links alumni, Hays says, can apply their experience to whatever they do next. "It's about how you do what you do and less where you do it. We need civic-minded investment bankers." Narvaez-Gete isn't sure what she wants to do after she graduates in June. What's most important to her, she says, is to continue to contribute to endeavors like Summer Links—a step, she says, toward her lifelong goal of social justice.