Until the 1960s, the National Weather Service often discovered tornadoes by reading newspaper reports of their destruction. Around the same time, a teen-aged Greg Forbes was making backyard weather predictions with a rain gauge and thermometer.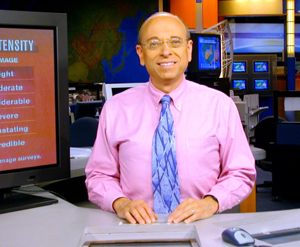 Severe-weather expert Greg Forbes prepares Weather Channel viewers for the worst.
Today, using weather satellites, Doppler radar, and banks of computers—Forbes, severe-weather expert at the Weather Channel, predicts life-threatening storms and contemplates the effects of global warming. "Science has progressed so much," says Forbes, SM'73, PhD'78. "Even in the 1970s we had very crude radars—a white blob on the screen, raining or not, yes or no? Now we can see not only colorized radar displays but radar from around the country in real time. That helps us try to outwit weather."
Like the severe weather he studies, Forbes's career cuts a wide swath. He has surveyed the damage paths left by 300 tornadoes and windstorms, among them Hurricane Andrew and Typhoon Paka, which devastated several Pacific islands in 1997; measured the North Polar ozone hole as a NASA project forecaster; and collaborated with national weather services in South Africa, Spain, and the Netherlands.
To get there, Forbes left his backyard studies behind in 1968 to pursue a degree from Penn State, one of the country's largest meteorological schools. For graduate studies, he sought out Chicago and meteorologist Tetsuya Theodore ("Ted") Fujita, who, in 1971, had just established the Fujita Scale (F-scale) for rating the wind speeds of tornadoes by examining the damage they cause. Forbes used the F-scale and Fujita's hypothesis of tornado substructure—suction vortices that revolve about the parent tornado—in his dissertation on the 1974 Super Outbreak, a stunning series of 148 tornadoes that struck from the Great Lakes to the Gulf of Mexico.
"While it wasn't the deadliest, it was the worst in how many, how wide, and how intense. It was and still is unprecedented," Forbes says. "In the '70s the warning process was pretty close to zero lead time. Now we have 14-minute lead time, which definitely saves lives."
As technology advanced, Forbes and "Mr. Tornado" (a moniker Fujita enjoyed) worked together to explore ways to use newly launched satellites. For example, they flew Lear jets behind thunderstorm tops, the highest parts of the thunderstorm that bulge as a dome above the flatter thunderstorm anvil, to monitor thunderstorm behavior and determine any correlation between what the tops did and the severe weather they produced.
"We were more detectives, searching clues left at the scene after a tornado," Forbes says. "We also watched movies—now videos—to make calculations of wind speeds by tracking elements of the tornado or its debris."
As early as 1974, structural engineers doing damage surveys began to question the wind-speed categories of the F-scale. Too high, they said. By the 1980s and '90s, they were certain that structural weaknesses—houses not built well, building codes that only require structures to sustain winds as low as 75 mph—contributed to the damage as much as the wind. Even Fujita had come to realize the scale needed adjusting.
After Fujita died in 1998, an engineering group from Texas Tech convened what they dubbed the Expert Elicitation Process, an elite group of three engineers and three meteorologists, including Forbes. They developed the Enhanced Fujita Scale (EF) with considerably lower wind speeds. The EF just weathered its first tornado season in 2007, and Forbes does not anticipate any major changes.
As for predicting the effects of global warming, Forbes is cautious. For one thing, tornado counts are skewed by a dramatic increase in reporting. The combined efforts of storm chasers and Doppler radar have increased annual tornado reports from about 300 in 1950 to more than 1,000 now.
"With reporting increases, it's difficult to sort out any kind of climate signal," he adds. "But we are seeing severe weather later and further north during the cool season, like the tornadoes in Michigan this October."
Ditto Hurricane Katrina. "This is still hotly debated. There are many more factors that go into a tropical storm than a warm ocean," he continues. "What does seem likely is that the extremes are getting worse in terms of rain—droughts and hot spells are getting worse while we are seeing some huge rain events."
Before joining the Weather Channel in 1999, Forbes spent 21 years as a professor at Penn State, and he likes thinking about the 500 or more meteorological students he taught, a whole cadre of forecasters who help predict natural disasters and severe storms. That means more people to help save lives, which, for all the science and fancy equipment, remains his real goal. "At the Weather Channel, we've tried to make people aware of severe weather events," Forbes says. "People have written in and said that the concern I had in my voice made them take shelter. Hopefully, we've saved some lives."