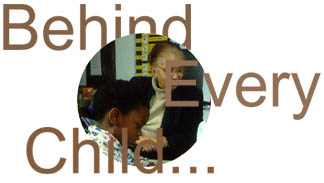 …should be a teacher like Barbara Bowman, AM'52. As a researcher, advocate, and teacher of teachers, the president of the Erikson Institute is out to make sure all children get the care and education they deserve
By Kimberly Sweet
Photography by Lloyd Degrane
Born and raised on the South Side of Chicago, Barbara Bowman, AM'52, learned at an early age that she had a responsibility to her city and, more importantly, to its people. Her parents, Robert and Dorothy Taylor, saw to that.
Her father, who chaired the Chicago Housing Authority from 1943 to 1950 and for whom the Robert Taylor Homes—built in the 1960s and now, ironically, a national symbol of public housing's failures—are named, would drive Barbara and her sister, Lauranita, through poor neighborhoods and discuss the need for quality housing. Her mother, who helped establish a community arts center, rolled bandages with her daughters during World War II. The girls' grandmother took them to do hospital volunteer work. The whole family would deliver baskets of food at Thanksgiving and Christmas.
"I don't ever remember not being involved in something," Bowman recalls. "You were very much a part of the life of the community."
Her parents—Dorothy was a teacher and Robert's father had been vice president of Tuskegee Institute—also made sure their daughters took part in the life of the mind.
The two sisters took their parents' words and example to heart. Lauranita became a preschool teacher, as did Barbara, who began her teaching career in the nursery school of the University of Chicago Lab Schools while earning her master's in education at Chicago. Finding herself hooked, she embarked on her life's work: understanding child development and imparting her knowledge of those crucial early years to the teachers of young children as well as to the rest of us. It's work that's taken the 70-year-old Bowman from classrooms to community centers, academic journals to editorial pages, federal advisory boards to public podiums, Native American reservations to African towns.

As chair of a National Research Council committee on early childhood pedagogy, Bowman heads up a group of about 15 experts who started meeting last May to filter through the latest research. By September they will have convened eight to ten times, communicating between meetings by e-mail as they write a book summarizing the freshest and most useful knowledge. She just wrapped up service on a similar committee studying one major area of childhood teaching—literacy—and has been speaking about the report, Preventing Reading Difficulties in Young Children, to school districts and professional groups around the nation. Other such duties include serving on both the editorial board of Young Children—the research journal of the National Association for the Education of Young Children, of which Bowman was president in 1980–82—and the editorial advisory board of Teachers College Press.
After nearly 50 years in her field, Bowman still breaks out in a smile almost every time she says the word "children." If she's not smiling, it's probably because—ever the advocate—she's earnestly discussing in her low, smooth voice a problem affecting children. With her graying hair in an elegant bun and a warm demeanor that invites conversation, it's easy to imagine her as your surrogate grandmother or favorite aunt, assuming that your grandmother or aunt is also the founder and president of an institution of higher education. But that's probably not the case, as few women are.
Bowman and her onetime Lab Schools colleagues Maria Piers and Lorraine Wallach, AB'50, AM'70, joined this elite group in 1966 when they established the Erikson Institute, a graduate school and research center in Chicago that specializes in early childhood education. Its mission is simply stated: "Knowledge in the service of children." Starting with just 15 students and the three founders as faculty, the institute has grown right along with the growing body of knowledge about early childhood and now has eight full-time and nine part-time faculty, 200 students, and 750 alumni. Graduates hold high-level posts at LaRabida Children's Hospital in Chicago, the Salvation Army, the Wisconsin Department of Public Instruction, and the National Easter Seal Society.
During her time as a teacher, researcher, and mentor at Erikson, Bowman has spent ten years as co-director of the institute, 15 as director of graduate students, and one year as vice president for academic programs. Until a few years ago, she preferred the freedom to pursue projects, such as teaching on Indian reservations in Phoenix and Minnesota or consulting for a New York school district, to being head of the institute. But in 1994, when former institute president James Garbarino stepped down, Bowman stepped up. No longer in its infancy, the Erikson Institute needed a strong leader to guide it into maturity without losing sight of its original vision. With both Piers and Wallach in retirement, Bowman felt the institute needed her.
"It seemed important to have somebody taking leadership who was very much aware of the past but also the needs of the future," she explains.
As president, Bowman has doubled the student body, increased the fund-raising efforts of the school and its board, brought computer technology into the classrooms, established new research initiatives, introduced additional continuing education classes, and expanded public education and outreach.
"She has done a remarkable job of taking us to the next level," confirms Frances Stott, AB'63, AM'74, Erikson's dean of academic programs. "Barbara not only understands the Erikson Institute, she embodies it. We feel we're in our glory days right now."
Bowman didn't intend to be an educator. Leaving her middle-class neighborhood, not far from where the Robert Taylor Homes would later be built, she went to Sarah Lawrence College intending first to be an artist, then to be a city planner. At age 19 she became engaged to pathologist James Bowman, whom she'd first met over the winter holidays during her last year at Northfield School in Massachusetts. They planned to marry in June 1950 after she finished college, and she knew she'd need a job while he completed his residency in Chicago. At the time, teaching was one of the opportunities open to a woman, so she tested the waters at Sarah Lawrence's nursery school, eventually earning her bachelor's degree in liberal arts while taking a course in teacher education and getting certified to teach nursery school through third grade. Her inquiries at the Chicago Board of Education led her to visit a kindergarten classroom, where, she says, she realized that teaching a class of 50 children would require skills and knowledge she didn't yet possess.
So she came to the U of C's school of education to acquire them. While earning her master's degree, she taught in the Lab Schools nursery school, becoming a head teacher after one year. Bowman also taught a graduate course in observation at the nursery school. "It was the first time that I had taught adults," she recalls, "and I found that I enjoyed it almost as much as I enjoyed working with the children."
With her degree and her husband's residency completed, their next decade took a course neither could have expected. James enlisted for the Korean War and was sent to Fitzsimmons Army Hospital in Denver, where Barbara taught at Colorado Women's College. Then in 1955, an acquaintance offered James the chance to help establish a hospital in southern Iran. Their planned two years in Iran turned into six, during which their daughter, now Valerie Jarrett, chair of the Chicago Transit Authority, was born. James was director of pathology at Nemazee Hospital in Shiraz and also helped found a medical school at the local university. Barbara taught social sciences in the medical school and at the Nemazee School of Nursing.
Perhaps the most useful lesson she learned, Bowman says, was to pay attention to—and to value—cultural differences in raising and educating children. "I became very much aware of how, given another set of circumstances, people raise children in quite different ways and those children turn out to be human, too," she reflects.
The family returned to Chicago in 1963, with James joining the U of C faculty, where he taught and researched for 30 years and remains a professor emeritus in the departments of pathology and medicine, the College, the Committee on Genetics, and the Committee on African and African-American Studies. Bowman began working with emotionally disturbed children at the Chicago Child Care Society. They continued to spend summers traveling the world as James did genetic and blood research and Barbara visited schools and children's programs.
Meanwhile, schools and children's programs in the U.S. were changing. With President Lyndon Johnson's call for a "Great Society" and a "war on poverty" came the advent of Operation Head Start. Designed to put children from low-income families on an equal footing with other children when they entered school, Head Start would provide educational, health, and social services. The birth of Head Start in 1965 gave Barbara Bowman's Lab Schools friend Maria Piers an idea. After she brought Lorraine Wallach on board, the two of them called Bowman. They were planning to start a school that would teach preschool teachers how to work with children in Head Start programs. They would emphasize relationship-based education, giving their students not just formal knowledge but an understanding of themselves and of others. Would Bowman help? She would.
"Most of the preschool teachers worked in nursery schools and had almost no experience working with children at risk or poor children and low-income families," Bowman explains. "It was essential that either we retrain the nursery-school teachers or recruit a whole new cadre of teachers who would be willing to work with low-income children and families."
Named for Erik Erikson, an American psychoanalyst who proposed that human development is divided into eight stages—and with whom Piers had worked in Vienna in the 1930s—the Erikson Institute opened its doors on Hyde Park's 53rd Street with the financial help of U of C life trustee Irving B. Harris, now the Erikson Institute's chairman emeritus. With Piers as dean, the school started as a non-degree-granting institution with just 15 students. As the institute grew, it took on community projects and began drawing applicants as diverse as nurses, social workers, day-care directors, even ministers. Soon the founders decided that their students needed and deserved a tangible credential, so they affiliated with Loyola University Chicago and began to offer a master's degree program in early childhood education.
The academic programs have grown enormously in the years since. The master's program now includes the standard degree in child development, plus three specializations: one for teacher certification, one for working with infants, and one for students who want to be directors or administrators. These programs take from one to three years, depending on whether they're done full or part time, and require a yearlong internship supervised by a faculty member. Then there's the postbaccalaureate Irving B. Harris infant studies program and a variety of professional development courses. Students with a more academic bent can now enter the Ph.D. program in child development, offered jointly with Loyola. And under Bowman, Erikson has just added a B.A. program through Columbia College Chicago that offers undergraduates a liberal-arts education, an area of concentration, and teaching certification.
At the same time, the institute's outreach and research efforts have broadened. Project Match, a welfare-to-work program run by Erikson alumna Toby Herr, employs the parents of young children at early childhood centers. "Most welfare-to-work programs are focused on employment outcomes, on getting as many people off the rolls as quickly as possible," Herr told Erikson/Chicago. "But Erikson is about human development, and Project Match takes that perspective. To us, leaving welfare isn't an event, it's a process of personal growth."
Other projects take Erikson into the public schools, while still others are more research-oriented. The Arts Integration project works with public school teachers on using the fine arts to help disadvantaged children with cognitive skills. The institute is also involved with the city of Chicago's accreditation project, which is trying to raise standards and get nursery schools and the like accredited by a professional organization such as the National Association for the Education of Young Children. The Project on Children and Violence examines how children are affected by growing up in high-crime areas, while the Faculty Development Project on the Brain focuses on bringing new knowledge of the developing brain's workings to higher-education curricula and inservice education programs. With the U of C's Early Childhood Initiative, an interdisciplinary research program that studies children's cognitive development, the Erikson Institute sponsors "The Developing Child: Brain and Behavior" symposium series, which sold out a winter program on language development.
"Our niche in the research world is not basic research," says Bowman. "What we're trying to do is to use research tools to help community organizations and services improve the quality of their service—either by getting better information about their clients or by looking more carefully at the outcomes or by looking at what they are actually doing and what they think they ought to be doing."
Though the institute had been growing all along, the mid-1990s seemed the time to make a concerted push to take it to the next level. With a steadily increasing number of children's programs and job opportunities, the school's waiting list had become as long as the list of admitted students. Some people would see that as a sign that the school could be more selective, more exclusive. Bowman saw only that Erikson needed to expand to fulfill the demand for its services.
She's managed to double the student body in the past few years, making it a priority to recruit people who work in high-risk communities, even those who may not be prepared for graduate school. Rather than lower its academic standards, Erikson provides those students with extra help—tutors who can advise on everything from writing papers to time management.
"You have to grow or risk remaining the same," comments academic dean Fran Stott. "We have grown in productive ways that maintain uniqueness and core mission, yet keep us vital and current. Barbara does a fabulous job of balancing those."
Bowman has also stepped up the fund-raising efforts of the school and its board. Part of the upshot is plainly visible in the institute's newly renovated campus—featuring a computer lab and "smart" classroom—located in the heart of the city at 400 N. Wabash.
Perhaps her toughest job is getting the word out about how important it is to make sure people who work with children are well trained. That task includes making speeches, writing letters to the editor, and organizing lecture series. "People often say, 'Well, parents don't have fancy educations and they raise perfectly nice children,'" Bowman says. Acknowledging the truth of that argument, Bowman quickly adds, "What I think people don't understand is that when you're raising other people's children, it takes a great deal more sensitivity, knowledge, information."
Bowman poses the same questions and makes the same arguments that Head Start posed and made 30 years ago. Quality care and education for children—all children, not just those with well-off parents—is still the biggest issue facing society, she says. Her battle is not so easily won: "The general public has to recognize that other people's children are their responsibility and that everybody can't afford the quality of care and education that children need. And if the public is not willing to pick up the price tag, we're going to be stuck with increasing numbers of children who need to be remediated in school and need to have additional services."
The price tag is not going to be a small one, she acknowledges. Society will have to rearrange its priorities and make some sacrifices, the same way an individual might cut back on eating in restaurants to save money for the down payment on a house. "We can change our priorities about how we support people who take care of our children," she insists. "In the long run, it's cheaper to feed it in on the early end and not spend it on the far end."
That kind of persistence is vintage Bowman, according to Stott, who likes to tell a story about her colleague that took place 14 years ago, right after Stott found out that her 15-year-old son needed heart surgery. Forgoing platitudes, Bowman followed Stott around, asking her daily whether she'd chosen a surgeon yet, refusing to let her ignore the decision that needed making. Finally, Bowman came into the office one morning and told Stott that the U of C's chief of pediatric cardiology was expecting her call at 10 a.m. "That's who Barbara is," Stott says. "She gets people to act on their own behalf." That's true of her as a leader and teacher, too, Stott notes: "She is unrelenting, and she expects everyone to rise to their best level. And they meet those expectations."
Despite her administrative duties and outside obligations, Bowman remains dedicated to the classroom. She still teaches two classes—a fall one in the history and philosophy of early childhood care and education, and a winter one in administration—saving spring for her travels to children's programs abroad. Under the tutorial program that is part of the master's degree, she meets with two students once a week during their final academic year to discuss how to implement their classroom knowledge in their internships. Yet she says her favorite moments as a teacher take place not in classrooms, but in meetings.
"I look around the room and I count the number of Erikson graduates there. It is the joy of my life," she says. "That really thrills me, that so many of our graduates are in leadership positions around the city, the nation, and in different countries."
This spring, another batch of Erikson Institute graduates will gather in Bowman's Greenwood Avenue backyard for the commencement ceremony, which has been held there since the first 10 students graduated in 1967. Last year, the backyard overflowed with 35 students and 200 guests. Stott will talk about each student for a few minutes and Bowman will hand each master's student a yellow rose, each Ph.D. a white one. A very Erikson way—a very Bowman way—to pass on the torch.