Where no art has gone

Three generations of Chicago students met-figuratively, at least-in an unusual place this March when NASA launched the space shuttle
Columbia
to rendezvous with the orbiting Hubble Space Telescope.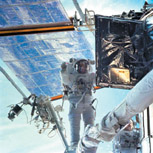 The meeting took place more than 350 miles above Earth's surface where a team of astronauts, led by astrophysicist John Grunsfeld, SM'84, PhD'88, performed repairs to the 12-year-old orbiting telescope, named after Edwin Hubble, SB'10, PhD'17. Grunsfeld carried with him a bit of U of C history-the front page of Hubble's doctoral dissertation-and a bit of its future-a collection of artwork by third-graders in the U of C's Laboratory Schools.
The idea grew out of a chance meeting between Grunsfeld and Michael Turner, the Bruce V. and Diana M. Rauner distinguished service professor in astronomy and astrophysics, at a campus conference last October. Turner's son, Joe, is one of 24 students in his third-grade class. With three weeks notice, the students drew pictures, took photos, and wrote stories and poems to be placed on a CD for Grunsfeld to carry on the flight.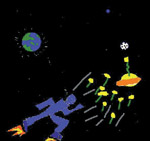 One student, Amir Hay, wrote a letter to an alien in case of a close encounter. "Dear Mr. Alien," Hay wrote, "If you're Evil, sorry I gave you this note. I was hoping aliens have a lot of technology. And astronaut Grunsfeld is going to go up into space and going to deliver this note to you. I was hoping you guys know how to build robots, because if you do you could build them for the whole world...." Other students wrote about flowers on Saturn, time travel, gypsy dancing, and baseball, to accompany page one of Hubble's slightly more academic contribution, "Photographic Investigations of Faint Nebulae."
The lighthearted touch of the flight was overshadowed by the seriousness of its mission-in the 11-day journey, Grunsfeld and his crew traveled 4 million miles, installed $172 million worth of equipment on Hubble, and set a new single-flight spacewalk record of nearly 36 hours. The packed schedule was necessary to make repairs to the telescope's damaged solar wings and replace its central power controller-a procedure NASA compared to open-heart surgery.
The telescope, launched in April 1990, could already see farther than any device ever built and is now ten times more powerful and is scheduled for eight more years of service.
This was Grunsfeld's second trip to the satellite he refers to as "Mr. Hubble." In 1999 he flew a successful emergency repair mission to fix an ailing control system that had shut the telescope down completely.
- C.S.