GSB seeks College applicants

>>Chicago joins several top schools questioning the value of making students wait five years to apply.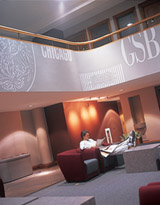 College students face a common question their fourth year: get a job or go to graduate school?
There's a third option this year at the U of C, at least for young executive hopefuls. This winter the Graduate School of Business launched its new Scholars Program, encouraging College fourth-years to apply now rather than wait the usual three to five years after graduation.
The GSB began the program to catch Chicago undergraduates who "mistakenly believe that business schools won't consider them until they have at least four or five years of experience," says Ann McGill, MBA'85, PhD'86, GSB deputy dean. "The College offers a very attractive pool of candidates," she adds. "[Chicago undergrads] reason well, write well, and have great depth of knowledge in their major fields."
Under the Scholars Program, College students apply during their fourth year. Those accepted must defer admissions for one to three years-and get a job. "Experience provides knowledge and context for the classroom training," says McGill. "They can contribute more in the classroom and absorb more."
The new program demonstrates a nationwide shift among schools back to recruiting young applicants. GSB associate dean William Kooser, MBA'81, went straight from college to business school and remembers how common that used to be. "But since the 1980s standard wisdom has been that you need some work experience first," he says. "The new program is a compromise between the two."
The program is also part of a trend among top M.B.A. schools to reach out to the best college graduates. In January the Wall Street Journal reported on similar initiatives at Stanford University, Harvard University, the University of Pennsylvania, and the University of California.
Schools hope such programs will increase student diversity in M.B.A. programs, which are notoriously bad at attracting women. According to the Financial Times annual rankings, the top-ten business schools average around 30 percent women. The GSB averages 26 percent women-compared to Chicago's law and medical schools, which average closer to 50 percent.
Anecdotal evidence suggests that 27 or 28 is a difficult age for women to go back to school because of marriage and children, McGill says. "We believe that this program has special potential to attract a higher percentage of younger students and women students."
Business-school applications in general have soared this year in the sagging economy. Applications to the GSB jumped by 100 percent. Other universities have reported increases of up to 90 percent.
This year's deadline is June 1, and the GSB plans to accept fewer than ten Scholars Program applicants, who will make up roughly 1 percent of the 525 full-time students admitted each year.
- W.W.