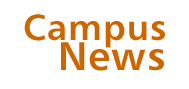 CHICAGO JOURNAL
Staying the Nobel course
When the Swedish Academy announced the 2003 Nobel prizes,
Chicago added two more to its list.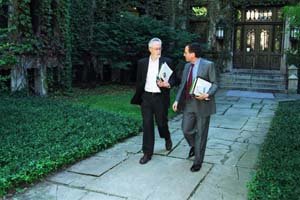 Photo by Lloyd DeGrane
Coetzee and Lear head to their class on Plato's Phaedrus
What do a press-wary, South African author and an exuberant, Russian-born physicist have in common? Three things: Nobel prizes, the University of Chicago, and persistence. John Maxwell Coetzee, distinguished service professor in the Committee on Social Thought, won the 2003 Nobel Prize in Literature, while Alexei Abrikosov, distinguished physicist at the University-managed Argonne National Laboratory, shared the 2003 Nobel Prize in Physics (with Vitaly L. Ginzburg of the P. N. Lebedev Physical Institute in Moscow and Anthony J. Leggett of the University of Illinois, Urbana-Champaign) by doggedly pursuing avenues of intellectual inquiry.
Shortly after Coetzee learned of his award at 6 a.m. October 2, he wrote in a statement that the honor "came as a complete surprise—I was not even aware that the announcement was pending." But Coetzee, who examines human cruelty and salvation in his books on apartheid, is no stranger to acclaim: he is the only author to receive Britain's most prestigious literary award, the Booker Prize, twice—for Life and Times of Michael K in 1983 and Disgrace in 1999.
Educated at the University of Cape Town, the 63-year-old author earned two bachelor's degrees with honors—in English and mathematics—and a master's in English. He received his doctorate in English from the University of Texas, Austin. Coetzee, who has taught at Chicago every fall since 1996, spending the rest of the year as an honorary research fellow at Australia's University of Adelaide, was "particularly happy" to be at Chicago when the award was announced. "The University of Chicago, and in particular the Committee on Social Thought," he wrote, "has been my intellectual home for the past seven years."
Although Coetzee is notoriously private, rarely giving interviews, "the idea put forward in the media that he is a 'recluse' is ridiculous," says Jonathan Lear, the John U. Nef distinguished service professor in Social Thought, who has cotaught courses with Coetzee for four years. "What is true is that he shuns the superficiality and distortion of sound bites. In fact, intellectual conversation, true collegiality, and teaching are vitally important to him."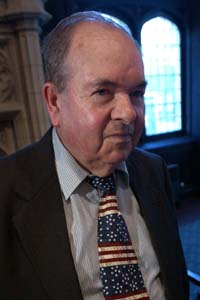 Photo by Dan Dry
Abrikosov at his Reynolds Club press conference.
Coetzee and Lear have taught courses on War and Peace, In Search of Lost Time, The Brothers Karamazov, and Phaedrus, Lear notes, asking questions such as: "What is it about a conversation that can change the structure of the soul? How is it that people are able to speak and reach beyond themselves? How does cruelty arise—and what, if anything, can defuse it?"
Praising Coetzee's pursuit of similar questions in his own literature, the Swedish Academy called him "a scrupulous doubter, ruthless in his criticism of the cruel rationalism and cosmetic morality of Western civilization."
While Coetzee was surprised by his Nobel, Abrikosov suspected that this might be his year when the Academy sent him a letter in May announcing his nomination. Although he had been nominated previously, "never before did I get such a letter," Abrikosov said at an October 7 press conference at the Reynolds Club.
Abrikosov, who came to Argonne in 1991 after working at Moscow's Kapitsa Institute for Physical Problems, and his cowinners were cited as pioneers in superconductivity, which examines the way certain materials lose resistance to electrical currents as the temperature approaches absolute zero (about -459 degrees F). Abrikosov built on cowinner Ginzburg's 1950 equations describing type-I superconductor behavior. After studying those equations Abrikosov noticed that many superconductors, contrary to the going theory, did not in fact totally displace magnetic flow. In 1953 he explained how magnetic fields can penetrate type-II superconductors through tiny vortices, today called Abrikosov vortices.
His research was met with incredulity because most known superconductors were type-I and the prevailing theory seemed to aptly explain them. But many superconductors discovered in the 1960s were type II—the type now used in magnetic resonance imaging and that may be used in magnetically levitating trains—and since the 1980s Abrikosov's work has increasingly influenced superconductivity research.
When his research was doubted, he said, "I put it in a drawer. But I did not put it in the wastepaper basket because I believed in it."—Annie Wipplinger, AB'02