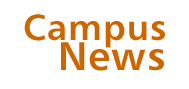 ON THE QUADS
In the first weeks of autumn quarter students learned to watch out for Chicago's latest urban hazard: cute insects. The air was filled with Asian Lady Beetles: ecologically destructive, biting bugs that look deceptively similar to the harmless and friendly ladybug. Searching for crevices in which to hunker down for Chicago's long winter, the beetles flowed into classrooms and dorm rooms, frequently munching human flesh for sustenance....
The quads, recently scarred by pipeline construction, also found themselves invaded by objects of peculiar beauty. Plastic bottle sculptures, painted Altoids tins, and artificial flowers and insects turned up on campus, with a surreptitious student organization called the Cult of Beauty claiming responsibility. Its Web site, cultofbeauty.uchicago.edu, declares: "Beauty is dead. And you have killed her. By being indifferent to the beautiful in the everyday. Beauty is dead and her ghost will haunt this campus until her power and value are again acknowledged."...
As fantasies of an epic World Series involving the Chicago Cubs were ingloriously deflated, Maroon fans found solace in the University's women's soccer team, which was headed to the NCAA Division III championship tournament's final four in late November. In the quarterfinals the team beat the University of Puget Sound 2–1 in double overtime. The women had won an at-large bid to compete in the tournament despite a heartbreaking loss to Washington University for the University Athletic Association championship. Its conference record going into the NCAA tournament was 4-1-2, while overall the team was 16-1-4....
On November 8 the Major Activities Board (MAB) brought alt-rock pianist Ben Folds to Mandel Hall for its fall concert. The student body mostly approved of the selection, although, as always, the MAB had to explain the financial impossibility of booking students' first choice, which this year was Radiohead. Avishai Weiss, head of marketing for MAB, told the Maroon, "These bands cost a lot of money. Most people have no idea how expensive they are."—J.N.L.