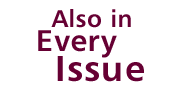 LETTERS
Upon what meat have you fed that you can…
Old school songs
Regarding the letter in the October/03 issue chiding certain classes and persons for putting down other colleges and universities: What has happened to people's sense of humor? I know I am an "alumna emerita" and thus totally out of step with the current scene, but it seems to me that the good-natured poking of fun at other institutions we enjoyed in the late 1940s was rather innocent enjoyment!
One of our favorite songs was: "Wave the Rag for old Chicago! Maroon our color bland. Never shall our team be victors, For football has been banned. With philosophy to guide us, Without a team we'll stand. Wave on high the dear old textbooks, For we're Phi Betes every man!" And I wonder if anyone knows or sings another of our favorite songs: "Don't send my boy to Harvard, The dying mother said. Don't send my boy to Illinois, I'd rather see him dead! But send him to Chicago. 'Tis better than Cornell. And rather than Northwestern, I would see my boy in…the evenin' by the moonlight."
Of course we made fun of ourselves too. Let's not get too serious or think that saying we like where we are better than someplace else is bad form. It's not—it's fun!
Ane Longstreet Hanley, AB'48
Fergus Falls, Minnesota
---
The University of Chicago Magazine welcomes letters on its contents or on topics related to the University. Letters must be signed and may be edited for space and clarity. We ask readers to keep correspondence to 300 words or less. Write:

Editor, University of Chicago Magazine,
5801 S. Ellis Avenue
Chicago, IL 60637

E-mail: uchicago-magazine@uchicago.edu