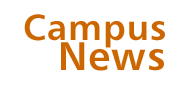 Chicago Journal
Paris Center opens
As they traveled up the escalators in a cinema multiplex near Paris's National Library, more than 200 people saw the purpose of their visit flashing on the electronic message board directing them to the appropriate theater: l'Université de Chicago. The group—University trustees, visiting committee members, and other friends—was there to mark the launch of the new University Center in Paris.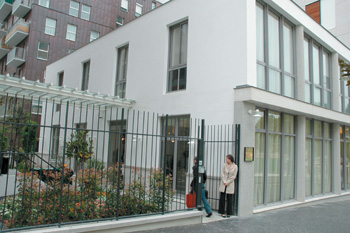 Jean-Luce Huré
A garden joins the center's buildings.
The center opened in fall 2003 for College students, who had been taking courses at French universities. During the academic year construction continued on details such as a courtyard garden and a sidewalk. By mid-May the complex was ready for its official debut.
Besides undergraduate French and civilization courses, in coming years the center will offer English, economics, political-science, history, mathematics, and computer-science classes. Doctoral and postdoctoral activities including colloquia, debates, and conferences will take place there, open to European researchers.
In the theater the visitors heard former French Prime Minister Laurent Fabius, senior lecturer at the Harris Graduate School for Public Policy Studies, discuss French political culture. Then they toured the landmark National Library, a late-1980s centerpiece of the Left Bank's gentrified 13th Arrondissement, the center's home.
A city of big ideas as well as big monuments, Paris suited the Chicago guests, who attended a reception at the Hotel de Ville, or city hall, and the home of U.S. ambassador Howard H. Leach. In between was a dedication event at the $3.5 million Paris Center, designed by Catherine Furet. The center—two modern buildings connected by the outdoor garden—contains classrooms, offices, a computer lab, and a library that doubles as a large meeting room.
"This is a wonderful moment in the history of intellectual engagement between the United States and France," President Don M. Randel said at the dedication, also attended by Chicago Mayor Richard M. Daley and his wife Maggie. A research center and a classroom, respectively, were named for College Dean John Boyer, AM'69, PhD'75, and Humanities Dean Janel Mueller. Board of trustees chair James Crown praised contributors such as Harry Bernbaum, AB'39, and wife Harriet, who named the center's great room in memory of their daughter, Keren-Or.
Mueller told the group that when Chicago administrators had trouble finding an appropriate venue for the center, Paris residents Marshall Wais, AB'63, a University trustee, and his wife Deborah Wais, AB'63, helped secure the location near the National Library, where the University could construct a building to its own specifications rather than adapt an existing space.
With its breadth of course offerings, the Paris Center has a broader scholarly mandate than other U.S. university programs in France, which often focus on language courses. Besides the undergraduate and doctoral offerings, the Harris School's joint initiative with the Institut d'Études Politiques will let French and Chicago doctoral students collaborate in a transatlantic workshop.
The University, noted Paris Center Executive Director Robert Morrissey, PhD'82, is seeing an unusual interest in French studies, contrary to national trends—between 1998 and 2002 U.S. students taking French courses grew by 1.5 percent, the lowest of any language save Russian. But at Chicago, Morrissey said, the number of French courses offered since 2000 is up 40 percent. Already the new center is proving popular: while 15 students took last year's fall French civilization course, this year 33 applied and 23 are going.—William Harms