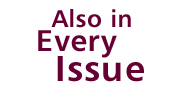 Editor's notes
The circumstances behind the pomp
Going backstage for Chicago's Spring Convocation offers another way of seeing a ritual event.
Session II of the 477th Convocation, held alfresco in Harper Quadrangle on Friday, June 11, at 3:30 p.m., featured blue sky, green leaves, gray limestone, and colorfully attired family members choosing vantage points from rows of folding chairs. Led by the Highlands drone of the University of Chicago Pipe Band, the procession marched happily if self-consciously through Cobb and Hull Gates: marshals and student marshals, degree candidates, professors, trustees and officers, Rockefeller dean and convocation speaker, candidates for teaching awards and honorary degrees, provost and president.
Dan Dry
That's how I imagine it went, anyway. As a robing assistant for Sessions II (the graduate divisions) and III (the College), I waited out both ceremonies in Crown Gymnasium's multipurpose room. For 30 minutes or so before each session, the airless arena bustled as professors picked up their doctoral robes and velvet tams. (By the end of the first session's prep, we were already running short on large tams—if hat size is an indicator, Chicago faculty are brainy but not overly arrogant.)
Once robed, they went outside to line up along University Avenue, leaving a silence broken only by the whir of industrial-strength electric fans and the crackle of the Special Events staff's shortwave radios. "You need to block off the reserve seats right now!" one voice commanded another on Saturday—two hours before Convocation began and one second after guards removed the roped stanchions holding back the crowd at the edge of Harper Quad. "They're coming!" Quick questions and updates broke through: a missing projector in Mandel Hall, how to get into the Crystal Springs water truck. "Can anyone tell me how close the thunderstorms are to Chicago?" "Any idea about what time the bagpipers should go to Classics Quad?"
As each ceremony began, the wire reports ended. Things were, I knew, proceeding smoothly from procession to prayer to convocation address to awarding of degrees. In Crown it was peaceful, warm, time to doze until a cackle of static warned: "Marshals, get ready."
Golden moment
In the 2004 Council for Advancement and Support of Education (CASE) annual Circle of Excellence awards program, the University of Chicago Magazine was one of six college and university periodicals nationwide to receive a gold medal in the college and university general-interest magazine category; we were the only periodical in our circulation category (75,000 and over) to do so.
Like the often overexcited and underdressed recipients of those other golden trophies, the Oscars, I have a few people whom I'd not only like, but am ethically bound, to thank. You'll find 12 of those names on our masthead and another one or two on the address label of this issue. As our "Letters" section regularly makes plain, the Magazine leads the nation in responsive readers. Thank you.—M.R.Y.