Drawing on her U of C education, Jessica Abel brought the quads to life in her "Chicagophile" cartoons.
Jessica Abel, AB'91, produced her first "Chicagophile" cartoon for the Magazine's June/96 issue. She started, appropriately enough, at the beginning, with "The Campus Tour."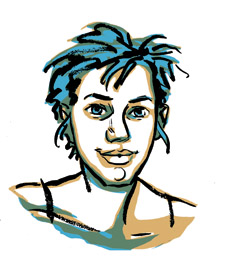 Over the course of the past nine years "Chicagophile" has reported on the Latke Hamentasch Symposium, Maroon basketball, June convocation, the University Symphony Orchestra's annual costumed Halloween concert, Humanities Open House, and Reunion Weekend. Abel has gone underground, touring steam tunnels and Library archives. She's ridden the campus buses, wandered the quads on a rainy Saturday afternoon, visited WHPK deejays in Mitchell Tower and student carillonneurs in Rockefeller Chapel, dropped in on alumni lectures, happy hours, and book clubs in New York and beyond, and checked out the ice at the Midway rink.
With this issue, however, Abel and "Chicagophile" are, at least temporarily, skating off the Magazine's pages. It's good news for her; for the next 18 months the graphic artist finds herself with a lot on her palette. She's pulling together the chapters of La Perdita, an award-winning serialized thriller set in Mexico City, and adding new material for a book version due from Pantheon in 2006. On the purely prose front, she's writing a novel for teenage girls (expected from HarperCollins in 2006). In addition, she's collaborating on a comic strip called "Life Sucks," and with her husband and fellow cartoonist Matt Madden she's at work on a "big, fat," how-to-make-comics textbook. Oh, yes, she's also teaching at New York's School of the Visual Arts.
As an alumni publication, we're always happy when a graduate makes good. Especially when the grad makes good using skills he or she can trace, at least in part, to a Chicago education (in lieu of a BA thesis, Abel produced a five-chapter comic script called Salt, with a chapter's worth of images, "and that got me graduated with honors," she says in an Artbabe.com Q&A). Still, we admit to a selfish twinge or two. We'll miss Abel's take on all things Chicago.
Classroom wizardry
On a dark afternoon this January two dozen graduate students gathered for the Divinity School's Pedagogy and Professionalization Workshop in Swift 106. With paneled walls and mullioned windows, the classroom seemed like a place where the young Harry Potter would be at home. The speaker—Jonathan Z. Smith, the Robert O. Anderson distinguished service professor in the Humanities in the College—even had the flowing hair and beard of Hogwarts headmaster Albus Dumbledore.
Indeed Smith, who coordinates the Religion and Humanities program, approached his topic, "Approaching the Undergraduate Classroom," with Dumbledore's wry sagacity. And, like Dumbledore, he told the truth: after decades of teaching, he still visits the classroom the day before a course starts ("I know what I didn't know at the beginning, to check to make sure there's chalk"). And he still spends a sleepless pre-class night rewriting the first lesson plan and doing the reading one more time. The process "does not get any easier, and it shouldn't. It's an awesome responsibility."
To meet that responsibility, Smith suggested practical strategies. Keep a course journal, recording successes, surprises, readings that might work. Keep office hours religiously (and be predictably available at other times in a place where students can join you, "but never be distressed if no one comes"). Remember "the very first rule of teaching: assume nothing; make everything explicit," because although professors design courses "answering our questions," students "are listening for answers to their questions."
For Smith, the challenge of the undergraduate classroom is also its magic: "I want to be with people who shout, 'Eureka!' all the time."