An alumnus animates the undead in an upcoming video game.
His name was Edward Stubblefield," explains Alexander Seropian, SB'91, eyes wide as he sets up the story. "He was a traveling salesman in the 1930s, and he was pretty crafty at it. In fact, he managed to get himself killed." It turns out poor Stubbs, as he was known, was brutally murdered in 1933 and buried in an unmarked grave. Not until 1959, when Stubbs's story really begins, does the erstwhile road warrior again walk among the living. Disturbed by the construction of Punchbowl, Pennsylvania, a '50s-style futuristic utopia, Stubbs's body is reanimated. Gnawed now by a hunger for human brains, he attacks the city, precipitating what amounts to a full-scale human-zombie war.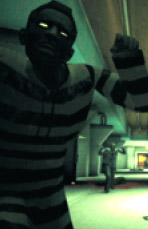 Zombies attack in Seropian's
upcoming game.
Courtesy Wideload Games
The plot behind Stubbs the Zombie in Rebel without a Pulse, a video game slated for wide release this summer, may sound a little far-fetched, but in a land of alien invaders, space slavers, and futuristic Big Brother governments, the undead fit right in. And so does Seropian, founder and president of Wideload Games, Stubbs's developer.
Diving into the video-game world when he was ten years old, Seropian began with an Atari 2600, playing classics like Combat, a two-player battle, before switching to a DEC Rainbow, which ran DOS-precursor CPM, and Zork, an early text-based adventure game. In 1984 the family got a Mac, and Seropian began to pick up Basic and C programming languages, falling hard. "I really love to program," he says. "Programming is like this wicked mix of engineering and art. It forces you to be creative in a lot of interesting ways."
Beyond a Pong clone for the Mac (cleverly titled Gnop!), Seropian didn't write much software at the University. But during his fourth year, as he considered job options, he began working on Operation Desert Storm, a Mac-based, Combat-inspired tank game. Interested in starting his own business—he'd always been something of an entrepreneur, selling popsicles as a kid, T-shirts in high school, chemistry notes while in the College—he figured "the most marketable skill I had was programming, and I really like games." He raised money from friends and family and after graduation founded Bungie Software, breaking even with Desert Storm after selling some 2,500 copies.
In 1992 Seropian convinced Jason Jones, X'94, whom he had met in an artificial-intelligence class, to join up, again making ends meet with Jones's multiplayer maze crawler Minotaur. They next released Pathways to Darkness, a first-person, 3-D blend of action and strategy, leading a Special Forces soldier deep into Yucatan caverns to neutralize a dangerous immortal. Pathways was Bungie's breakout title, making the company, Seropian says, "a bunch of money."
With Pathways's success, Bungie had enough capital to hire a staff, many of them fellow alumni, and move to offices in Chicago's Pilsen neighborhood. They occupied an old school, Seropian recalls, with 30-foot ceilings, wooden floors, a drained swimming pool in the basement, and "all sorts of spooky corridors." Bungie's next releases, the Marathon trilogy, were their first games programmed for both the Mac and PC and, according to the official Bungie Web site, put the company "on the map."
In 1997 Bungie moved to an office downtown, opened another in San Jose, California, and released Myth, a real-time strategy game that sold well. Eventually Bungie had three simultaneous projects going: a Myth sequel; Oni, an anime-inspired action game; and Halo, a game Jones began creating in 1998.
Using a "cool new 3-D engine," Seropian explains, Bungie designed Halo with groundbreaking graphics and gameplay. Apple CEO Steve Jobs unveiled a Halo demo at the 1999 Apple Show, generating industry buzz and new knocks at the door. Microsoft asked if Bungie would be interested in writing for the as-yet-unreleased X-Box, a gaming platform that didn't have much software, and eventually offered Bungie "the dream opportunity," remembers Seropian. "We could have unlimited funding and be launch title on a brand-new console that was going to have a billion dollars of support behind it." Microsoft bought Bungie, most of the crew moved to Redmond, Washington, and upon its 2001 X-Box–simultaneous release Halo made bundles, earning critical acclaim.
Once in Redmond, Seropian says, his job changed from "making games and being the entrepreneur in the house to becoming middle manager." He was charged with "preserving everything that was good about Bungie and preventing Microsoft from unwittingly mucking it up," a job he took seriously but felt wasn't his "life's calling." So in September 2002, about a year before Halo 2's $125 million opening day, Seropian left Bungie and moved back to Chicago. After taking six months off—he and wife Laura, AB'91, had a baby—he founded Wideload, and began work on Stubbs.
Comfortably settled on West Washington Boulevard, Wideload's offices have a start-up's charm: exposed brick, pitted hardwood floors, open work area, conference rooms furnished with only a colorful rug and overstuffed pillows. The core group is small—11 people, many of them Bungie veterans—allowing one-on-one work. An employee, Seropian explains, "can turn around and say, 'Hey, I have an idea,' and everybody else can say, 'That idea sucks,' or 'It's awesome,' or 'What if we did this?'" After a game's concept is hammered out among the principals, much of the programming is spread out among independent contractors, giving Wideload flexibility when putting together a team. The setup also makes financial sense, Seropian notes. Once one game is completed, but before another concept is ready for production, on-staff programmers often end up twiddling their thumbs, a problem that bankrupts many video-game developers. While common in Hollywood, Wideload's structure is relatively new to the video-game business, and is being tested on the creation of Stubbs.
The zombie concept, Seropian confesses, was a challenge. "Zombies are usually dumb, slow, lumbering. They don't use weapons," he says. "So it doesn't sound like your typical premise for a game." But, he argues, the mechanics work well. "Obviously you eat people's brains, which is just sort of viscerally interesting," and those whose brains get eaten end up on the zombie team.
"The game is basically you running around turning everybody...into zombies and destroying the whole town." In addition, players can claw, bite, and spit at people, throw their own explosive offal, and detach their hands, which can then leap on non-zombies's heads and take possession of them. It's a process Seropian describes with an animated smile.