Artist G. Daniel Massad, AM'77, sees movement in still life.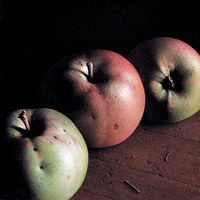 But I am done with apple-
picking now, 2004, pastel
on paper, 51/4 in. x 5 in.
Photo Credit: Courtesy
G. Daniel Massad
Pennsylvania painter G. Daniel Massad and still life go way back. "I got very serious at age 10," Massad recalls in January. He first encountered the art form while accompanying his father on a Washington, DC, business trip. Dropped off at the National Gallery of Art for the day, he "fell in love with painting, literally. I actually wanted to touch one." He did—and got thrown out by museum guards. Massad wasn't deterred. Back home in Oklahoma City he asked for art lessons, but it wasn't straight to a solo show. "It took me a long time to overcome my own fears of being an artist, and I had multiple interests." Two English degrees later, Massad took the plunge, entering an MFA program in 1979. It proved a good move. Since then he's had shows and taught painting, on and off, for more than two decades.
Freedom within the form: Still life has a lot of limitations. Limitations are very freeing for me. And I like the compression in still life. On the one hand, that's all there is, the objects themselves. On the other hand, they're all metaphors. And the images represent not only a frozen moment in time, but there are indications of the passage of time.
Making a mark: I was trained as a painterly painter, making dabs of paint on a surface, to create the illusion of reality if you stand away from a certain distance; up close you can see the paint. … Around 1980 I began working that way in pastel. Over time I gradually eliminated the marks. When you get up close there's no indication of the artist's hand. … That shift has been in the interest of reenacting natural texture.
Up against the wall: I began in a very traditional domestic still-life space—a tabletop, shelf—you're 'in the house.' I worked using that kind of space for a number of years. In the late '80s the support of the objects became a brick or stone wall, and the black [background] suddenly looked like exterior space. I tend to think of my current work as landscape fragments. Beyond the wall is the world. This isn't the kind of space traditional still life plays with.

On the horizon: I'm working toward my next solo show, which will open winter 2006 at New York's Forum Gallery. There are three more major pictures I want to complete this year.