1910 "Popular Freshmen find that the first few weeks of their coming to the University are little else but a round of social pleasures," reported the November issue. This situation had to be rectified, and the University decided that fun—in particular lavish spending on entertainment—was winning out over "higher scholarship" and so instituted new rules for the undergraduate fraternities. Formerly, incoming freshman were escorted by older fraternity members to "theaters, clubs, cafes, and ballrooms." But, according to the Magazine, the upperclassmen sponsoring the festivities found that doing so "interferes with their liberties, their purses, and their time for study."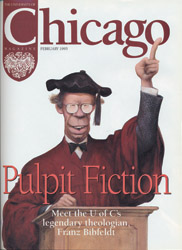 February 1995 Issue
1955 According to the February Magazine, a Cold War chill had come to Chicago, as "at least four faculty members" were "singled out for bitter attacks in several Soviet journals." In "Academic Discussion—Soviet Style," Georg Mann, AB'35, denounced Soviet writers' treatment of the Chicago faculty. "The attacks range from the highly theoretical field of chemical resonance to the implied accusation that American geography is engaged in espionage." Among other offenses the Soviets alleged were committed at the University: "Two Chicago professors [were] accused of cosmopolitanism—a crime in the Soviet Union of somewhat hazy dimensions."
1980 The "first major showing of Viennese design" opened at the Smart Gallery January 10, on the last leg of a U.S. tour, the winter Magazine reported. Vienna Moderne: 1889–
1918 showcased works from "the Viennese version of Art Nouveau," a style incorporating aspects of the Vienna Secession—led by painter Gustav Klimt and architect Otto Wagner—and the Wiener Werkstaette (Vienna Workshops).
1995 Students across the political spectrum had plenty to do on campus ten years ago, reported the February issue. Historian and early neoconservative Gertrude Himmelfarb, AM'44, PhD'50, wife of Irving Kristol and mother of William Kristol, spoke on "From Victorian Virtues to Modern Values," as part of the Olin Center lecture series. Four days later a concert at Rockefeller Chapel featured, among others, Voices of Progressive, from Chicago's Progressive Community Church.