English teacher gives versification verve in the classroom.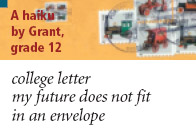 Wordplaygrounds, 2004
Poetry draws a young crowd these days—at least when longtime Lab Schools teacher John O'Connor, AB'86, MAT'87, takes the stage. Several former students, parents in tow, arrive early to 57th Street Books one snowy January evening to hear him discuss his new project Wordplaygrounds: Reading, Writing, and Performing Poetry in the English Classroom (NCTE, 2004).
Lots of backslapping and catching up ensues before the 7 p.m. start time, as Labbies swap college stories and take turns having an audience with O'Connor. "Cool. Nice," he says about this or that major, sounding and looking more student than 40-year-old teacher in cargo pants and hiking boots.
This is O'Connor's first trip back to Hyde Park since he moved to north-suburban New Trier Township High School this past fall. "Oh, you sold out," a Lab grad teases. He takes the dig in stride. He has something more important on his mind—a plan to make learning fun. And with Wordplaygrounds, he's extending his reach beyond Chicagoland.
But first extra chairs are needed. The book talk begins 15 minutes late, with some folks still standing. After a brief introduction the audience claps, welcoming O'Connor home. He responds, "I'm so unaccustomed to this. I was about to start clapping."
Instead he opens Wordplaygrounds and begins to read, pausing here and there to explain the enterprise. "I found school profoundly dull and artificial," he says. "The sort of mission I feel I'm on is to make school as exciting as the rest of the world." The method to his madness: teach poetry and delight students in the process.
O'Connor, whose book of haiku, Room Full of Chairs (Deep North Press), came out in 2000, knows what he's up against. He wasn't always a fan of the metered stuff. He loved nursery rhymes as a toddler but lost interest in grammar and high school. He mainly steered clear of all things verse in college and grad school. It wasn't until he got to the head of the class, as an English teacher, that he discovered its power. Poetry, he found, has a way of illuminating life and opening students up.
Testing the thesis, O'Connor says, "I wonder if I could put people on the spot and have them read," adding in a singsong voice, "There's extra credit." His first volunteer/victim shares a few lines on why versifying isn't hard. A handful of other disciples, some still at Lab, some in college, follow suit, with rhythmic ruminations—included in Wordplaygrounds—on travel and death and love.
Even those who aren't called to read have positive poetry-writing memories. "I didn't feel pressure for it to be really profound or good or anything," recalls 16-year-old Alice Grossman, who took O'Connor's class as a freshman and in summer school.
Like any proud parent, O'Connor believes his protégés are good, featuring work by 85 Labbies in his book. The poems accompany instructional tools for teachers, with more than 25 activities. Exercises include writing poems that grow out of everyday items in backpacks, houses, neighborhoods. Others cross disciplinary boundaries, incorporating music and art. The final chapters focus on reading for performance and dramatization. "I've tried to use the knowledge students bring to class," he explains in an interview. The goal is to demystify poetry by having them write about their life experiences "with the power of specific detail, [which] is something only possible by each of us individually."
Lab junior Michael Kuznetsov especially liked an assignment where the class created one- and two-word poems. The subject matter may not have left a lasting impression—"I don't remember what my homework is tonight, let alone two years ago"—but the idea that poetry can be pleasurable did.