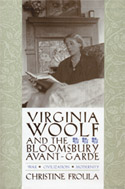 Virginia Woolf and the Bloomsbury Avant-Garde: War, Civilization, and Modernity, by Christine Froula, AB'71, AM'72, PhD'77, Columbia University Press, 2005. Froula explores how Woolf developed a public voice through conversations with her contemporaries in the Bloomsbury Group, including John Maynard Keynes and Roger Fry, as well as Sigmund Freud and others in European intellectual life. She locates Woolf's work in relation to avant-garde ideas about Europe's direction in the 20th century's first half, arguing that it reflected post-Enlightenment thought.
Beer in the Middle Ages and the Renaissance, by Richard W. Unger, AM'65, University of Pennsylvania Press, 2004. In the millennia before low-carb brews hit the marketplace, beer was considered a nutritional necessity. Unger supplies this and other history, tracing the alcohol to a time when men, women, and children were drinkers. He details the technology, business, art, and government regulation surrounding barley pop's early flow.
The Handy Biology Answer Book, by James Bobick, Naomi Balaban, AB'76, AM'79, Sandra Bobick, and Laurel Roberts, Visible Ink Press, 2004. Got questions about the mechanics of cell structure and animal behavior? This book has the answers, and in easy-to-understand terms. The authors tackle more than 1,600 questions—such as "What is biotechnology?" and "Is obesity inherited?"—breaking biology down with illustrations, tables, and charts.
A Durable Disorder: Understanding the Politics of Northeast India, by Sanjib Baruah, PhD'83, Oxford University Press India, 2005. Baruah, professor of political studies at Bard, examines ethnic conflicts and political violence in Northeast India, arguing that ongoing insurgencies and counterinsurgencies there have diminished democracy and institutionalized authoritarianism. He favors retooling India's policy toward the region, aligning it with the "Look East" strategy to enhance trade and business among Southeast Asia.
Invisible Heroes: Survivors of Trauma and How They Heal, Belleruth Naparstek, AB'64, AM'67, Bantam, 2004. As soldiers return from Iraq, post-traumatic stress disorder (PTSD) is once again in the news. Naparstek, a therapist for more than 30 years, presents guided imagery—"deliberate, direct daydreaming"—as the best treatment for PTSD sufferers, whose symptoms include chronic pain, nightmares, and panic attacks. She provides step-by-step instructions on using the method, demonstrating how it works with case histories.
The New Gay Teenager, by Ritch C. Savin-Williams, AM'73, AM'75, PhD'77, Harvard University Press, 2005. Gay or straight, teenagers don't think their sexuality defines them, according to Savin-Williams. Talking with adolescents who have same-sex desires, he argues that the image of them forwarded by mental-health researchers as depressed and isolated is out-of-date. Instead he presents gay teens who are both confident and upbeat.