Tony and Academy Award–winning director Mike Nichols, X'53, returned to the Windy City this winter to mastermind a medieval musical comedy. Monty Python's Spamalot, an adaptation of the 1975 film Monty Python and the Holy Grail, debuted at the Shubert Theatre before heading to Broadway.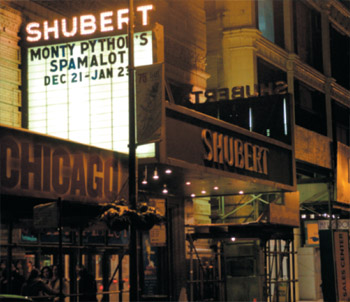 Best known for the The Graduate, Nichols currently has projects on both the big stage and the big screen. His 2004 film Closer, a look at adultery based on Patrick Marbers's 1997 play, earned five Golden Globe nominations and won two: best supporting actor and actress.
Nichols got his start in local theater. In a December 10 Chicago Sun-Times article he recalled attending a production of The Matchmaker while at the University. "I saw that show three times, and by the third time—about 20 minutes into the first act—I thought: Now I know what style is. It's starting something in such a manner that what needs to happen later in the show can come straight out of that beginning."
The Nichols style—an ironic sensibility, as one film critic put it—has won a loyal following. Commanding such big-name actors as David Hyde Pierce and Hank Azaria (Spamalot), Jude Law and Julia Roberts (Closer) doesn't hurt with audiences either.