With the end of the academic year in sight, the days grow busier.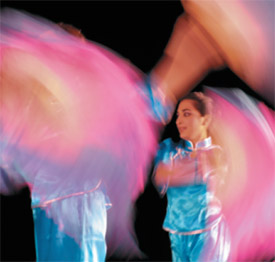 Chicago's social whirl spins year round: Winter
quarter featured the Chinese Undergraduate
Student Association's New Year celebration
January 15.
As the British historian and satirist C. Northcote Parkinson proclaimed in the law that bears his name, "Work expands to fill the time available for its completion." Meanwhile, as spring comes to the quads, I offer Yoe's Corollary to Parkinson's Law: "The number of campus events expands in inverse proportion to the time available for attending them."
Take the events of Thursday, April 14—a day when at least some among the University community might expect to be holed up with TurboTax and a year's worth of receipts. Competing with one's civic, academic, and quotidian duties, however, is a vernal bouquet of calendar offerings, from art exhibits to math lectures. To contemplate them is exhilarating and exhausting.
Well-rested and wearing a pair of comfortable walking shoes, one could, of course, take a stab at taking in all of the day's eight exhibits, from a Midway Studios one-man show by Joshua Mosley, who teaches animation and digital media at the University of Pennsylvania, to the Smart Museum's Shepherds and Plowhands, works-on-paper depictions of rural life by 19th-century French artists. Stops along the way include the Renaissance Society (Su-Mei Tse: The Ich—Manifestation), Crerar Library (You Are What You Eat: Nutrition and Health), and Special Collections at the Regenstein Library (History of Rockefeller Memorial Chapel).
But it's impossible to hit all the scheduled lectures, conferences, and symposia. By a process of personal triage, one must decide whether to spend the noon hour in Bartlett Quadrangle at the PanAsia martial-arts demonstration or in International House for the closing ceremony of the Global Ethics Conference. Or in Fulton Recital Hall, listening to the music department's weekly noontime concert, or in Billings Auditorium, as Gary S. Slutkin, MD'75, discusses CeaseFire, a lethal-weapon intervention program. Luckily, the math department won't be tackling "groups with many product conjugacy classes" until late afternoon.
Evening brings no rest, but plenty of entertainment, for the weary. At 8 p.m. there is a University Theater staged reading of Ibsen's Doll's House, the "Mommy, Let's Go Home: Whack Children's Movies" series at Doc, or the Ratner Athletics Center movie night showing of Hoop Dreams.
On Friday the round begins again. Baseball, anyone? The men's game starts at 3 p.m., J. Kyle Anderson Field.