Jordan's King Abdullah receives royal treatment when he inaugurates a namesake Harris School lecture series.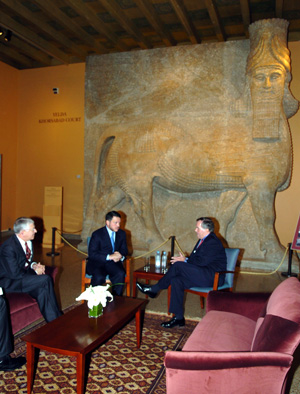 Randel, Abdullah, Daley in Sargon's court.
As he strode down the central aisle of the Oriental Institute's Breasted Hall, it was clear the guest speaker was no ordinary University visitor. The standing-room-only, security-checked crowd of some 200 students, faculty, and other community members rose and applauded as His Majesty, King Abdullah II of the Hashemite Kingdom of Jordan, marched into the auditorium with President Don Michael Randel at his side and Susan Mayer, dean of the Harris School of Public Policy Studies, immediately behind them.
The June 9 visit, hastily arranged in ten days, inaugurated a Harris School lecture series endowed in Abdullah's honor. Bringing world leaders and foreign-policy experts to the University to discuss global events, the King Abdullah II Annual Leadership Lecture will "provide the kind of lessons that cannot be found in books," said Mayer in her introduction, "but that leave a profound mark on the educational experience of our students, faculty, and community."
A bank of reporters and television crews filled an aisle at the auditorium's west side, and the king's remarks were immediately dispatched around the world. In the weeks afterward, the Chicago talk was cited frequently in the Middle Eastern press as a preview of governmental changes Abdullah would orchestrate to move toward a more open, market-driven nation.
"Our world is poised to make real advances," he told the Breasted Hall audience. "But to do so, we need to connect our policy goals to practical mechanisms. On a global basis, that means giving people convincing alternatives to extremism and violence." Reform in the Arab world, he said, should focus on three urgent needs: creating opportunity-rich economies; building transparent, representative governance; and achieving peace.
Abdullah left the hall, as he entered, to thunderous applause, then spent a few minutes resting in a setting fit for a king—the recreated court of Assyrian King Sargon II in the OI museum's Mesopotamian gallery. The court, with floor-to-ceiling reliefs of Sargon's attendants, also features the human-headed, winged bull from Khorsabad, one of the museum's signature pieces. Leaving the court, Abdullah joined about 75 trustees, faculty, other friends of the Harris School, Chicago Mayor Richard M. Daley, and his wife Maggie for lunch in the museum's west gallery.
Efforts to bring Abdullah to Chicago began in late September, when Raja Kamal became the Harris School's associate dean for resource development. Kamal, who held a similar position at Harvard, is well connected in the Middle East; his father had been Jordan's ambassador to the United States. By early October an invitation was sent to the king, and in December Kamal and Mayer followed up in Washington, where Abdullah was visiting. It took until late May to find a date, and then they had ten days to plan.
"We chose the Oriental Institute as it was available," Kamal admitted. In the end, it was also the right place to host Middle Eastern royalty. "This is the first time we had a king from the Middle East visit," said OI Director Gil Stein. "It was fitting because the Oriental Institute is the repository of many of the riches of the region, and having the king here gives us a feeling of continuity with that heritage."